Bonny Bridal to blossom under new management
Expect to be hearing a lot more from Bonny Bridal following the introduction of a new European management team, which plans to raise the brand's profile and expand its stockist base.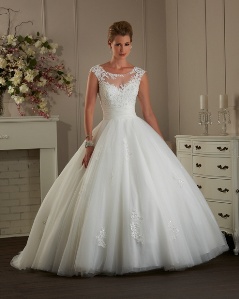 The European arm of American wedding gown company Bonny Bridal is under completely new management and Bonny Birdal Europe is now the exclusive distributor for the entire Bonny range. This news follows on from Bonny Bridal UK company director Pete Meads' decision to retire from the bridal industry in June.
The Bonny portfolio consists of a number of distinct collections: Unforgettable, which is designed exclusively for the plus-size bride; Bonny, the core range of classics with a dress to suit every bride; Love, aimed at the slightly more cost conscious customer; Essence, which includes the very latest in couture; Bliss, designed for the growing modest dress market and Special Occasion, gowns for bridesmaids and mother of the bride.
Bonny Bridal Europe is starting a national marketing campaign to raise the profile of the Bonny brand and is also looking to build on the base of its existing retailers, whilst retaining geographic exclusivity.
Managing director Martin Turvey said: "It's an exciting time to take over responsibility for the Bonny range. I've been familiar with the brand for some time now and see great potential. With a large range of dresses and two releases a year, there is a gown to fulfil the dreams of every bride. We are also establishing a powerful Authorised Bonny Retailer program to ensure our retailers have an unprecedented level of support."
Bonny Bridal is among the brands lined up to show at The London Bridal Show, which will be held from 6 to 8 March at London Olympia. You can already register for the show by clicking here.
You can find contact details for Martin by clicking through to our Brands Directory.