Trends from The Showroom: vintage revival
Take a look at our top Vintage inspired looks from The Showroom...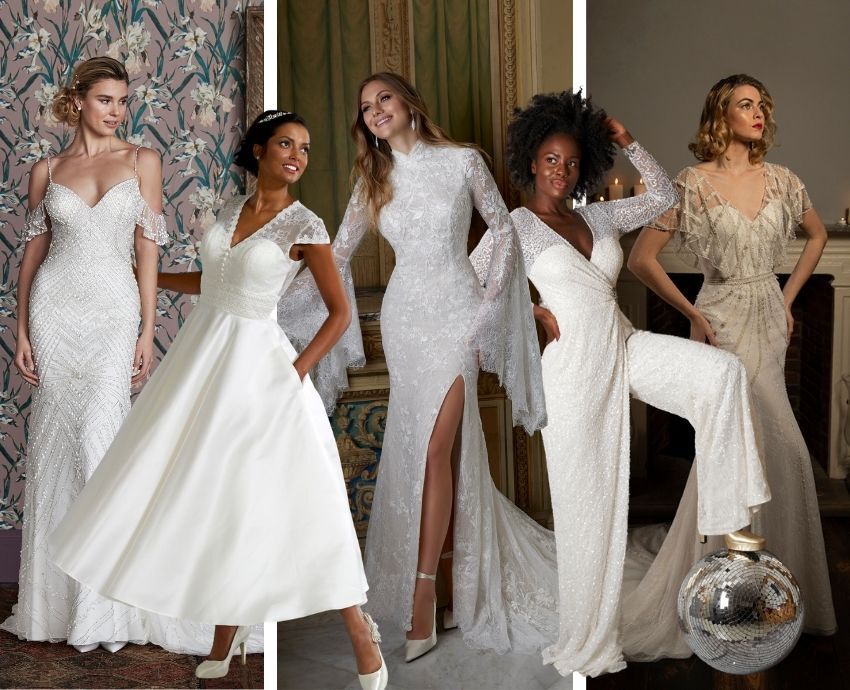 Influenced by some of the most classic styles, vintage inspired wedding dresses call upon subtle shimmer, cinched waists, luxurious fabrics and elegant necklines to create modern-day styles that are both versatile and chic. Iconic styles from previous decades are so timeless that they seamlessly translate into 21st Century bridal collections. From 70s jumpsuits to 40s tea length gowns, there is something special about a vintage bridal look.
Here are our top 'Vintage Revival' trends that have emerged from The Showroom...
---
---
20s: Gatsby Glamour
The 1920s were an iconic era for fashion, as women's clothing began to symbolise the socio-economic changes that occurred as a result of the end of the First World War in 1918. Victories for women's suffrage, coupled with a recovering economy, allowed many women to revel in the increasing prosperity of the era. It was a time of change and a time for fun. Many wedding dresses today are inspired by the Gatsby glamour of the 'Roaring 20s', making them the ideal vintage dress if you want to inject some glitz and glam into your look.
Nicki Flynn by True Bride focuses on taking gorgeous vintage styles and giving them a modern feel. The Sardinia gown is a perfect example of an up to date 20s inspired wedding dress. The cap sleeves and beaded detailing are relaxed yet opulent whilst offering flattering coverage of the upper arms. The cinched waist gives a modern twist to this vintage dress, creating an ideal mixture of the two for a modern bride looking for that timeless feel.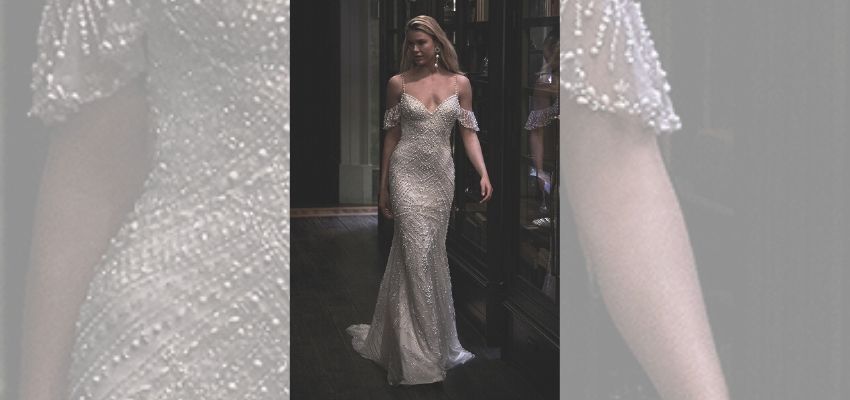 Another dress reminiscent of the 'Roaring 20s' is Justin Alexander Signature's Billie gown. Heavily beaded, this dress gives brides that wow factor as they walk down the aisle and is a real statement piece that is sure to leave their guests astonished. The dropped cap sleeves and elaborate detailing add 20s glam to the sexy modern silhouette. Vintage does not mean old, and this dress is testament to that.
40s/50s: Tea-Length Dresses
A simple way to add a touch of vintage to your wedding dress is by taking up the hemline. Not only can shorter dresses often be more comfortable, allowing for easier movement as your bride dances the night away, they can be a great way of incorporating classic elements from 1940s and 1950s fashion into your big day.
Take for example House of Nicholas' 2222 dress. This gown revels in chic minimalism. The full skirt is ideal for spinning around the dance floor and adds a touch of drama to this elegant gown.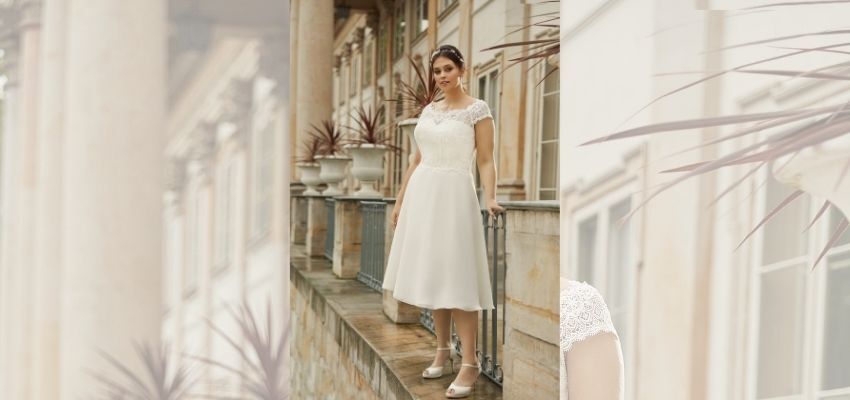 Tea-length dresses are reminiscent of post wartime Britain when the rationing of fabrics greatly influenced bridal fashion. Dresses were simple yet stylish just as Bianco Evento's Privet gown is. With its flattering lace neckline this dress is perfect for the bride looking for a clean-cut, uncomplicated dress.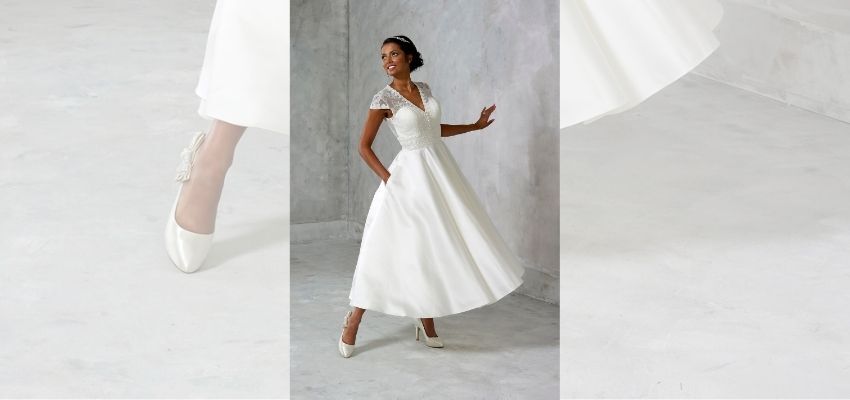 Hilary Morgan's 40834 gown is a prime example of a wedding dress that effortlessly combines modern elements with a vintage silhouette. The lace around the shoulders and the full skirt are given a modern twist by the incorporation of pockets. This simple touch is ideal for the bride wanting to feel comfortable on her wedding day whilst pulling off a timeless look.
70s: The Disco Decade
The 1970s was an era of iconic fashion therefore it should come as no surprise that many of today's wedding looks take inspiration from this decade.
One brand which has certainly captured the essence of the disco decade is Eliza Jane Howell. Their 2021 Studio 54 Collection is inspired by the glitz and glamour of the iconic nightclub and is ideal for the bride looking for a modern look fit for Bianca Jagger. Eliza Jane Howell also offers jumpsuits and separates, perfect for those looking for something unconventional. The Farrah Fawcett jumpsuit blends bridal fashion with disco fashion and adds a vintage 70s feel to an otherwise modern look.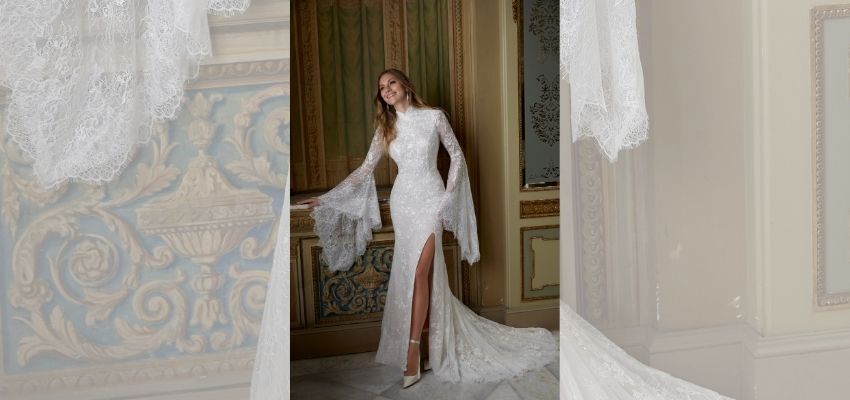 The Dania 69562 gown from Ronald Joyce is also highly reminiscent of the 1970s but it an altogether different way. The lace, exceedingly dramatic fluted sleeves and high collar neckline are contrasted by the figure-hugging silhouette and thigh-high slit. This dress looks and feels like it is straight out of the 1970s, yet at the same time it is characteristically modern in its focus on celebrating the feminine body. Both this gown and the Farrah Fawcett jumpsuit manage to intertwine today's fashion with that of fifty years ago and are great examples of the ways in which brides can achieve a vintage look.