Coach on the Couch with Grace Consulting Company
Grace Lane Bunk, founder of Grace Consulting Company joined Abi Neill for the first in our latest IGTV series 'Coach on the Couch'. Here Grace provides a round-up of advice and expertise covered in the interview.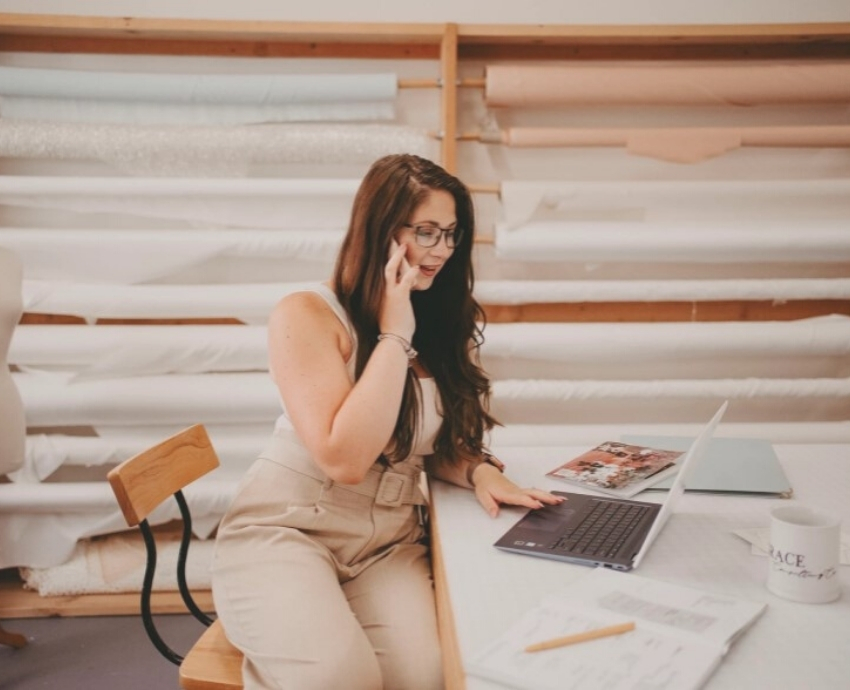 "The Bridal Super-Shopper" Survival Kit
The super-shopper has become the heartache and headache of bridal shops everywhere, so know that you are not alone. You can't change the super-shopper behaviour, you simply have to embrace it. It's not "if" they are going to shop around, it's "how many shops" they plan on going to. With information overload and contradicting directions, it's easy to see how this fear-based behaviour develops and how today's brides' shopping habits have evolved.
Super-Shopper Survival Kit:
Arm yourself and your stylists with all the information your brides have access to. Know your competitors, their designers and selections, their experience and process, etc. If your bride knows it, so should you!
Get ahead of the heartache. Chances are that your bride has appointments elsewhere. Instead of waiting for them to tell you that, ask about their shopping plans and take the opportunity to educate your bride and the bridal party about what they can expect at each place they go. This may help them eliminate options that were never a fit.
Use tools like the "pre-sell" to better understand their fears, their reasoning for shopping elsewhere, and their buying behaviour.
Pre-Sell 101:
What is a pre-sell and why should you have one?
"Pre-sell" refers to the experience a bride has with your business prior to entering your shop. It's their journey including how and where they find you, their experience booking an appointment, as well as any communication they have with you prior to coming in-store.
Why should you have a "pre-sell"? If your consultants ask the bride at the beginning of each appointment if they're ready to make a decision today, every bride that walks in your door should say yes. The goal of the pre-sell is to not only win your customer over before they enter your shop, but the pre-sell should also help move your bride from a "shopping mindset" to a "buying mindset."
Do's & Don'ts:
Do introduce yourself, the brand, the experience, and the expectations. Let the bride know who you are, unapologetically, and what they can expect from you. It's better to be honest than sorry. It's also a great opportunity to let the bride know what you expect from them (a "say YES!" moment and the swipe of a credit card).
Do dig for information with a survey. This is a great opportunity to understand where they are at in the shopping process, their mindset for shopping, and what their goals are for the appointment with you.
Do follow up with a call to address any concerns from the survey and help answer questions. Again, the goal is to move your bride from the "shopping mindset" to the "buying mindset."
Don't be afraid to be honest with brides that are not your customer and won't benefit from an appointment with you. You are not for everyone and everyone is not for you.
---
---
How to Crush Objections:
Two things you should know about objections from brides today:
Objections are a lot more logical than they used to be
You cannot handle your objections with one line
Whether it's that they have to shop elsewhere, they need to sleep on it, they just aren't ready, or mum isn't there, there is no line or "sales technique" that is going to magically make these objections go away. As the bride today grew up on social media and has been sold to their entire life, the level of trust they have with salespeople is next to nothing. Your brides believe that salespeople are simply pushing their own agenda.
You must build trust before you start to sell.
How do we do this?
We let the bride into our online world and let them determine for themselves if they like us. Do they like our brand, our style, our language, or our team? (A transparent, authentic, and engaging online presence is even more important than ever. You can solve a lot of trust issues prior to your bride ever coming in your door).
We educate our bride at every step before we sell. Tell them everything!
We give our bride the information they need to make an educated decision, but we empower them to make their own decisions. Give them an out and let them know it's ultimately up to them. They can keep shopping, they can go to 100 other stores, but at some point they have to make a decision. What can you do to help them decide whether it's at your store or not? You will win your bride over by simply helping them make a decision.
Social Media for the Busy Retailer:
Imagine your social media as an online store. When people walk in the door, you don't just stand in front of them with a dress and say, "hi this is new." It's not just about product, it's not just about real brides, it's not just about sales and promos. Think of your social media, and each platform as a journey or an experience. What experience do you want your bride to have?
There is no perfect system except the one that works for you. I will tell you our rules and guidelines that work not only for us, but the community of people we serve. Try it, edit it, build your own! Daily stories, 30 minutes of engagement a day, intentional posts 2-6x/week and DMs are responded to within 24 hours. We plan content anywhere from 2-4 weeks in advance and we rarely post in real time. To learn more, hop on a hotline call with Meredith Hunt via com.
You can't build a house without a blueprint and inspections. You can't build a business without a plan and insights. It's not worth your time if you don't track it! Social media should not be a guessing game.
Regardless of how "pretty" your feed is or how often you post, most importantly, at any point, any time, brides need to be able to convert. They need to be able to book an appointment, communicate with your team, and buy a product.
You can reach Grace (and Meredith) at www.graceconsultingcompany.com or via Instagram @graceconsultingcompany, and you can watch the full IGTV Live here.