BBEH September, the UK's key bridal trade event, consistently delivers fine collections that appeal to a broad audience. Here are six special labels that launched their latest ranges earlier this month….
ADVERTISING PROMOTION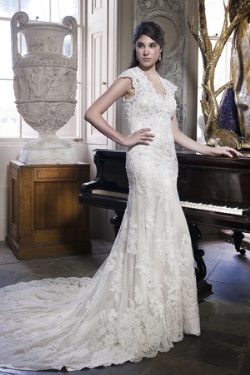 Alexia Designs
Glamorous, eclectic and elegant are the three words that best sum up the stylish new collection from this long-standing favourite that has been delighting brides for more than 20 years. It is no wonder that Alexia's impressive network of stockists (190 in the UK and close to that abroad) is so loyal to the brand – exclusivity is respected, stock is held for rush orders, special lengths are available and gowns are offered in two or more colours; in fact, Alexia consistently delivers not just on-trend designs (with brilliant internal corsetry that makes for a perfect fit) but also the best possible level of customer service. New fabrics in the collection include Chantilly lace and shimmer tulle and there's a fair amount of sparkle, too. We love Alexia's two-piece – a body-skimming fluid silk slip dress that is topped by a heavily-beaded lace top layer ­– it is simply gorgeous. Suggested retail prices range from a highly accessible £399 to £1,499.
For contact details, click here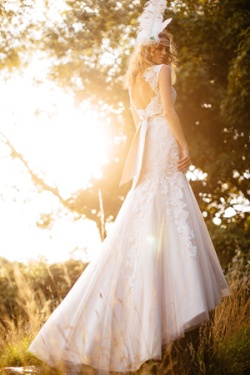 Diane Harbridge
Figure-flattering classics is what this label is best known for and at Harrogate Diane's stand was buzzing with energy and appreciative buyers throughout the full three days of the show. Getting ready now to exhibit at the London Bridal Show at Olympia in April, this bridal entrepreneur has carved her own niche in the market place by producing exciting designs, using fine fabrics, and keeping the price bracket affordable. With the majority of her gowns retailing between £900 and £1,200, Diane can boast 75 top-notch stockists across the UK and Ireland. Special features in her new collection include capes, higher necklines, detailed backs– some low cut and super-sexy, others with fashion-right key hole panels – and sleeves. Colours are classic – ivory, white and mocha and fabrics to watch out for are lace, tulle, organza and Mikado. A rush service is available and aware of the importance of customisation, hems, necklines and back details can be altered to order.
For contact details, click here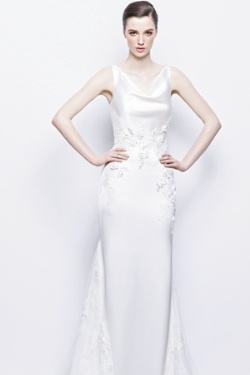 Enzoani
This hugely important global brand is directed at the bride who is self-confident and sophisticated and understands the relationship between fashion and personal identity. The brand's instantly identifiable signature includes hand-crafted beadwork and skilful use of Swarovski crystal that makes every detail a design statement. In addition to the traditional ivory and white options, the new collection pairs ivory with silver, or red, or antique gold, sensational couplings with real personality. Re-inventing tradition, this is a portfolio – one that includes Enzoani and Blue by Enzoani – that exudes elegance. Retail prices range from £1,499 to £3,429 and for that you get a product construction that rivals couture gowns that are double or triple the cost. New season fabrics offer real choice, tulle, soft charmeuse (this is especially lovely), chiffon, Mikado and a super-smooth satin that drapes superbly. Great news is that a made-to-measure service is available – and in demand by discerning brides.
For contact details, click here
Phoenix Gowns
With a size range that covers 6-32 and an enviable stockist network of 136 bridal stores in the UK, this fresh young collection ensures that by offering a wide selection of on-trend styles, it is able to have something special to meet every taste requirement and every budget. With a six-week delivery promise and the ability to customise any style to satisfy a bride's dream of that perfect dress, Phoenix, makes to order (and to measure) and will even modify beadwork if requested, adding or taking away to create a one-off gown. There is a superb colour selection too and fabrics include French lace, taffeta, silk organza, royal satin and tulle, accentuated with hand-stitched beading; styles for the new season cover a wide range and encompass must-haves like the fishtail gown that fashion is so loving right now. The label's lace mermaid gown with a removable peplum has been snapped up by retailers. Phoenix offers its stockists exclusivity, ascertained by location and local population.
For contact details, click here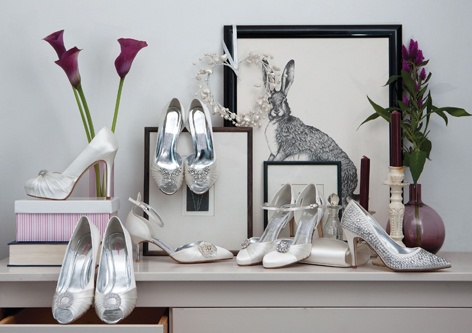 Rainbow Club
For some 27 years, this famous footwear label has been stepping out in high style and is always the first to launch new ideas and toe-tapping designs. Following the success of the company's Shimmer Collection last year, new textures and fabrics have been introduced that include an amazing sparkling lace. Heel heights range from 'of the moment' midi, to towering stilettos and fabulous flatties; brand new is Rainbow's gleaming metal feature heel in gold or silver – a look that works brilliantly for bridal. In the portfolio there are various labels: Rainbow Club itself (look out here for ankle straps, toe-cap detailing, sharp pointy toes and elegant almond toes); the sleek, catwalk-inspired Rainbow Couture; girly looks from Else; and vintage-style beauties from Hassall that feature soft nubuck leather with laser-cut platforms and gorgeous flower detailing. Hand colouring is a Rainbow Club speciality. Retail prices range from £30 to £225.
For contact details, click here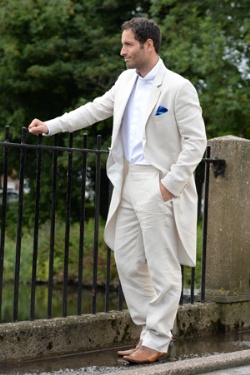 Rupert the Tailor
If you were in Harrogate you would almost certainly have seen this handsome menswear collection that boasts great fit and fashion-cued thinking. Though 13 years in the ready-to-wear market, Rupert is a bespoke maker who specialises in precision cutting and fabrics that range from fine wools in classic shadings to vibrant brights for the groom who wants to stand out in his big day – the best-seller at Harrogate was a purple morning coat – WOW-factor for the chaps! With a fantastic range of colours, here's the opportunity for a retailer to attract in a whole new audience – fashion-forward males (perhaps encouraged by their brides), as well as perfectly-matched groomsmen and page boys; the colour choice is stunning here. Retail prices range from £350 to £600 depending on fabric, first and foremost, and the margins are very generous indeed. Worth discovering this one is.
For contact details, click here