Dotty Bridal Series: Re-opening
Shannon Martin of Dotty Bridal continues her BridalBuyer.com series by sharing her experience of re-opening after lockdown.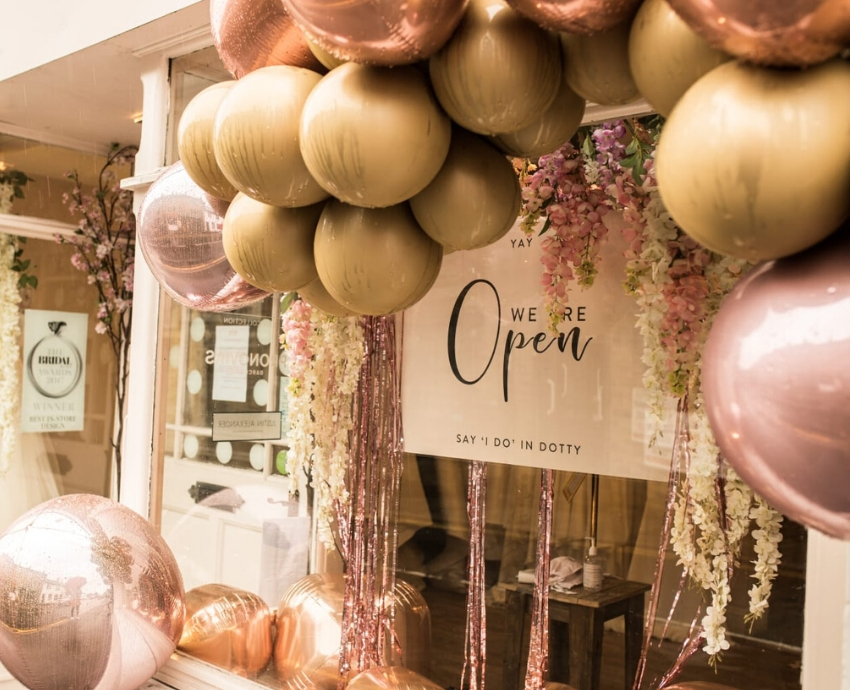 So, you've re-opened after months away from the shop. How does it feel?
After the longest 12 weeks ever, our doors are finally open and oh wow does it feel amazing!!! We opened back up on Tuesday 16th June and it honestly feels as though we have never been away. I have missed the boutique so much but even more so I have missed my incredible Dotty team. I've missed the daily banter, jokes, laughs and general chit chat so much. One thing that is evident is my brain has turned to mush and it feels like I have 'baby brain' all over again (not that I ever got rid of it after the last two times).
It feels incredible seeing customers again and at last getting a chance to see all our lovely Dotty brides who's weddings have been so sadly postponed, we are currently sitting at 90 postponed weddings and each day so many more are being forced to postpone their big days. My heart breaks for them all.
What does a typical day look like for you in the new normal?
A typical day in the new normal is jam packed, we have had to up our staffing numbers to ensure that all areas and dresses are thoroughly cleaned and sanitized between appointments, so this has been a real challenge.
The day starts off with our stylists seeing who they are going to meet that day, reading through all their pre- appointment notes, and pulling out the dresses which they have pre-selected from our look books. We then ensure the rooms are clean and ready, PPE is prepped ready for the brides and their guests and that the (now packaged) drinks are on chill. We have a dedicated team member who cleans down the rooms and external areas after a bride enters and leaves the shop. We are leaving our fitting rooms for 30 mins before the next bride enters that room to ensure we are helping to reduce the spread of the virus.
A member of staff is permanently on reception currently replying to all emails, Facebook and Instagram messages and answering calls. This is a mammoth task at present as the email and calls are currently at an all time high which is amazing but proving difficult to keep up. With the arrival of so many deliveries of new gowns and bride's orders, we have a team member who focuses on steaming and processing each day.
Social media content is also a big part of our day, we have seen a huge increase in our following and interaction throughout lockdown and now we are back open we want to ensure this continues.
How have brides reacted to the new safety procedures you have implemented and importantly, are they buying?
Brides have reacted positively to our safety measures and are adhering to everything that we have implemented. Everyone has been fantastic and we haven't had any issues with the use of PPE or guest restrictions.
Customers are arriving promptly which is really helping us to keep our day on track and ensuring we have no crossovers in the boutique. On occasion a few brides have requested to bring more guests but the new Facebook portals are working really well as a positive tool to combat the limitation on guests. It's so lovely when the bride has all her guests watching her appointment and when she finds the one it's such an amazing experience filled with anticipation and excitement, one which we will never probably see again in our lifetimes. It's just fabulous for brides to remember this challenging period in a happy way.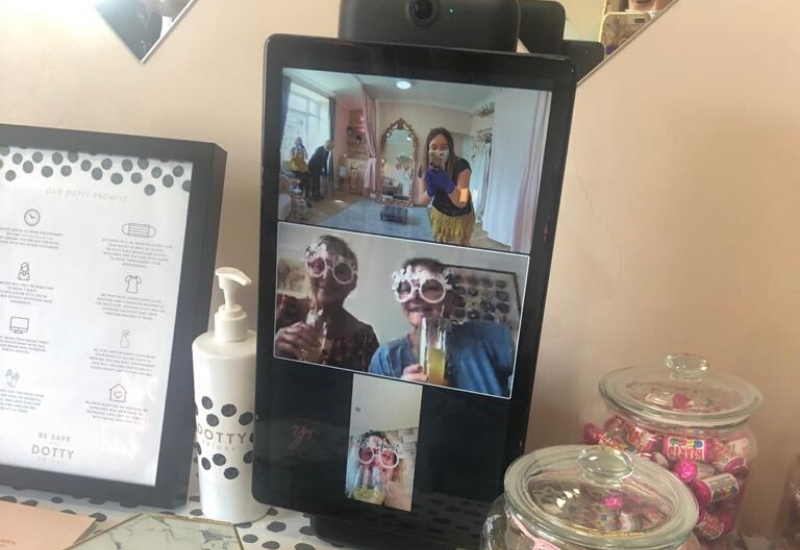 What have sales been like?
Sales have been amazing! In our first week back we had 18 new Dotty Brides, it was an incredible week with a conversion of 68%. Our appointment diary is chocker block with every weekend fully booked till mid August.
The new measures I feel are aiding sales, the lack of guests is a definite advantage as the bride is much more decisive. I think having the guests via the portals also helps with this as they are less likely to offer their sometimes brutally honest opinion over a video in comparison to being there in the flesh. I also think that pre-selecting dresses is helping the brides to be more decisive and probably the time spent over lockdown researching dresses has helped as most seem a lot clearer on what they are wanting.
Our weekday appointments are not as successful as weekends at present as the brides seem to still be shopping around. Time scale wise lots of brides now don't have very long until their big days, they would normally have been shopping during the months that we were in lockdown so this is again helping to create urgency. All our hard work during lockdown gaining and building our following and helping our viewers to understand what we are about and what to expect when they come into the boutique has paid off.
If any, what issues/objections have come up in the first few weeks of opening?
In the first few weeks of opening I would say the biggest issue that we have come up against is time and the lack of it. Everything now takes so much longer as the gowns have to be sanitised and the shop thoroughly cleaned between brides is proving to be very time consuming. It is also costly keeping up with purchasing the required PPE and cleaning/sanitising products as well as payroll costs for extra members of staff to conduct our new normal of day to day running. But what I would say is buy in bulk, the bigger packs the better as boy do you go through it. We have gone through three boxes of gloves already and several cans of dettol spray in just under two weeks.
Do you have any tips or wise words for any retailers that are just about to open their boutiques?
Some tips to any business owners who are yet to open, be clear and concise with your new protocol, explain everything that you want the brides to do whilst in the shop. Use of social media is key at this time as this is where our audience is, especially Instagram. We made a really quick TikTok video of what our brides can expect when they come into the shop and this has been amazing. We've had so much feedback from our brides on how helpful and insightful this video is, lots have commented it's really put their mind at ease about coming in for an appointment. It has actually gone viral on TikTok and was so easy and quick to do. I unintentionally posted it to TikTok and thank god I did as we have gained so much exposure from it. View it here
Time management and planning is also key, ensure if you do have two or more fitting rooms that no one is crossing over and that all your appointments are staggered. Insisting that your brides arrive on time is the key to this and really does help make the running of your day much smoother. Ensure you have the right members of staff in the right place at the right time and this will be a breeze. Lastly, be prepared to be exhausted at the end of the day. It's a shock to the system being back in a busy environment and I don't know about my fellow shop owners but I was exhausted after the first week back!!