Inside The Wedding House Boutique
The Wedding House Boutique has recently welcomed brides back to their newly renovated boutique. We interview co-owners Sophie and Joanne to find out why they were inspired to redesign their shop and what brides can expect inside.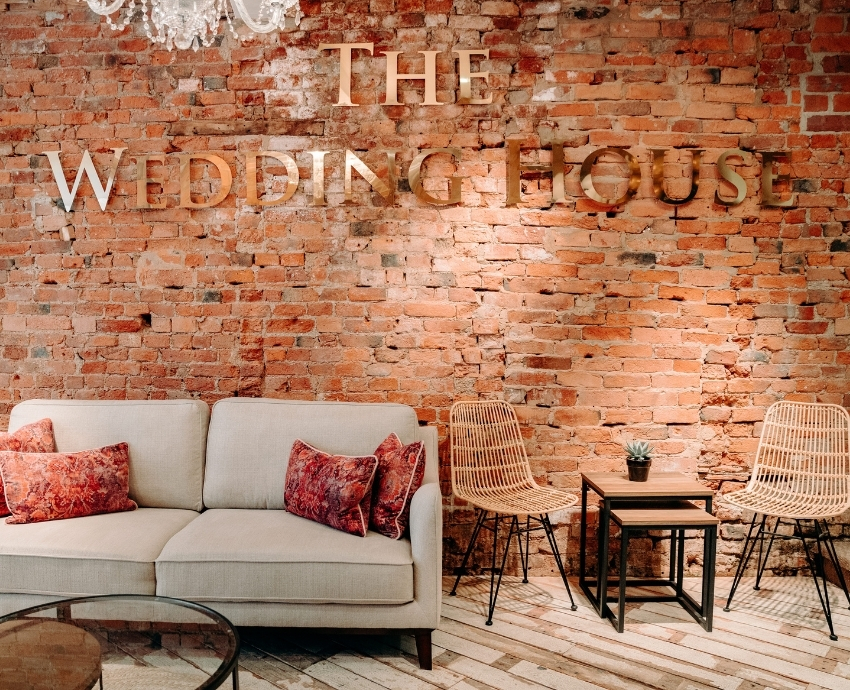 Name of store: The Wedding House Boutique
Store owner: Sophie Stew & Joanne Moore
Number of years trading: 5
Brands stocked: Martina Liana by Essence of Australia, Jolie by Berta, Blush by Hayley Paige, Abella by Allure, Hayley Paige Occasions and Nieve Couture, Sorella Vita Bridesmaids, and our own brand of multi-ways
Location: The Wedding House Boutique is situated on Sadler Gate, a vibrant and historical shopping street in Derby's city centre
Why did you decided to renovate your shop?
We wanted our shop to reflect the high-end bridal labels that we would be featuring along with complimenting the surrounding historical buildings. The building had fantastic bones but it needed converting in order to make it modern and functional for what we needed it for.
How did you find the process of renovating?
It was very challenging but equally as exciting. We loved the design aspect and thinking of the journey that our brides would take when they stepped into our shop. The construction proved difficult due to Covid and multiple lockdowns which affected the traders that we had hired, but looking back it was all worth it in the end.
Where did you find your inspiration for the interior design of your shop?
One of our co-owners has over 10 years of wedding design experience and owns her own event company, Imagine Event Design, so she took charge as the designer. Drawing inspiration from the original rustic and industrial features of the building, she played to the strengths of the historical street and surrounding shops. To balance the raw elements, textures and colours in the form of velvet sofas, shag rugs and crisp greenery were brought in to give an elegant softness and create a cosy atmosphere for our clients.
What are the key features of the new interior?
Some of our key features include the original exposed brick walls, complimented by beautiful brass gold rails showcasing our bridal dresses and accessories. We also have an incredible antique chandelier which creates a focal point, drawing the eye up the staircase to the antique gold mirror which opens the space on the landing. All these features along with the sheer size of the upstairs area, creates an amazing 'wow' moment for all our brides and clients who visit the shop as their eyes are drawn to so many aesthetically pleasing areas and zones.
We also have an inspiration area featuring styles and designs from the event company belonging to one of our co-owners. Here, we showcase a timeless wedding table set-up to give our clients ideas and inspiration for their weddings.
What kind of space have you created?
We have created multiple zones with a slightly different look and feel to cater to the individual styles of our clients. The 'Snug' feels like the cosiest living room you could ever imagine. The velvet couch paired with the shaggy rug gives a sense of warmth and encourages anyone who enters to relax and put their feet up.
To contrast with the Bohemian vibe of the 'Snug', the 'Suite' has a much more glamourous feel with mirrored furniture and crystal light features, creating a very elegant and luxurious atmosphere.
Our dedicated drinks area also helps to give an overall feel of calm and relaxation to the shop and encourages our clients to feel welcome.
Is there anything in your interior that makes your boutique stand out?
Our shop houses an air of mystery and secrecy which we love. From the street, you would not expect it to be so big and spacious inside. The best way to describe it is like Aladdin's cave; there are so many beautiful features and zones that draw our clients in and invite them to explore.
Now you have renovated, how do you approach your window displays?
Our windows offer a fantastic space to showcase our dresses. We keep them as the feature but create seasonal displays to complement and enhance the look of the dresses.
Finally, can you give us your top three tips for creating a stunning interior?
I would say that it is important to always keep the client in mind. A bride will almost always bring her bridal party, so it is important to allow space for people to sit and move around without feeling claustrophobic. At the same time though, you do not want to leave the space feeling empty and bare; it's about balance.
It's also important to keep your styles, designs and colours timeless. Don't try to fit in too many current trends as these will change over time.
Another tip is to not overwork colours. Don't be afraid to play with colours and shades within your accessories because these are the elements that can add interest and dimension.