Katie Loxton to Debut Bridal Collections at London Bridal Fashion Week
We spoke with Katie Loxton, Founder of gifting and jewellery brands, Katie Loxton and Joma Jewellery ahead of London Bridal Fashion Week 2020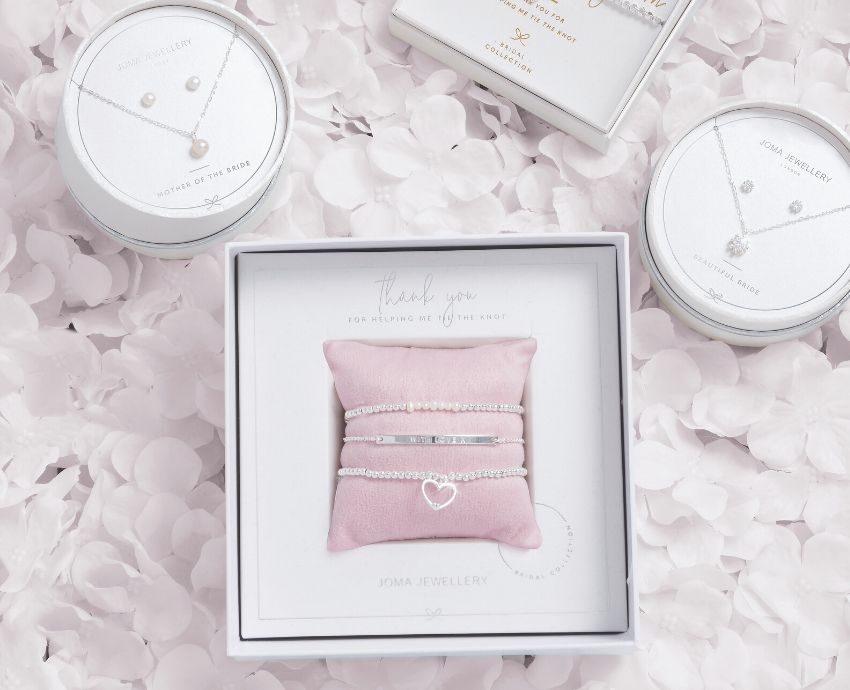 Can you give us a background to the brands?
Joma Jewellery was established in 2008 after my husband and I went backpacking across Asia. Throughout our travels, we stumbled across beautiful and unique pieces of jewellery. We fell in love with semi-precious stones and silver beads and because of that, we decided to launch our own jewellery brand.
As Joma Jewellery began to flourish, we realised that there was an opportunity to expand into multiple product categories. We saw a sweet spot in the market and wanted to develop a collection that wasn't available yet. I always dreamt of creating a worldwide gifting brand that had something special for everyone and that's when Katie Loxton was born.
What are the brand's secrets to success?
Meaningful and fun-loving handwritten sentiments are at the heart of our collections. We always aim to create high-quality designs that have the ability to fill everyday life with moments of happiness, and our own positive outlook helps to inspire this. We also believe it's important that our products are priced with an accessible price point – to ensure everybody can enjoy their own little luxuries.
What is your signature style and what makes you stand out?
All of our designs are uniquely created in-house by myself and the design team. Our focus is purely on designing high-quality, luxurious products that are affordable. We want all of our products to be seen as inspirational, memorable and timeless.
The beating heart of the brand is 'The Perfect Pouch.' It's actually the first piece we ever designed. Each pouch is personalised with a sweet message, making it a perfect gift for all occasions including birthdays and weddings.
---
---
How has the brand evolved over the years?
What started in a studio apartment with just myself and my husband has now expanded into a successful business with over 150 staff members. In the early days, me and my husband would drive all across the country pitching our designs to retailers. We did everything from the designs themselves right down to packing orders. Because of this, we have a unique understanding of every element of the business.
Since then, we have opened two beautiful stores in Carlisle and Chichester, with exciting plans for more on the horizon. We have also launched our online retail business and have gained many stockists across the UK, Europe and America. Although we have huge marketing and sales teams, the true essence of the brand remains, and we make sure everything is perfect right down to the finer details.
Where do you see the brand in five years?
In the next five years, we have lots of plans to expand the business. We want to be seen as the world's leading gifting brand. To do this we will introduce lots of innovative, exciting products. We have plans to open more franchise stores and our online platform continues to be a big focus for us. We are continuing to develop our relationship with independent stockists as well as expanding into new product categories, to give our customers more areas to shop.
We are also looking to expand further into the bridal industry. This year we have designed our own original bridal collection that features gifts for the bride as well as everyone in the bridal party. We will be debuting the collection at London Bridal Fashion Week in March and we can't wait to see the reaction.
If the brand could be remembered for one thing what would it be?
We want to be remembered as the brand that has helped those special occasions become more meaningful and memorable, whether it's a wedding, birthday, baby shower or simply a special moment of gifting.
Can you tell us more about the collection(s) you will be showcasing at London Bridal Fashion Week?
We will be bringing both our new Joma Jewellery and Katie Loxton bridal collections to London Bridal Fashion Week. Our Joma Jewellery line will include our beautifully boxed earrings, necklaces and bracelets for every member of the bridal party. We will also be launching our new bridal hair accessory collection that will feature semi-precious stones in the most beautiful designs, with something every bride can fall in love with. The Katie Loxton bridal collection will include everything from wedding candles, personalised pouches, Mr & Mrs luggage tags and gifts for the bridal party.
Can you talk us through the brand's relationship with the UK bridal market?
We currently have a few bridal retailers who already stock one of our brands, if not both. However, this year we are looking to continue to establish the brands to bridal retailers, this is why London Bridal Fashion Week is important to us. It will be our first trade show in the bridal industry.
Our minimum order value starts at £300. We have a great in-house customer experience team who will look after our retailers and their sales on a daily basis. We are really looking forward to the show and can't wait to see you all there!