Making conversions count during the pandemic
This is the first in the 2021 content series with Get Savvy. Throughout the year Maria Musgrove will cover sales, marketing and more.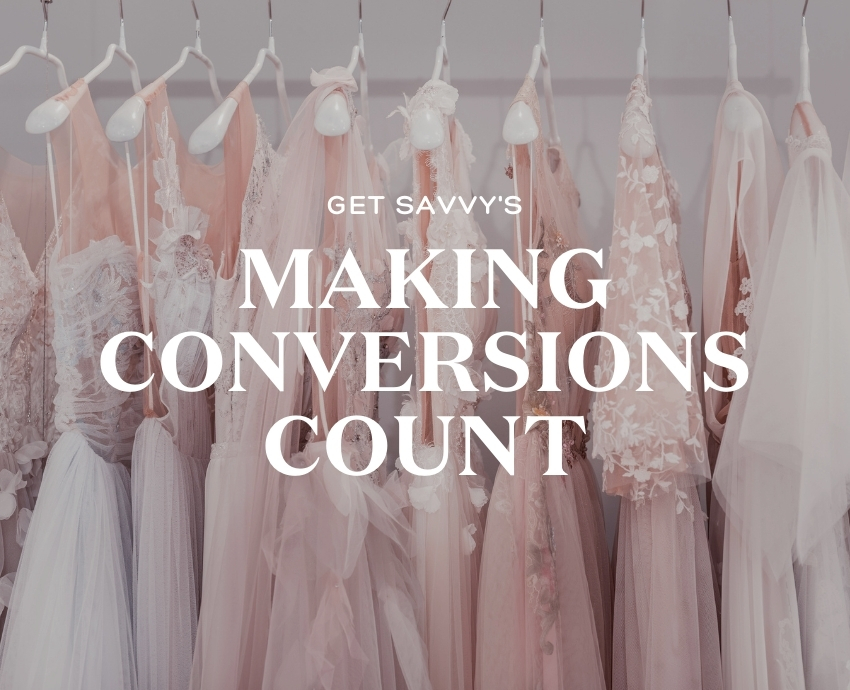 In this article Maria shares her first-hand knowledge on how to make the most out of the confusion that the pandemic has created.
Confession time. Back in 1997 when I opened The Pantiles Bride, I am embarrassed to admit, that if someone mentioned 'conversions' I would be thinking home improvement not business improvement. I thought other sales related words like 'qualify' would be related to sport, and 'follow up' would be dismissed with very different 'FU' responses of "that's too pushy" and/or "she'll be back".
Fast forward to 2021 and I now realise that conversions are core to my business, and if any of my stylists say "she'll be back" I'll be on her case to find out when and how she plans to get her back. What gets measured gets results. So, measuring conversions is key and even more so with the chaos that has been created by Covid-19. Because, unless have you successfully broken into a bank or broken the law during lockdown, then we will have seen diaries decimated with weekly appointments down from double to single digits resulting in drastically reduced turnover. I'll admit to seeing half the numbers of brides since reopening in June and yet my figures are not down by half. So how is that? It is all about increasing conversion rates.
---
---
Firstly, what do I mean by conversions?
If you google "the importance of measuring sales conversions" you get 189 million results! Most of them relate to website optimisation, metrics, click throughs on landing pages & funnels etc. But before you give up and click out of this article let me reassure you that understanding and measuring sales conversions is very easy, low tech, you can do it with the '3 Ps' - paper, pen and a phone (for the calculator).
So, if conversion rates do not refer to clicks what do they mean and how can they be measured?
It's simply about monitoring the number of appointments versus the number of sales units, i.e. number of brides seen and number of dresses sold. The calculation for conversion rates is to divide the number of individual brides seen (count them only once) by your unit sales. For example, if I saw 10 brides and sold 5 wedding dresses my conversion rate is 50%, if I saw 10 brides and sold 8 wedding dresses my conversion rate is 80%.
What is a good conversion rate?
This is a question I often get asked so back to the lifeline that is 'phone a friend - Google' and in the response to "what's a good conversion rate for a bridal boutique?" there are only three searches related to sales – two I'll discuss now.
The first is my article suggesting that one in three (33%) is the minimum and the second is an article written by Abi Neill. She states, "an average performing bridal boutique converts between 25% and 45%, a less than average boutique converts less than 25%, and a high-performance boutique converts upward of 50%." Abi goes on to say that "within our business, any individual stylist who consistently converts at less than 40% is retrained and ultimately taken off bridal sales if we cannot improve sales performance." My threshold is slightly less at 35% but I follow the same steps. I managed a stylist whose conversion rate had dropped dramatically from a consistent 40% to 14%. Unfortunately, she cost me £50,000 over a 5-month period so when she didn't shape up, she had to be removed from the business.
How can measuring conversion rates benefit your business?
It can show you where the weakest link is, by identifying my lowest performer within the team. It not only increased the boutique's overall conversion rate, it also demonstrated to the rest of the team how serious I was about conversions being a key performance measure in the business. The day I said goodbye to that stylist our conversions have consistently stayed at well over 50% which qualifies for Abi's high performance boutique award!
It is important to calculate individual conversion as this can create a healthy and competitive sales environment. At my boutiques we have a whiteboard with financial performance against target and with team conversions alongside individual conversions. Oh, and we have our list of 'hotties' (hot prospects) in a prominent place – by the Nespresso machine! So, no hiding places and no excuses!
How to improve conversions?
Before Covid, my conversions were 50%, we have been able to improve on this and they are at very impressive 70%. I put this down to connecting even more with my brides at the 'pre-sell' and really getting to know her before she sets foot in the boutique. I also charge for all appointments hence filtering out the time wasters just out "to get ideas".
If bridal isn't a hobby business and you want to find out more about the Get Savvy membership group and the newly launched Selling Secrets course, visit getsavvycoaching.com.