BBEH is the best reference for new labels in bridal and it is here where canny buyers and the press look for that all-important scoop. Finding a gem - one that will set you aside from your competition - is a truly rewarding experience on the show circuit, and there's lots to delight at the forthcoming show
B Munro Roberts
For the past ten years, Scottish designer Bruce Roberts has been producing couture bridal gowns, mother-of-the-bride outfits and evening wear from its shop and studio in the beautiful town of Kelso in The Scottish Borders. At BBEH, the company is launching its very first off-the-peg MOB collection, designed and made in the UK, and aimed at the mature woman who appreciates classical elegance and top-qualitymake and fit. The dresses and jackets, which are sold separately - and the latter are available in three different lengths - come in exquisite silks with accents of lace. The colour choice is considerable and the size range covers 10-22. Standard lead times are only 4 - 6 weeks and a rush delivery service is also available.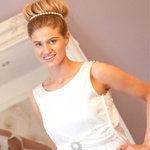 Erica Stacey Bridalwear
This exciting new label was launched at the start of the year by British designer Erica Stacey and Terry Keane who between them have a wealth of experience in the clothing manufacturing industry; Erica has designed couture bridalwear since 2008. Their first vintage-inspired collection was well received and featured on some of the biggest wedding blogs including Brides Up North. Both Terry and Erica are passionate about UK manufacturing and all their gowns are handmade at their studio in Manchester. At BBEH the duo will showcase their second collection which promise some beautiful - and surprising - special features.
Freed of London
A name that will be familiar to many, Freed has been established since the 1920s and is famous for its dance shoes, providing handmade ballet shoes to most of the professional dance companies around the world (they supplied Oscar-winner Natalie Portman with all her shoes for the film The Black Swan). In addition Freed manufactures ballroom and Latin shoes and works with TV shows including Strictly Come Dancing -Felicity Kendall would only wear Freed in the last Strictly series and Naomi Campbell wore Freed in the USA version of the show. Through its London Shop Freed has often created special orders for bridal parties, based around the designs of its ballroom and Latin range, hence its interest in launching into the market with a Wedding Collection, which will be unveiled at BBEH. Dance shoes are designed and engineered for perfect balance, pitch and comfort, as without these elements a dancer simply can't do her job. Brides deserve the same comfort, so this one looks like being a real winner., bridesmaids and other members of the bridal party.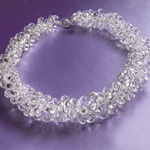 Gill Rogers Glass Jewellery Design
Says Gill: "My work is a reflection of my personal response to working with the fragility of glass, exploring principles based on flame-worked techniques. I try to convey, through my work, the different ways in which glass behaves during the hot process when it becomes molten and cools to take its shape. My most recent work explores the use of borosilicate glass, constructing three-dimensional forms to create sculptural designs in jewellery. I am especially drawn to the transparency and optical qualities of clear glass, the way it reflects and absorbs light." We say: "This is gorgeous, and different and special. Want it all."
Menbur
As one of Spain's leading names in high-fashion footwear, Menbur delivers an amazing sense of style, and intricate design work that sets it apart of others in the business. This is serious occasionwear dressing, with brilliantly wrought metal-work and stones entwined round a heel, and strategically placed decoration that begs to be noticed. The bridal designs are exceptional, and there's a brilliant range of matching bags. A favourite of ours are the lace shoes, sprinkled with enough sparkle to make you feel like a princess.
Jaego
Proudly flying the flag for British manufacturing, long-established occasionwear house Jaego London - who produces its collections in the heart of the capital - joins the BBEH line-up for the first time. The company's 2013 range is a skilful marriage of form and fabric, bringing subtle prints and polished plains together in a marvellous collection of dresses and jackets, aimed at well-dressed MOBs and, of course, their guests. The colour range is especially attractive here, and the company is committed to always going hat extra mile to ensure that a woman gets just what she wants.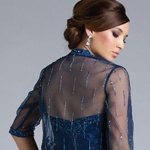 Jolene
This LA-based label embraces occasionwear, prom, MOB and in its home market, pageant, with more than 500 styles split over its Jolene, Josh and Jazz collections. Colours are vibrant and designs spot-on for the current trends; with a retail network of over 2,000 stores world-wide, this company has to be doing something very right indeed. Where there is sparkle it is full-on and partified, but the elegant little dress and jacket combos show an amazing attention to detail, combining different textures, fabrics and finishes.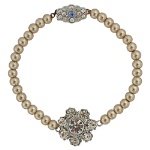 Lovett and Co
Just over two years in the business and making a big impression, Lovett & Co has designed a collection of delicate vintage-inspired bridal jewellery. There are stunning pearl and diamanté necklaces, earrings, bracelets, brooches as well as hair accessories and, as a delightful little touch, every necklace and bracelet features a clasp with a tiny Swarovski sapphire crystal to upkeep the 'something blue' tradition.
Nixa Design
We spotted this collection at Modatex and can tell you first hand that it is one to watch. Swedish design has a cool freshness and the fact that this business was founded and built up by experienced retailers, means that they have a pretty good eye on what shops, and consumers want. The collection includes bridal, maids, occaionwear and some very pretty accessories. The short wedding dresses will get lots of attention.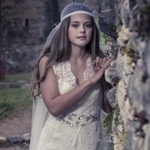 Nymphi Design
This niche design company that produces handmade couture bridal accessories including veils, belts and jewellery as well as bespoke every day and occasional wear jewellery was formed by
Barbara Dimitreas-Rapteas in 2006.
The 2013 collections include nearly 120 pieces retailing between £40 and £1,000. They are made from the finest laces, highest quality tulle, Swarovski crystals and stones sourced from Greece and all over Europe. The designs have evolved naturally into three different collections and, as they are made to order, the company can offer different colour, size and material options.

Don't miss
B Munro Roberts A20a
Bianco Evento Q25
ButtonBelle D24
Cabotine A32
Cheryl Durrant L6
Clairmodel A41
Daisi Daisi D3
Eliza Jane Howells A37
En Vogue Bridal Accessories A38
Erica Stacey Bridalwear L2
Freed of London L3
Gill Rogers Glass Jewellery Design L1
Halo Bridal Design (Australia) D19
HT Headwear D1
Ivory & Grace Q18
Izmir Bridal D8
Jaego London A22
Javier Arnaiz M37
Jolene - Josh and Jazz Q14
Jovani fashions Q26
Lovett & Co C76
Madam Burcu D6
Marcia Ann Designs Q23
Mariage a Paris D7
Menbur C77
Nixa Design Q41
Nymphi Design Q28
Sally Crawford Q17
Sherri Hill Q42
Sheyla Lazo Q20
Tiffanys Holiday Inn Hotel