A new innovative Rain Mac, especially designed for brides, was launched in Belfast earlier this month and is now heading for London Olympia, regardless of the weather!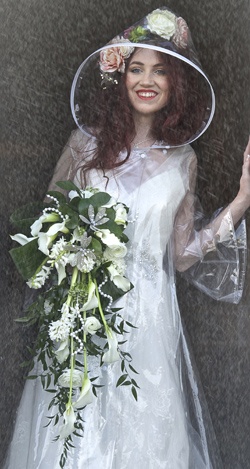 That dreaded wedding-day downpour will no longer be a cause of concern thanks to a great innovation by Marissa Murphy, founder and designer of CrystAl Rain Mac. The 41-year old from Liverpool, who has lived in Northern Ireland for the past eight years, says: "Every bride's nightmare is rain on her big day and having to dart from car to church and church to venue under a team of umbrellas and fathers' overcoats, having to lift her white dress from trailing in puddles whilst trying to stop the mascara and makeup from running,
"Let's face it," she continues. "There is no shortage of wet days in our climate and no telling when or where the heavens are going to open! So I decided to come up with a tailored design solution that would not only protect the bride from the rain, but would also allow her dress to be seen underneath. My handmade Mac is made from a special Crystal PVC which is transparent and fully waterproof thanks to heat-sealed seams."
"Key features of the Mac include a hidden adjustable pocket at the back which carries the gown train keeping it clean and dry and off the floor. In the front, there are two pockets-less pockets so the bride can put her hands inside to pick up the front of her dress. The Mac is floor-length, with a pleated back and bell sleeves to create shape and elegance and an oversized hood which accommodates the veil and hair accessories."
The launch of CrystAl Rain Mac marks a new chapter for Marissa who has been running Fashion Forum/Forum Events as a stylist and events planner for some years. "Branching out into the design world is a challenging and exciting step to take. I have been very fortunate to be awarded an innovation voucher from Invest NI due to my Mac's export potential; this will assist me in getting this new product to a global market. I am also grateful for the support that Belfast Metropolitan College has given me as knowledge provider – within less than two months, I had a paper pattern and a prototype signed and sealed ready for production by a UK manufacturer"  Their help and support has been amazing".
The CrystAl Rain Mac is aimed at savvy bridal retailers, who go the extra mile for their customers and will want to offer the Mac as a last-minute hire item if the rain is forecast, while benefitting from an additional revenue stream. Wedding venues, too, may choose to offer the Mac as an added benefit in their package to help make the wedding day run as smoothly as possible. 
The Mac also comes in ¾ length, and there is a mini bridal and flower girl collection available and an option for MOBs and guests – so great red-carpet dressing potential, too.
See CrystAl Rain Mac at the London Bridal Show, 6-8 April. For contact details, visit our Brands Directory
To register for the show, click here