Rosa Clará launches its first collection of bridal coats and capes
For the first time in its 25 year history, Rosa Clará is unveiling a capsule collection of bridal capes, coats and jackets as a complement to its bridal collection.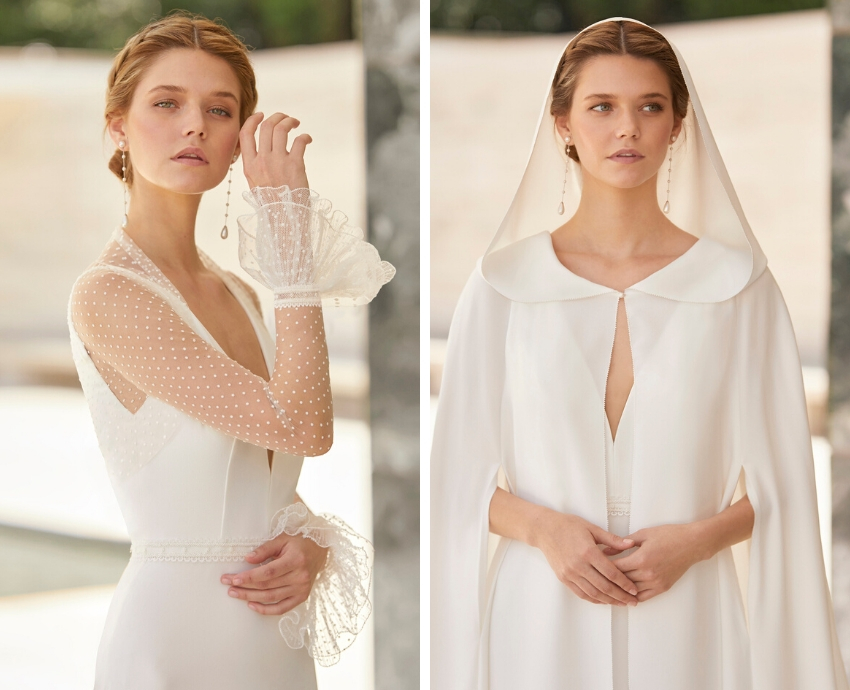 Covid-19 has seen wedding postponements across the world, with many moving their weddings from Summer to Autumn/Winter. In response to unexpected change, Rosa Clará are launching a capsule collection of bridal capes, coats and jackets to compliment it's gown line.
The collection will include long/bracelet sleeve designs as a fashion-forward cover up option for winter brides on their big day. Stunning long capes in crepe and georgette are one of the leading bridal fashion house's bets for this winter, adding a touch of ethereal fantasy and elegance to the minimalist style so characteristic of Rosa Clará.
The firm's Haute Couture tradition is expressed perfectly in their wonderful lace coat that is set to be one of the collection's star pieces. The coat is brimming with delicate femininity and romanticism, with bracelet sleeves and a V-neck. It represents the spirit of Rosa Clará and is the ultimate in autumn wedding style. Similarly delicate are the plumetis or soft tulle coats, a chic and contemporary choice for brides who would prefer not to let their coat overshadow their dress.
The new capsule collection also includes designs for more versatile and timeless wedding jackets, adding to the number of options for women celebrating their wedding this autumn/winter. Elegant jackets in high quality fabrics such as sienna, crepe and mikado, cut to fit the silhouette perfectly; a charming mesh jacket with central buttons, ideal for a winter wedding; or a taffeta jacket with a shirt collar and tie waist for a contemporary look are just some of the firm's ideas for this stunning collection. The perfect finishing touch for an unforgettable bridal look.
For further information:
Yolanda Morea – y.morea@rosaclara.es