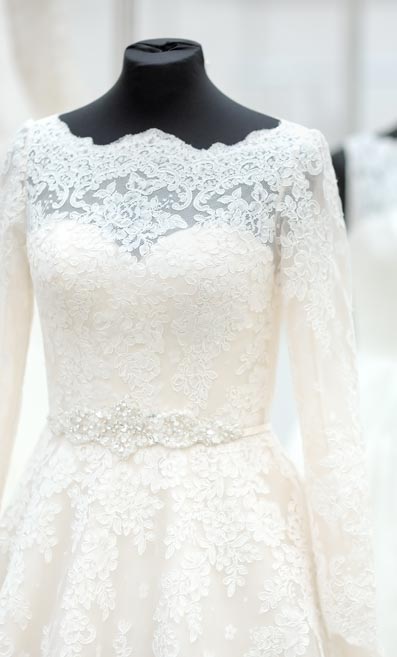 How to help your stockists at a bridal trade show
We asked bridalwear retailers what their suppliers can do at bridal trade shows to make it easier for them to restock and to make the most of their visit. Here are the seven things that jumped out at us – if you have any additional ones, be sure to leave them in the comments section below.
Booking in Advance
"Time is of the essence at shows and they can be planned like a military operation, so it really helps if appointments can be booked in advance."
By allowing your stockists (or potential new stockists) to book appointments in advance, you are minimising the likelihood of crowded and quiet periods at your stand. You can have a more ordered day and prep for your meetings – rather than miss people in crowds at busy times.
Organise a Dress Run-Through
"I favour a run through of all the dresses – this is much more time efficient, rather than placing discs on the dresses you want to see on the models."
This is actually a savvy move as your stockists will see dresses on models they may never have considered – they might order differently or even buy more stock. Picking out dresses to get on to models can take way longer than it needs to, as the retailer browses the rails and you have to find the right model and get her in and out of the selected gowns.
"It doesn't have to be a professionally choreographed show at your stand – just a line-up of models in dresses and a style sheet that matches the running order."
Ban the Word 'Minimums'
"The dreaded minimums word! Let us know – those of us who are in our second or third decade in the industry can decide what negotiation we need to do."
If minimums are non-negotiable, be upfront about this so your stockists can budget accordingly – particularly if they are one of your key stockists.
Show Deals
"When we host trunk shows in store we offer brides an incentive to buy there and then."
Put on an offer for retailers to encourage them to buy from you there and then at the shows – and make sure they know about it before the event, so they make time in their schedule to visit you and they allow for that expense in their budget.
Payment Plans
"Share these pre-show so we can start to budget and make sure we have the funds ready to pay for the gowns."
Let retailers know if you're offering a payment plan and be clear about the dates – they can then make sure it's plausible.
Delivery Schedules
"Again, it's better to have this before the show, with the payment plan."
Have a delivery schedule to work alongside your payment plan and stick with it – some retailers discussed the difficulty of samples arriving earlier than agreed and being expected to pay for them, even though they didn't fall in line with the plan.
Discontinuation Lists
"Again, these should be shared before the show to help us plan."
If you're planning on discontinuing any designs, make sure your stockists know as soon as possible. If you wait until the day, you might throw their whole buying plan out of kilter, particularly if it's a best-seller for them. By sharing a discontinuation list you can help your stockists to plan ahead.
Feeling enlightened? One retailer shared her message to suppliers with us – take a look to better understand how we can all work together.