Sustainability with Heart Aflutter Bridal
We talk sustainable, ethical bridal fashion with Heart Aflutter Bridal owner Cecilia Di Vita.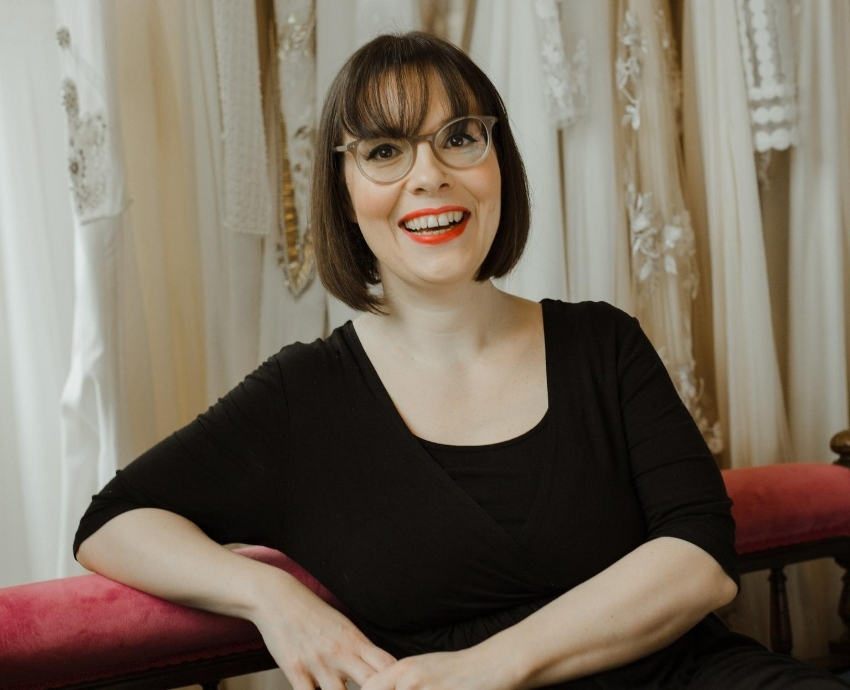 Covid-19 has changed the world of fashion. Consumers are buying less, becoming more aware of where their clothes come from and researching how their purchases impact the environment. Cecilia Di Vita, owner of Shoreditch based boutique Heart Aflutter Bridal, has been making sustainable and ethical business decisions for nearly six years. We asked Cecilia to give us an overview of sustainability in bridal and how you can make small or big changes to make your boutique more sustainable.
Can you explain to us a little more about sustainability, ethical and slow fashion?
For me, made-to-order bridal fashion is already sustainable, ethical and slow because of its intrinsic model. Every dress is made when a bride orders it, so we are not sitting on huge piles of dresses that people may/may not buy. There is no big question mark over what happens to the dresses that don't get sold, as is the case in regular fashion. I loathe the notion of thousands of garments going to landfill!
Why did you decide to exclusively work with sustainable designers?
I made the decision to work with sustainable designers, because fashion is a huge contributor to pollution and labour exploitation and we don't want to be part of that, or at least we want to reduce our impact as much as possible.
How do you source sustainable designers? Are they all high-end?
We only work with independent designers. So that is our first choice. Secondly, most designers we work with either have small in-house teams or trusted external dressmakers, who get paid a decent wage and have fair working conditions. We also pay attention to what kind of fabrics they use, and to other factors such as what kind of packaging they use. Our designers start at about £1,500 for made-to-order so it's actually more affordable than a lot of people think!
Have you got any examples of how your designer's collections are sustainable?
Yes, for example, Lena Medoyeff only uses silk from small sustainable mills where workers conditions are fair and ethical. LAUDAE uses recycled polyester for their linings, and Truvelle make a point of creating designs that utilise the whole length of a fabric (as opposed to just using the edge, as is typical of lace, for instance) and to cut patterns in a way that minimises fabric wastage. Rolling in Roses have a lot eco-friendly and vegan fabrics, like peace silk (where the silk worm doesn't get killed) and a silk alternative made from orange fibre, a by-product of the citrus industry. Scout Bridal plant a tree for every dress they sell, and each dress comes with a seeded tag that you can plant, so you can grow wildflowers in your garden (which in turn is good for wildlife).
What other actions have you taken in your boutique to make it more sustainable?
We have gone almost completely paper-free. We don't print receipts or orders, everything is done digitally. We also recycle and/or reuse all our packaging, from cardboard boxes to tissue paper. We have also recently switched to garment covers made of 100% biodegradable plastic, and we are always on the lookout for ways of improving! Finally, none of our team drive into work, and we encourage all our customers to visit us using public transport (although we appreciate it's difficult during the pandemics and it depends on everyone's level of confidence/ability of course).
If a boutique couldn't commit to stocking sustainable brands as these might be slightly above their price point, what else can they do to become more sustainable?
Reduce, reuse, recycle. Minimise the use of single-use plastics, minimise the use of paper – there is so much we can do on a daily basis to lower our footprint, by just slightly tweaking old habits.