Many retailers do their entire year's buying at White Gallery, where they can take their pick of the most prestigious designer names – top British talents, and stars from around the globe. We asked six leading labels for the low-down on their best-sellers at the show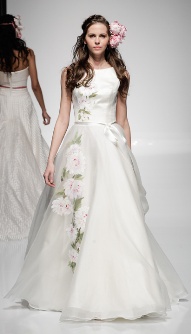 This year's White Gallery was the best ever for award-winning design house Alan Hannah, for both its eponymous label and the MiaMia collection. "Marguerite wanted to move our look in a new direction so whilst the classic Alan Hannah structure is still at the heart of the dresses, the outer shell is very soft and romantic with very light and flowing skirts. The fabrics, mostly from Italy, include chiffon and organza and have beautiful detail and many have subtle pastel elements, pale blues and greens and a beautiful floral in gold," says Alan. Marguerite's delicate hand-painted gowns always get attention and after the dazzling standing-room-only catwalk performance on the first day of White Gallery, the Watercolours pieces were especially in demand.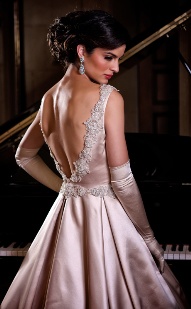 Hollywood Dreams is always a big attraction at White Gallery, with retailers keen to see Marina Adamou's latest offering. Known for her opulent mixes of lush fabrics and sumptuous beadwork and her avant garde approach to colour (remember that scarlet number that hit headlines everywhere?), this iconic designer – celebrating 33 years at the top of her profession – delighted retailers with a fabulous cappuccino gown in duchesse satin, called Eve, that features a plunging V-back, edged in embroidered lace and glittering crystals, which will retail for around £1,495. Every gown in the collection is made-to-measure, and certain changes are always possible. The Chic collection, also, was a real success at White Gallery.
It was so difficult to pick a favourite from the Katya Katya Shehurina 2016 collection – every gown has some special feature, or an amazing detail, that makes it stand out. Beautiful French laces, soft-to-touch fine silks and glistening Swarovski crystals are part of designer Katya's highly distinctive handwriting, that is firmly focused on individuality. Stockists love the ethos of the label, too, aware that they will have gowns that are exclusive to them, and also that a bride working to a tight deadline, can have her dress within six to eight weeks from order. The RRP across the collection is £1,350 to £2,900; best seller at White Gallery, Rosa, is right there at the top end; decorative lace, pearl embellishments and a soft skirt that falls in gentle folds tell a special story.
Quirky brides fall heads over heels with Mooshki, and buyers at White Gallery were well aware of the label's appeal. With prices ranges from £1,300 to £2,250, and tea lengths always an option (most gowns can be made calf length), there is something irresistible about the whole style proposition. Designer Olivia has an instinctive feel for what today's brides want, and she just goes for it, this time round with sleeker looks and heavier mikado satins, and a certain edginess that gives vintage a contemporary twist. Made-to-measure is available (great for sizes 22+), and changes can be made to sleeves and necklines. Best sellers at White Gallery were Effie, Leonora and Peggy.
There's a long and very beautiful history behind Spain's famous Novia D'Art label. This family business, which has passed through the generations, is now in its 49th year, and continues to win applause around the world, not simply for its immaculate sense of style and quality of craftsmanship, but also for its commitment to give stockists style exclusivity. All gowns are made-to-measure in the Barcelona Atelier of sisters Marta and Teresa and every one is utterly romantic. Unsurprisingly, style Siria, a classically elegant dress of the Grace Kelly school of wedding glamour, was the best seller at White Gallery in May. It retails for £2,500, while the collection starts at £1,500.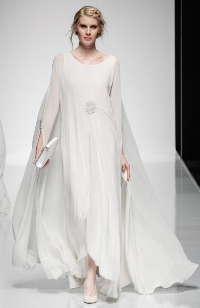 On the White Gallery London runway show celebrating British Talents, Zaeem Jamal sent gorgeous gowns, one after the other, down the catwalk. His Signature Serpent kaftan dress that features three intricately-embroidered interconnected silver glass bead motifs, had ipads flashing and hands clapping as flowing panels billowed behind, almost like a cloud of light-as-air silk. Prices in this exclusive collection go from £1,200 to £2,000 and changes such as colour and embroidery detail, as well as design tweeks, are part of the service; luxurious couture pieces are from £4,000 to £10,000. London-based, Zaeem Jamal enjoyed a tremendous response at White Gallery; his new showroom near Chelsea Harbour opens this summer.
Getting in contact
Our Brands Directory is where to go
White Gallery 2016 will take place 15-17 May at Battersea Evolution