This September The Harrogate Bridal Show welcomed thousands of visitors eager to look at the hundreds of collections on offer. In the wake of the show here's a little look at six labels that launched their latest ranges in Harrogate.
ADVERTISING PROMOTION
Alexia Designs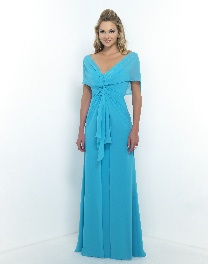 There seems to be no stopping Alexia Designs and its ever-growing portfolio keeps on expanding. The company has just launched the Liz Fields bridesmaid brand into Europe and building on the success of the Blush prom brand, plus the burgeoning UK prom market, it has also launched a new line called Intrigue. For 2015 Alexia has grown its colour palette and bridal gowns are now available in colours including gold, blush and sky. The Alexia bridesmaid dress colour range has also grown to include amethyst, mint green, pistachio, lemon and blush. With the constant development of the range, 10-mile exclusivity and special length hand-cut service it's no wonder their 200 stockists keep on coming back for more.
For contact details, click here.
Enzoani
Detailed beading, illusion necklines and low back details are among the highlights of Enzoani's stunning new collection. At Harrogate the stand was packed with buyers buzzing about the new ranges. The brand house, which has a huge following, not just in the UK but internationally too, has really pushed the boundaries for the year ahead and has introduced one gown with a stunning back detail that can be removed and worn as a necklace after the wedding. The bridal business really does have a dress for every bride at any price point and across its three bridal collections, Enzoani, Blue by Enzoani and Beautiful, retail prices range from £500 to £3,429.
For contact details, click here.
Essense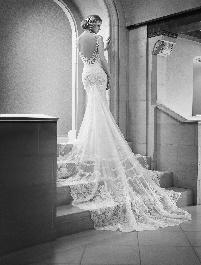 Founded in Australia more than 15 years ago with the mission to exceed brides' expectations, Essense of Australia has certainly lived up to its original goal. Its trio of labels each carries its own style and persona and for 2015 the new collections offer a splash of romance with colour options including blush and Champagne. Unique laces have also been used in stunning new ways as well as also being utilised on a variety of sleeve styles. Launching this autumn is Pretty | Happy | Love, Essense's new blog, which will allow it to communicate on a closer level with its brides and continue to inspire future designs.
For contact details, click here.
Jasmine
It's all about the sexy silhouettes at Jasmine for 2015. The new collection offers a selection of sultry styles including body-hugging bodices, which are slim-fitting to the hip before going into full trumpet and mermaid style skirts. Further designs feature sensual low backs and touches of blush lace to create a truly romantic and modern look. At Harrogate, retailers were bowled over by a dreamy gold soft tulle ballgown, which proved to be the most popular at the show as buyers were seduced by its embellished sweetheart bodice and very light sparkling beading. Dressing a celebrity would be a dream for the Jasmine team and they would most like a fashion icon with sophisticated taste such as Kate Middleton or Olivia Palermo to wear their gowns. Retail prices range from £1,000 to £1,700.
For contact details, click here.
Phoenix Gowns
After 10 years in business Phoenix Gowns has built up a strong and loyal following from its 130 retailers across the UK and Ireland. All of its gowns are made to order and can be made and delivered within six weeks, particularly impressive as the retail prices ranges from just £300 to £1,500. Phoenix Gowns has a "never say no the bride policy", which deems that any special feature that a bride may require they will always do their utmost to accommodate. For 2015 the Baroque Collection combines the best new styles as well as an adaption of the bestsellers from previous collections, great news for stockists who are fans of designer Tian's earlier creations.  
For contact details, click here.
Rainbow Club
A firm footwear favourite, Rainbow Club has once again produced a collection to impress even the most discerning shoe snob.  There has been an injection of fresh fabrics for 2015 and its couture range offers up pretty summer floral prints, which caused quite a stir at Harrogate, as well as a premium-looking metallic sequin fabric. The Rainbow Club collection boasts a new vintage lace in a range of styles and its handmade Hassall line features a beautiful Guipure lace accented with pearls and delicate tiny floral lace. Retail prices on its women's shoes range from £45 to £225 but Rainbow Clubs' full portfolio also includes accessories, veils, headdresses and kids footwear.
For contact details, click here.