There's no doubt that the fashion world is moving towards greater ecological integrity. The demand for ethically sourced and eco-friendly fashion is on the rise and as more businesses focus on the development of their own ethical charter, 'sustainability' and 'transparency' are certainly becoming more mainstream topics.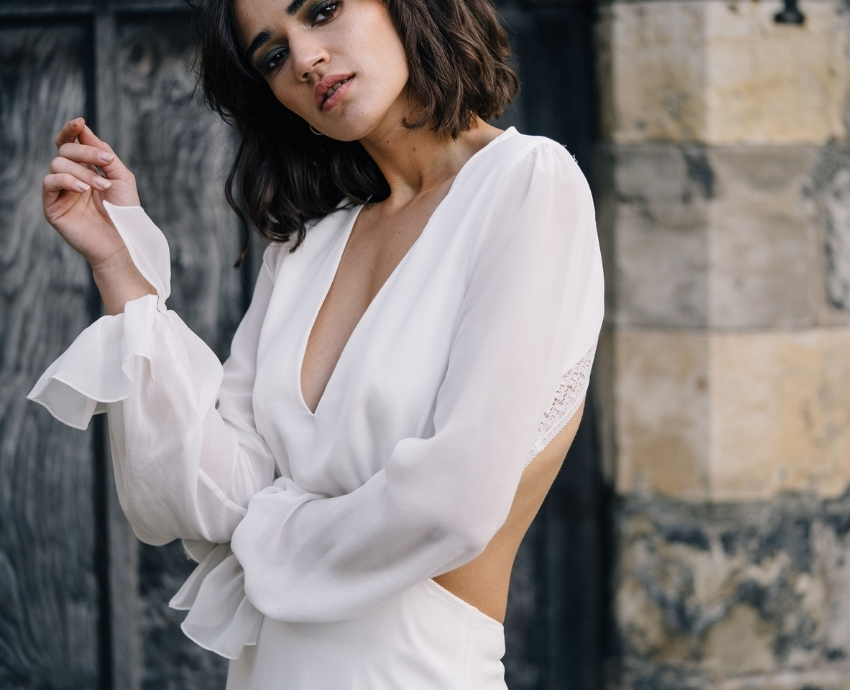 BB.com main image - Rolling in Roses.jpg
We have begun to see retail giants doing their bit, with Primark joining the United Nations Fashion Charter for Climate Action, committing to a 30% reduction in greenhouse gas emissions by 2030 and Amazon launching a new sustainability initiative called "Climate Pledge Friendly", which aims to make it easier for customers to shop for sustainable products. So as companies publicly pledge to clean up their supply chains, the question is 'when will' and 'how can' the bridal industry move to meet the growing demand and mounting pressure for ethical and sustainable fashion?
A designer that is well ahead of the planet changing game is Hayley Neil, she is Creative Director of York based bridal design label Rolling In Roses. Be assured the brand is as cool as its name which was inspired by a poem by Patti Smith. Her wedding dresses are carefree, subtly alternative and extremely chic. These gowns (and playful separates) ooze style and freedom and there is something magical about their organic nature. The brand is restrained but confident, it feels reserved yet secretly wild - much like the designer herself.
Hayley is a self-confessed vintage fashion fanatic. The welfare of our planet is something that she has cared about for as long as she can remember, so much so, she was labelled a hippy at school for being passionate about ethics and the environment. With a background in costume design Hayley has worked in Theatre, TV and Film, and in 2012 she designed and made her sisters 1960s style wedding dress which inspired her to open her vintage bridal shop, Glory Days. Her boutique has evolved with her burning desire to design her own collection which she now curates and supplies to 8 bridal boutiques.
Existing stockists include A Story of My Dress based in Kent and Archive 12 in Belfast. Hayley boasts that these 'brilliant boutiques are great at targeting our ideal brides and their values are aligned with the brand's. They offer a superb experience and most definitely get what Rolling In Roses is all about.'
Hayley explains that what lies at the heart of her label and are the core values of her brand are 'sustainability, inclusivity, freedom, comfort and the highest quality!' She goes on to say 'I've never aimed to be exclusive and I'd like to cater for a wide variety of brides. I run my whole business as thoughtfully and respectfully as possible, both in terms of retailers, customers, and the Earth itself… I want brides to put on our dresses and feel 100% themselves and be completely at ease but equally to feel that they are an elevated version of themselves; sexier, more confident and totally bewitching!'
Tell us about 'The Chemistry Collection' which launches early spring 2021?
I'm interweaving traditional bridal design techniques with the most forward-thinking innovative fabrics I can find; modern, sustainable, and earth friendly. Consciousness of our environmental impact is at the very heart of everything we do and I'm bursting with pride to say every single fabric we'll be using in the new collection is certified as organic, sustainable, recycled, and ethical.
Design details within the collection include beautiful lantern sleeves, pretty frilled cuffs, sleek wrap-over blouses, bias-cut fluid slips and lavish full skirts. There is a variety of different necklines, complete gowns and separates and our signature attention to every tiny detail of course.
Fabric wise we are talking sumptuous silks, luxury orange-fibre satin, buttery soft crêpe made entirely from recycled bottles, and organic bamboo and cotton embroideries. Possibly some banana, aloe vera, and milk fibre fabrics too. I'm so thrilled about these fabrics and the collection - I just can't wait to finish the designs and release them!
What was the inspiration for the collection?
At the risk of sounding overly pretentious, it was actually inspired by the science of falling in love; the physical, psychological, and chemical effects which completely engulf your body when you become infatuated with someone. The euphoric adrenaline-fuelled highs, the dopamine lust, the thudding heartbeats. Over the course of my research I became intrigued by the shapes and patterns made by the chemical formulas. The hexagonal shapes found within molecular structures of some of the 'love' hormones have made their way into my designs as hexagonally inspired seamlines and angles, and hexagon shapes within hand-smocked sleeve details. The overlapping or interlinked circles (again, seen in molecular structures) are another motif found within the laces and embroideries in the collection, and I've used circles in my pattern drafting, creating half-circle sleeves and three-quarter circle skirts.
Describe an average Rolling In Roses bride
I don't think there is 'one type' (which I love) but overall we try to appeal to a slightly alternative, off the beaten track kinda' bride who isn't looking for a traditional dress. They'll be the type who appreciates quality of design and workmanship, luxurious fabrics and attention to detail. Our brides enjoy a variety of different wedding styles from micro elopements to full on traditional church ceremonies. Our pieces can be styled in so many different ways and can be worn demurely or seductively depending on the individual brides wedding style.
What ethical/sustainable brands inspire you?
Lucy & Yak because they've built up a huge and amazing brand from nothing and are always looking for ways to improve their eco-credentials and inclusivity. Also, my husband's business HEIMA for his constant commitment to finding as many eco-friendly products as humanly possible to sell online and in his wee shop, whilst keeping us stocked up with everything from eco-loo roll to paper tape to sustainable soap refills and recycled bin bags.
Describe the construction and quality of your gowns
High-quality, luxurious fabrics and couture details. We recently found a British supplier of organic bamboo satin which feels like silk and is affordable enough to use for the linings of our dresses. This means that within the next collection every single fabric we use has official sustainable eco-friendly certification. I've been aiming for this - it's been a big goal and I'm absolutely overjoyed about reaching it!
Want to know more about this game changing bridal collection?
Website - www.rollinginroses.co.uk
Phone - 01904 652 892
Instagram - @rolling_in_roses
RRP (dresses) - £1550 to £2100
RRP (separates) - £1270 to £2140
Sizes - 6 to 22 (other sizes available upon request)
Lead times - 16 weeks
Annual Mins - 6-8
Radius - 50 miles
Interview held by Abi Neill, Bridal Buyer Columnist