Learning from different companies about their business, their products, and their particular market sector is fascinating – and it also helps to grow your own awareness of what is on offer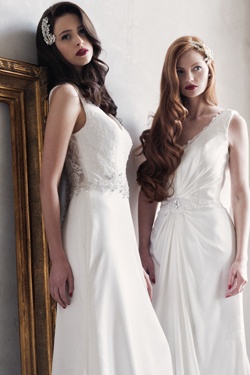 Charlotte Balbier
2013 has been something of a landmark year for this clever young designer who is part of the Balbier/Wyatt dynasty. Celebrating the first decade of her eponymous label, and 50 years of the three-generation family business, Charlotte exhibited at White Gallery London for the first time (and yes, she'll be there, 6-8 April, for the 2014 edition). Describing her style as "free-spirited, eclectic, and with a touch of Hollywood glamour," she favours French lace, silk chiffon and silk tulle, and shades of ivory and Champagne. A great communicator with her brides and a keen user of social media (Twitter, Facebook, Pinterest, Instagram and Blog), Charlotte believes in delivering real service. Her gowns are available in longer lengths, different colours and back fastening in certain styles, and that very tempting made-to-measure option. Tying the knot herself in December, and planning a two-dress big day, Charlotte will be including her own, personal choice in her 2015 collections.
Echo by Emma Hunt
In business now for some 15 years, this beautiful London-made collection is all about quality and that means fine fabrics and a superb make. Retail prices range from just over £2,000 to £3,160, making this is a serious brand, and the signature look is soft, fluid and feminine with more than a hint of luxury dressing. Fabrics for the new season include silk crepes and satins blended with cream and ivory laces, complemented with bright ivory silk satin chiffon. There is a made-to-measure service on offer but longer size-lengths can be ordered across the main ready to wear collection. Stockists have a minimum 30 mile radius of exclusivity which is so important in this designer-sector of the market. Ask for three words to describe the brand's ethos and timeless, sophisticated elegance come to mind. You can see Echo by Emma Hunt at White Gallery London, 6-8 April.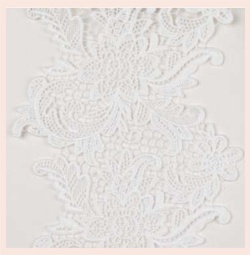 Pongees
The choice of fabric is one of the key indicators of a label's positioning within the market place, as Pongees knows only too well. In business since 1931, this specialist supplier has an international reputation for the best, and a vast client-base here in the UK and abroad. With prices ranging from £5 to £120 per metre, and best-sellers that, in 2013, included in-demand duchesse satin, tulle and stretch duchesse, it is no surprise that over the decades this company has remained firmly ahead of the game. Low minimums (just 1 metre) and superfast deliveries from stock keeps Pongees customer network very happy indeed. As well as the importance of the right fabric contacts to designers and manufacturers, it is always worth bridalwear retailers staying on the ball regarding materials and trimmings available as urgent alterations can then be dealt with or, when the need arises, that little extra made up, like a beautiful silk flower to decorate a headdress or MOB jacket lapel.
Torre
Every designer and manufacturer has a favourite celebrity they would most like to dress and menswear house Torre has no doubt that football hero Cristano Ronaldo would be its first choice. The label hit our shores 20 years ago but had been in scoring goals in its native Portugal since 1974. Selling through retail and hirewear shops, the company has an astonishingly large network of 4,900 stockists across the globe who recognise the value of dealing with accompany that holds over 30,000 garments in stock and can therefore deliver fast. And there's even a quick turn-around on made-to-measure. The look for the new season focuses on ten key slim silhouettes, lightweight fabrics and a perfect cut; colours tipped for success are grey and blue – a shift in direction from the charcoal mohair tailcoats that topped the Torre popularity polls in 2013. Exhibiting at The London Bridal Show 6-8 April 2014, and The Harrogate Bridal Show, 7-9 September, Torre offers its customers a real point of difference.
ADDRESS BOOK
For contact details, simply click on the names below and you'll go straight to our Brands Directory.
For information about White Gallery, click here.
For information on The London Bridal Show, click here.
THIS IS A BRIDALBUYER.COM ADVERTISING FEATURE