Ivory & Co Gowns – a huge hit at Harrogate
Launching its first-ever dress collection at BBEH over the weekend, the company known – up till now – for its jewellery and headdress collections, proved that the right design formula can take off from the start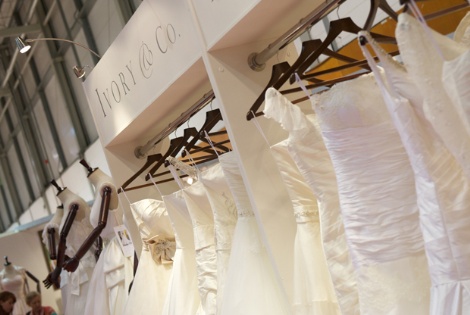 Yes of course, it helps enormously if you already have a great reputation for design excellence, but the days before Harrogate must have been a bit of a nail-biting experience for Ivory & Co designers Sarah Bird and Alex Longhi – moving into a whole new sector is not a matter to be treated lightly. But the twosome had little to worry about. From the time the exhibition – the UK's largest and longest-established – opened its doors last Sunday, until closing time on Tuesday, their stand was packed with retailers - all buying into the brand name and the collection itself which is as special, and different, as the jewellery collection is in its market.
Sarah has focused on lush fabrics that look opulent and feel fabulous. Slippery satins and smooth silks, gorgeous laces and some wonderful fabric combinations. "We searched and scoured the markets to find the right materials, things that were different, and many of our fabrics have been made up to our own specification," says Sarah. But it is her eye for detail that is exemplified in this collection – perhaps it is because of her work in accessories that her design observations are so precise. Small areas have been developed into special features, a panel of pleating over a wide belt, a trickle of gems on an illusion back, inset panels in soft colours.
One buyer we spoke to was having a real problem. "I simply do not know which pieces to choose. I want them all. They have their own look and personality. I am used to pulling out a few key pieces from a collection and going with those, but there are no variations on a theme here, every dress is an individual." That is something of an accolade. And the fact that the twosome left the show with a packed order book is an indication of the future this new label has.
For Ivory & Co contact details, visit our Brands Directory