An Exciting New Era For Bridal Buyer Digital
Bridal Buyer strengthens its position as the world-leading bridal trade publication with a new and improved digital offering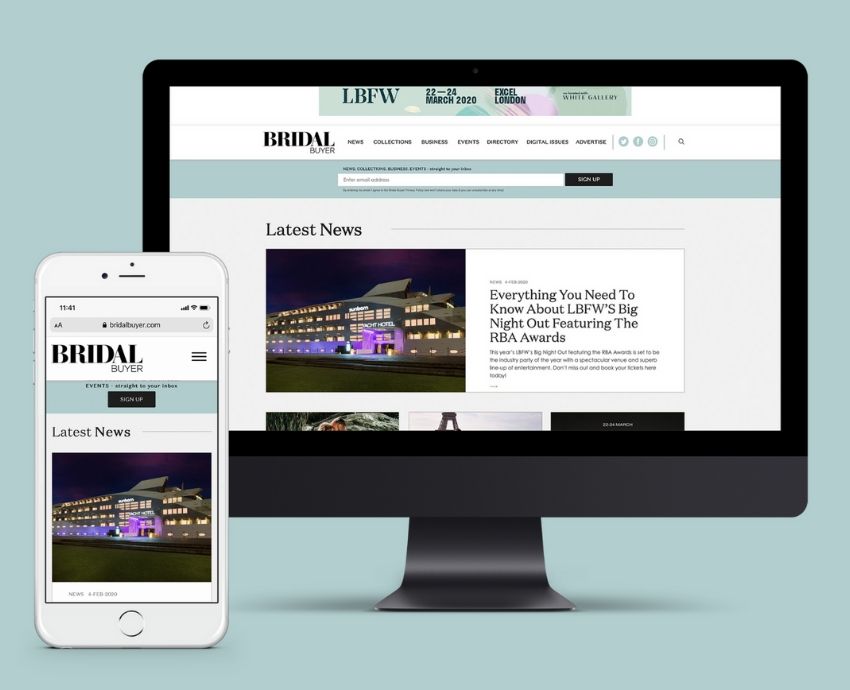 Bridalbuyer.com is entering an exciting new era, with an enhanced online platform that is now live. With the growing demand for fresh new content that can be read anywhere - on the go, at home or in the boutique – a new and improved online offering was an essential part of the brand's ongoing development.
Cassandra Denman, Head of Bridal (London) says, "Whilst the much-loved print edition continues to be read cover-to-cover by every bridal retailer in the UK, and distributed digitally to over 15,000 international buyers, bridalbuyer.com serves the market in an entirely different way. The immediacy of online offers us the flexibility to deliver up-to-the minute content, which is invaluable in an industry that is forever changing and evolving."
The new site will have a fresh, modern look and will be easier for users to navigate. Visitors to the site will be able to easily locate whatever they're looking for, whether it be news, events, business advice or collection imagery.
Alongside a complete design overhaul, bridalbuyer.com has gone through a content evaluation to ensure the editorial offering is fully aligned with the needs of the market. Industry focus groups have been integral to defining a strong value proposition for the platform. By tailoring the content around our audience's questions, we ensure the issues being covered are ones that matter, and that true value can be found in every article. Bridalbuyer.com has a dedicated online editorial team, meaning our audience benefit from exclusive online content, that is completely independent from the print editions. It also means that bridalbuyer.com is often the very first platform to break important industry news.
Denman adds, "After engaging with Bridal Buyer, whether in print or online, we want our readers to feel supported, confident and empowered to achieve success for their business. In 2020 we will continue to work in partnership with a wide network of industry and non-industry professionals, to deliver high-quality business support."
For advertising enquiries: lynn.james@oceanmedia.co.uk
For press releases: caoimhe.mcgonagle@oceanmedia.co.uk