Branding for Social Media: Photography and Consistency
Gemma Thirsk, founder of That's Her Business, discusses the importance of branding your social media and how to keep your photography and content consistent.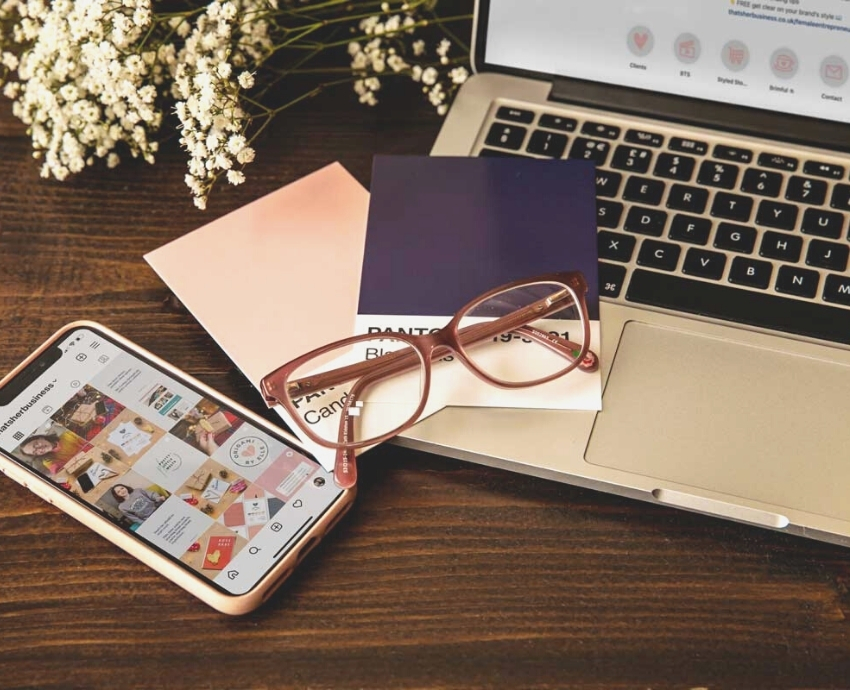 Why is it important to be consistent within your branding, especially on social media?
Keeping your branding consistent is how you become recognisable. Have you ever been sat watching tv and instinctively known that you're watching a certain brand's advert, before even seeing the logo or name? That's the power of consistency. The colours, personality, imagery, language and general all-round 'feel' of the advert subconsciously tell you everything you need to know.
Being recognisable is how you stand out, and in the age of social media, it is more important than ever to stand out!
On social media, unlike your website, you have very little control of how the pages on the whole look. Take Instagram for example, you can't change the fonts or layout of your profile, but you can add your branding to your posts and style your photos to make sure you stand out from all the other accounts.
Keeping your branding consistent across your posts will make you recognisable in noisier-than-ever feeds.
Where should you start with your social media design and branding?
Like with any branding project, always start with your strategy. Consider your identity, audience, content and visuals.
Your identity spans your entire brand and includes your values and purpose. Pretty much everything you stand for! Pay attention to your audience too, which social media platforms they use as well as how and why they use them.
Then you can start to think about what kind of content you might produce and how this might come together visually.
Knowing your brand and your audience inside and out will help you to build a strong and consistent and brand through the social media content you produce.
---
---
What are the rules of branding for social media?
Use a strategy
Your social media branding should complement your wider brand strategy and increase brand awareness.
Stay consistent across all social media channels you use
Using the same fonts, colours, photography, and visual layouts is important to become instantly recognisable.
But don't use all the channels!
Focus your efforts. Pick the channels where your audience is likely to be hanging out and speak to them directly. Don't waste your time on LinkedIn if your audience uses Instagram.
Know your voice and sound like a human
Using the same tone of voice and personality everywhere will help you to build relationships and trust with your audience. Nobody wants to talk to a robot!
Engage, engage, engage
Can you imagine sticking your head out the front of your boutique and shouting "Buy this" on repeat, hoping for people to come inside? No? So why do we do it on social media? Avoid bombarding your customers and have conversations instead. Increase brand awareness without having to go for the direct sell every time.
Consider investing in a branding shoot
Professional branding photography is the key to perfecting your branding on social media! We know it's all about the visuals these days. The photos you post should be consistent, with similar colour palettes and styles. A branding shoot allows you to work with a professional to perfect your images and keeps your style unique to you.
What is the best way to brief a photographer to ensure they capture your vision?
When you book a photographer for a branding shoot, talk to them about your brand values and ideal client so they get a feeling for what makes you and your bridal business tick. You may want to show them any branding you've been working on with your designer and any Pinterest/ideas boards you've gathered along the way.
A good photographer will be more than happy to chat through your ideas before your shoot so that they understand fully what you want to achieve. Cassandra, the branding photographer at That's Her Business, has a call with each client before their shoot. During the call she'll discuss the above, plus location and styling ideas. She then makes a short list based on these ideas so that she can work through them with you on the day of your shoot.
Each photographer will have their style and way of working, so it's best to do your research before booking to find the right photographer for you.
What type of photography could bridal boutiques invest in?
There are so many photo opportunities for bridal boutiques, from showcasing your dresses in a styled shoot to behind-the-scenes shots in your boutique. Your customers will appreciate seeing fresh and varied images on your social media feed. Most importantly, engaging images will make them want to buy into your brand.
Put yourself in a bride's Jimmy Choos and imagine what they would like to see… your stunning dresses on real people (not just on the hanger), the luxury setting and the dream team in your boutique (making them want to visit you in person) or an inspirational styled shoot that catches their eye and captures the imagination!
Remember, people buy from people, so it's crucial to show off the personality of your team and the uniqueness of your boutique in your branding photos.