Galia Lahav Designs Wedding Dress for Izabella Scorupco
Renowned bridal and evening wear brand, Galia Lahav designed a stunning wedding dress for former bond girl, Izabella Scorupco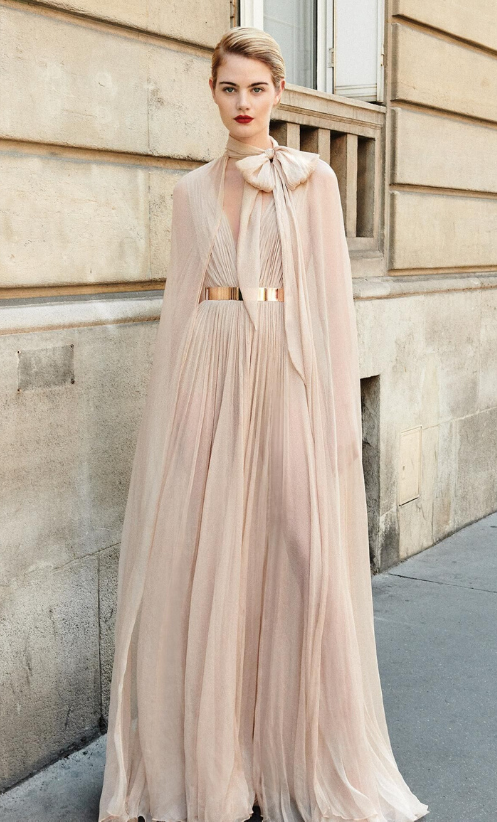 Galia Lahav have been crafting luxury apparel for over three decades and in that time have dressed many brides, including celebrities on their wedding day. Last month, the renowned brand had the pleasure of styling former bond girl, Izabella Scorupco for her wedding to Karl Rosengren.
Read More: 15 Stunning Designs from Galia Lahav's Collection
The gown, named 'Dreamy Novak' was a soft nude chiffon dress that featured a low V-neckline. It was then paired with a long regal cape made of sheer silk chiffon to create a soft, yet dramatic bridal look.
A spokesperson for the brand said, "We were so excited when we found out that Izabella Scorupco wanted a custom-made Galia Lahav gown for her wedding day. Our beautiful Dreamy Novak gown looked absolutely perfect on her as she walked down the aisle."
Izabella Scorupco isn't the only celebrity that Galia Lahav have dressed this year. Celebrities such as American actress Sabina Gadecki and former Pussycat Dolls member Jessica Sutta have all said their 'I Do's' in a custom-made Galia Lahav wedding dress.
Over the past three decades, Galia Lahav has established itself as one of the leading couture fashion houses, with garments characterised by their high-end fabrications, meticulous sewing techniques, and a unique technology which enables them to make each garment meet the wearer's exact measurements.
Interested in stocking Galia Lahav? Find out more from the Bridal Buyer directory here.