All the Highlights from Runway One at The Harrogate Bridal Show 2017
Missed the catwalk? Or just want to relive it? We share some of the highlights from Runway One at The Harrogate Bridal Show
Runway One was suitably glamorous, with dresses by bridal heavyweights such as Mark Lesley, Casablanca Bridal and Modeca heading down the catwalk, and a spectacular finale from Veromia.
It was attended by key members of the press, exhibitors and boutique owners, all enjoying the champagne provided and the dramatic detailings. If you were unable to attend, or just want to reminisce, we've got some of our favourite moments here for you.
Mark Lesley & Donna Salado
Dresses by Mark Lesley and Donna Salado started things off – and were a sign of what was to come. The models were styled by Suzy Makin – some sporting sunglasses and glittering gold accessories to give the classic gowns a bold edge. The models threw out handfuls of glitter as they walked down the catwalk – it was definitely a decadent display. These gowns were designed with confident, feminine brides in mind.
Find out more about stocking Mark Lesley or Donna Salado in your bridal boutique.
Casablanca Bridal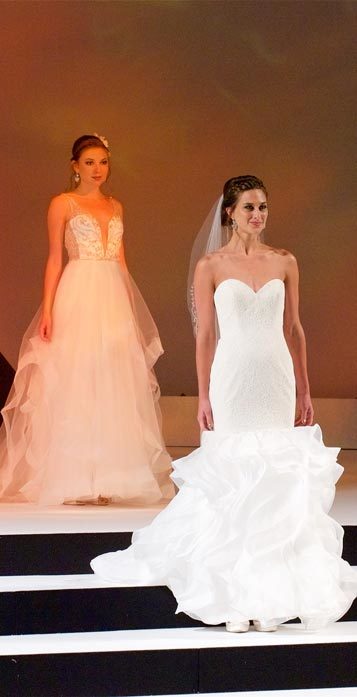 Classic glamour was the order of the day in Casablanca's segment. There was plenty of sparkling embellishment and luxe lace appliques, as well as figure-hugging fishtail gown and fabulous princess-worthy creations. If you know you cater to glamorous brides who aren't afraid to show some skin, this was definitely a brand to pay attention to. They showed dresses from all three labels in their portfolio – Amare Couture Bridal, Beloved and Casablanca.
Want to know more about Casablanca? Check out their listing in the Bridal Buyer Directory.
Victoria Kay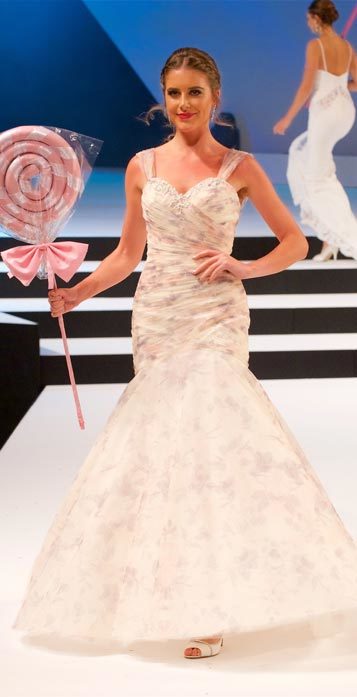 Victoria Kay has five gorgeous collections to consider, so you're guaranteed to find something to suit every kind of bride. They sent a diverse mix of gowns down the runway, from silky tea-length gowns to bold mermaid dresses with a hint of colour. Their section of the show was quirkily styled with oversized accessories, including large kites and giant lollipops, adding a fun feel to the catwalk.
Julija Bridal Fashion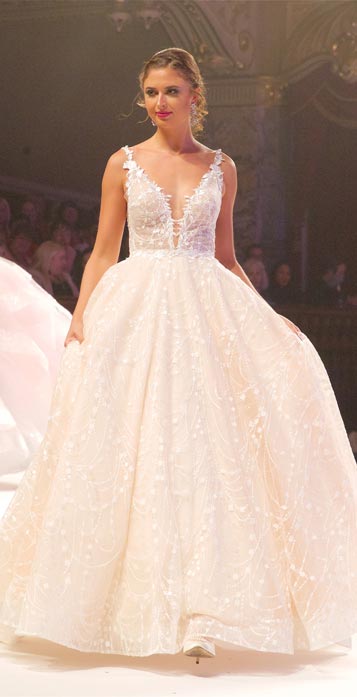 Scene Four featured dresses from Julija Bridal Fashion. There were plenty of glitzy gowns that were made with would-be princesses in mind – however, whilst these gowns have all the extravagance of a royal creation, they had none of the restriction: Julija Bridal Fashion create non-corseted wedding dresses for a more comfortable feel. The models were styled with regal crowns, and eagle-eyed spectators would have noticed that some of the dresses come with a built-in 'something blue' in the form of sparkling blue buttons.
Find out more about stocking Julija Bridal Fashion in your boutique.
Rachel Allan Bridal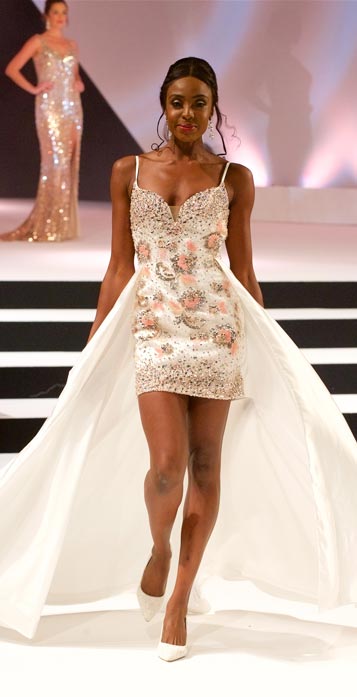 Rachel Allan creations are designed with the discerning bride in mind. Whilst there were plenty of more 'bridal' looks on display from the brand, it was the colourful, glittering gowns that really grabbed our attention – ideal for a bride who wants to wow on her wedding day but doesn't necessarily want to follow tradition, or wants a show-stopping gown to change into for the evening party. These creations wouldn't look amiss at a Great Gatsby style soiree.
Find out more about Rachel Allan Bridal.
Angel Forever by Elegancia UK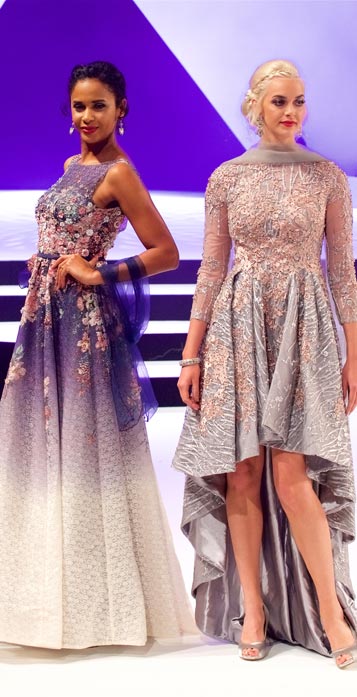 Angel Forever sent a breath-taking selection of haute couture gowns down the catwalk. Each flattering design is hand-crafted, making it a truly luxe choice for a fashion-forward bride, or even as a lavish eveningwear option. We were smitten with the exotic designs and we're pretty sure the rest of the audience felt the same.
Modeca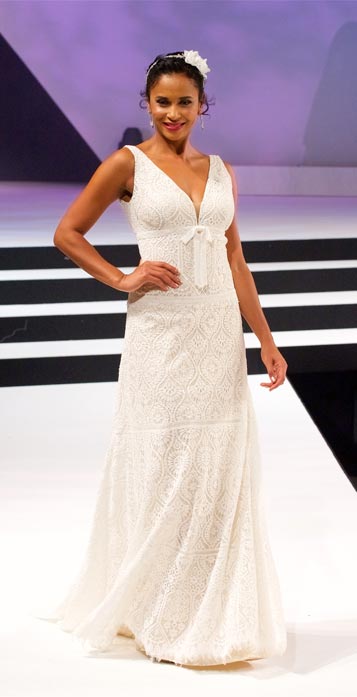 Modeca showcased designs from the Modeca Collection and from the Le Papillon Collection by Modeca. There was a real mix of designs – from classic satin ball gowns to romantic lace boho creations. We spotted one fabulous full-skirted gown with pockets – a favourite detail of many fashion editors, but our absolute favourite had to be this beach-wedding worthy lace design.
Get Modeca's contact details in our directory.
Ladybird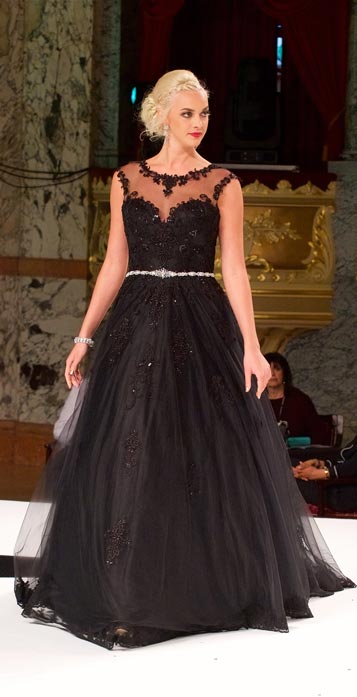 Ladybird used their slot to show case both Ladybird wedding dresses and gowns from their new Emma Charlotte collection, which has a slightly higher price point. There were plenty of beautiful lace-detailed dresses to sigh over, but the real show stopper was this glamorous black bridal gown which is perfect for brides who really want to break the rules and make a statement on their wedding day. Think how spectacular it'd look in a window display!
Jadore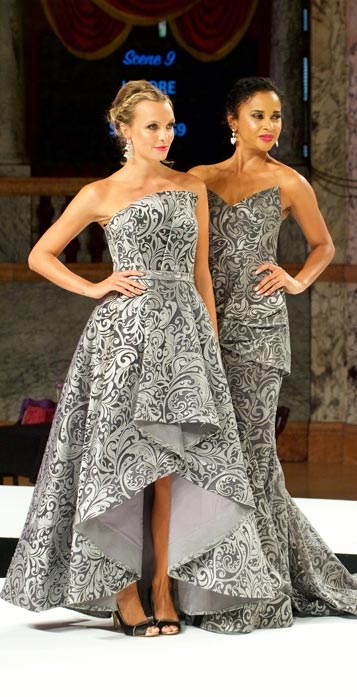 This Sydney-based company sent a selection of striking evening dresses down the runway. They'd work for glamorous bridesmaids, proms and parties or even for brides who don't want to follow tradition. There were plenty of bold colours and glitzy gowns, but these co-ordinated, silvery dresses had to be the winning look – they'd make for the most fabulous mix-and-match bridesmaid outfits.
Get contact details for Jadore in our directory.
Diane Legrand
European bridalwear brand Diane Legrand showcased designs from Diane Legrande, Lisa Donetti and Novabella on the catwalk. There were plenty of beautiful and timeless ball gowns as well as some flawless-looking figure-hugging gowns. We loved the styling – rustic but glamorous floral crowns finished off each look perfectly.
Find out about stocking Diane Legrand in your bridal boutique.
Chloe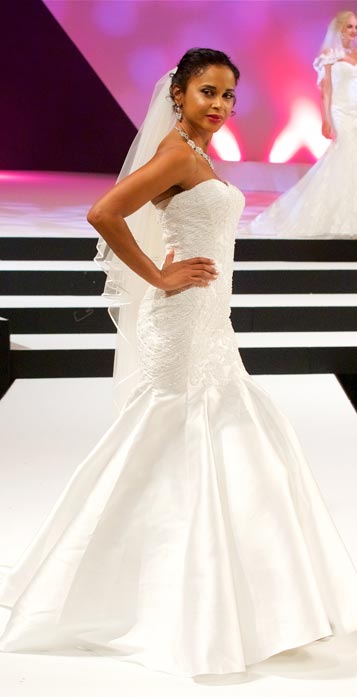 Bridalwear brand Chloe create gowns that are fashion-forward and fun. They definitely nailed some of the season's key trends, sending fishtail gowns and dresses with subtly sexy illusion details down the runway. There was plenty of dazzling sparkle too – couple this with sheer sleeves and racy low backs and you've got a striking gown fit for any modern-day princess.
Veromia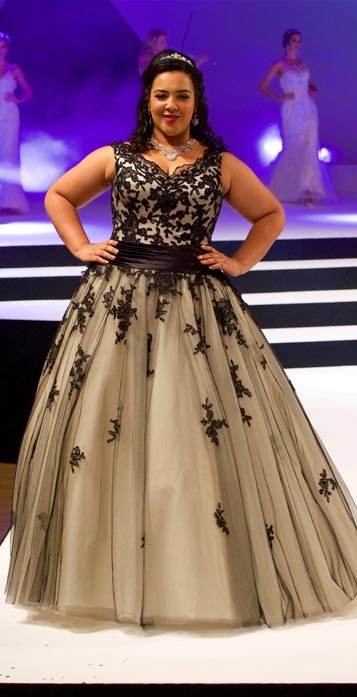 Veromia were the final scene in Runway One and they featured dresses from both Veromia and their plus-size brand Sonsie. Their closing scene was suitably dramatic, to match the detail on their gowns. A violinist took centre stage, playing a light-up electric violin as the models strutted around her and threw bouquets out to the audience. They also showcased a couple of striking mother of the bride looks and some coordinated bridesmaids and flower girl outfits. Everyone was enchanted by their dancing flower girl model!
Find out more about Veromia and their brands here.
Want even more catwalk fashion? Make sure you check out our round up from Runway Two as well.