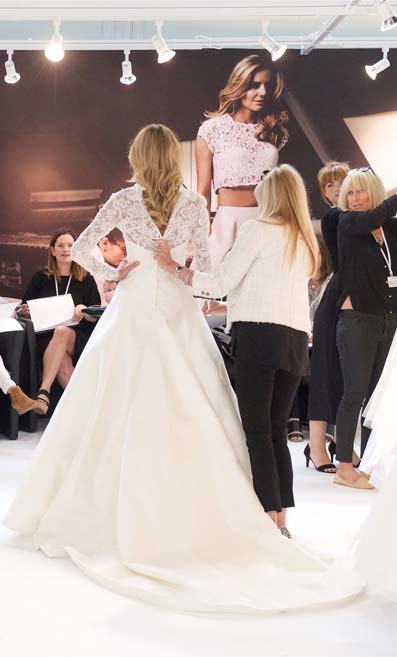 Bridal trade show London Bridal Week launchs in March 2018
This exciting new event sees hundreds of brands congregating under one roof, a full fashion show programme, the Bridal Retail Success Academy, and plenty of networking opportunities. It's important that you take the time to plan your visit to ensure you make the most of the experience.
Luckily, we're on hand to help – we've got a dedicated concierge team on hand ready to help you plan your visit. They will make your journey and stay in London as easy and convenient as possible – head to the London Bridal Week online platform to make your travel, accommodation and restaurant bookings to ensure you get the best possible rates.
As the first event on the international buying calendar in 2018, it's your first chance to look at the new collections from over 200 of the world's best designers and manufacturers. You'll be ahead of the curve for 2019 and able to share the trends for the year ahead with your brides.
We're also running a full education programme alongside the exhibition – first thing in the morning and last thing in the evening will be inspiring seminars by leading industry professionals to help you make the most out of your business. There will also be one-to-one business clinics with experts to help you handle a range of issues. Bridal Buyer will be hosting a series of 'In Conversation With' sessions too – where we interview a range of figures to discuss hot topics in the world of bridal business.
Don't forget to make time in your schedule to take in a Fashion Show or two as well – you'll see the very latest in bridal design up close. Phones at the ready, this is guaranteed to be an Instagram-worthy spectacle.
It wouldn't be a bridal event without a healthy dose of networking too – you can meet suppliers, catch up with friends and forge new business relationships. There will be plenty of places to do that – from the glamorous Champagne Bar, the fun Cocktail Bar and the elegant Bridal Buyer lounge. A party will be taking place at the event on the Sunday night, and we'll see you at the RBA Awards on Monday at the Aloft – just two minutes away from ExCel.
If you haven't already, make sure you register on London Bridal Week's website to guarantee entry to this amazing show!