Michael's Bridal Fabrics Share Their Fabric Trends For The New Season
Michael Bristow from Michael's Bridal Fabrics shares bridal fabric trends ahead of London Bridal Fashion Week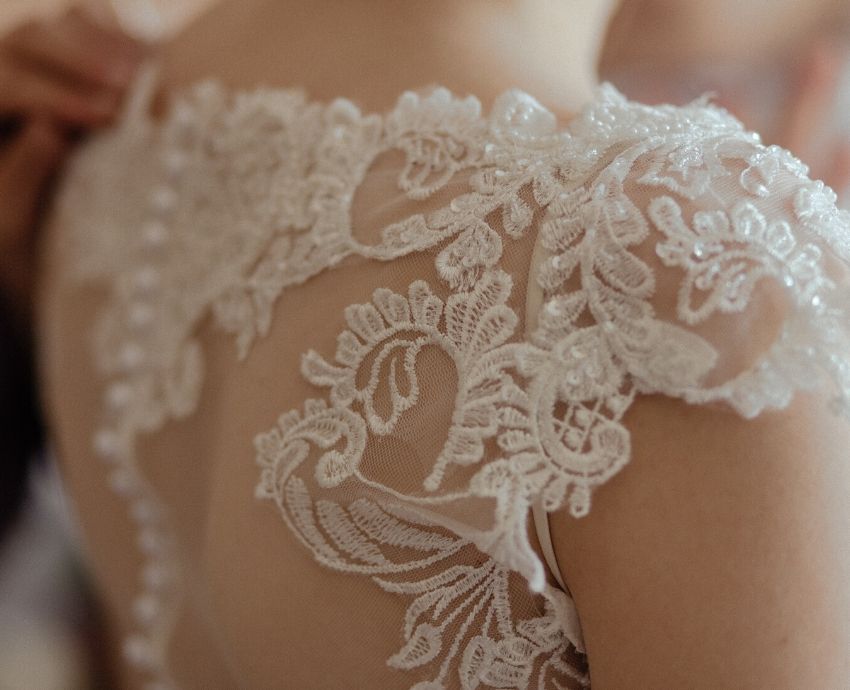 Last year, several fabric trends shaped the bridal fashion world. Among these were, glitter tulles, laser-cut 3D designs and body panels. Each victorious in their own right, these trends dominated the runways, boutique floors and, most importantly, wedding aisles.
Ahead of London Bridal Fashion Week and White Gallery in March, we caught up with Michael Bristow, Managing Director of Michael's Bridal Fabrics to find out more about the bridal fabric trends predicted for the new season.
"Going into the new buying season, we are still seeing a strong demand for embroidery with laser-cut pieces attached creating a 3D effect. This trend was extremely popular last year and it doesn't show any signs of slowing down yet," explains Michael Bristow.
Looking forward to the season ahead, Michael reveals details about fabric types that will be revitalized again. "In terms of fabric types for the upcoming season, we have a strong demand for Duchess satin, alongside more softer, drapey satins too. The sales of crepes and mikados are also on the rise and because of this, we've decided to extend the number of items we have like this to keep up with the demand. Finally, we will also be offering stretch versions of these fabrics as they work extremely well when combined with matching tulles and chiffons," says Michael.
---
---
However, the most significant thing Michael reveals, is that one of the biggest trends for the new season is eco-friendly fabrics. "The biggest trend we are seeing this season relates directly to the consumer's growing interest in eco-friendly fabrics," he says. "Many retailers are surprised at the various types of products we can now offer like this."
So, how has this become one of the biggest fabric trends of the season? Michaels suggests that "there has been a lot of publicity and media coverage around the whole question of the environment, plastic usage and recycling in various aspects of our daily lives. And, it just so happens that the age band that are most interested in these issues are the same that are getting married today."
Furthermore, he also states that "the interest for eco-friendly fabrics is coming from the consumer and with the increasing demand, both manufacturers and retailers do not want to be the only one not offering this option."
And concerning colour, Michael reveals that Ivory has always been the number one shade for wedding dresses since everyone stopped wearing white, but there is still a small market for different colours. He says, "coloured fabrics are on the rise and for us, our dusky rose and shell pink shades are the most popular at this current time. In addition to this, our dusky rose is extremely popular for bridesmaid's gowns, alongside our ice blue and duck egg colours. However, unlike the 2000s, when everyone wanted peach, lilac and dusky pink shades, there are no standout colours for the upcoming season."
But how does the brand measure and predict bridal fabric trends? Michael reveals that "generally, we experience evolvement rather than drastic changes to the types and colours of fabrics that customers buy from us."
He continues by saying, "because of this, we tend to see a much shallower sales curve. Consumers are undoubtedly influenced by what they see in bridal boutiques and the media. However, because the bridal industry is not like other fashion industries, where at the end of every season 'everything must go at any price' sales appear, we still see many dresses from previous seasons in shop windows and on social media."
Michael's Bridal Fabrics will be exhibiting at London Bridal Fashion Week on Stand B20. The brand will be bringing with them an extensive range of new products in every style and price for the production of wedding, bridesmaid, prom and mother of the bride garments. In addition, they will also exhibit their range of fabric for waistcoats, ties and cravats for menswear.
If you haven't already, register here for fast-track entry into the trailblazing fashion event.