Pass this on to your brides
Copy this and produce your own newsletter spelling out the dangers of buying online and ending up with a fake frock. Great advice comes from Chrissie Jamieson of MarkMonitor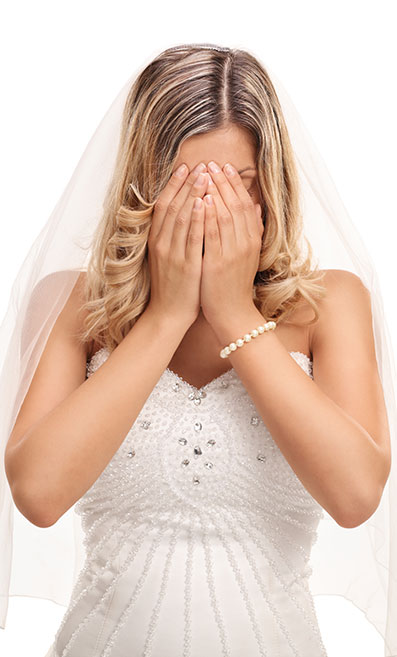 Weddings are one of the most important milestones in people's lives, and each one involves months of planning to ensure it's a day to remember.
There are so many things to consider, but one of the most exciting parts is finding the perfect dress. But now, the internet has influenced the process of buying a wedding dress, and while online shopping might provide convenience and cost-saving benefits, it's also much easier for people to unsuspectingly fall prey to counterfeit items.
The availability of fake goods on the internet has grown substantially during recent years, and all consumers, including brides-to-be, are being advised to adopt the same vigilant approach with their online purchases as they would in the physical world.
Online brand protection experts, MarkMonitor, has compiled the following list of top tips to ensure that brides-to-be are alert to the dangers when shopping online:
Price: Consumers looking to avoid fake goods will, in some cases, ignore any too- good-to-be-true prices advertised on the internet, but counterfeiters are becoming wiser and realising that they actually have more chance of fooling shoppers the less they reduce the price. Therefore, it is important to know the genuine recommended retail price of the dress and then use this as a benchmark. If there is a discount of any significance – even if it's just 10% or 20% off – it's always worth doing further research to see if these savings are legitimate.


The website: Counterfeiters can be extremely good at creating fake websites that appear genuine, making it difficult for shoppers to make the right judgement call. In cases like this, it's always worth looking at the website's 'About' and/or 'FAQ' sections, as counterfeiters are usually less careful with the detail on these pages. If they do not include vital company information, for example the delivery details or where the company is based, it is best to steer clear.


Return and privacy policies: Any legitimate website will make these policies clear to shoppers, as they are important for those who need to return an item that is faulty or might not fit. If these policies are hard to find or don't seem to exist, that should be a serious warning sign of counterfeit activity.


The website URL: Often, counterfeiters will use URL addresses that are confusingly similar to those of genuine brands but include subtle spelling mistakes or typo errors, in the hope that customers unknowingly visit these type of sites — a method known as 'cybersquatting'. Therefore, before buying anything, shoppers should check the URL address of the site they're on to ensure it is 100% correct. It's also useful to check the site has a 'https' prefix, which indicates the website is secure.


Online marketplaces: Finally, for those looking for a bargain through online marketplaces, shoppers should thoroughly check the reviews of the seller they are looking to buy from. If the reviews are overwhelmingly positive then you can assume the seller is trustworthy, but if reviews are mostly negative, it's worth investigating the other options available.