Sanyukta Shrestha on the red carpet
Widely-respected actress, known for her role in the popular ITV soap opera Emmerdale as well as Downton Abbey, Amy Nuttall, wore a Sanyukta Shrestha pastel blue two-piece gown for this year's BAFTA TV Awards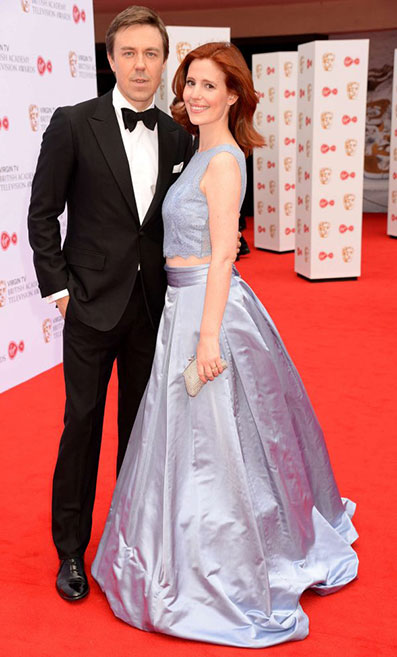 Sanyukta Shrestha is a leading high-end designer brand that fuses luxurious organic fair-trade fabrics with flattering shapes, elegance and individuality. For this year's BAFTA Awards, Sanyukta Shrestha created a delicately detailed blue two-piece for Amy Nuttall. The beautiful design is fit for a classic fairy-tale, while still maintaining a sense of modern fashion. Captivating and elegant, this blue number perfectly captures a youthful yet sophisticated nature and hits all the right bridal trends.
The BAFTA Awardscelebrates and rewards outstanding television talent, and remains one of the most fashionable award shows in the UK. Amy Nuttall appeared in theDaily Mail, Telegraph and Got Celeb wearing the Sanyukta Shrestha style, which consisted of a delicate eco-friendly bamboo lace crop top and voluminous silk skirt. The actress expressed her love for the Sanyukta Shrestha blue ensemble on her twitter quoting:
"Thank you so much Sanyukta Shrestha for this beautiful dress for @BAFTA #luckygirl"
The Downton Abbey actress was also featured in Daily Mirror's fashion highlights article, her outfit was named in the 15 sassiest outfits byHeatWorld magazine amongst A-listers, Holly Willoughby, Eleanor Tomlinson, and Tess Daly.