Your Couture Bridal launches at HBS 2021
Bridal Buyer interview bridal stalwart Richard Lill and co-director Lizzie Turner as they launch Your Couture Bridal ahead of Harrogate 2021. Their latest venture is set to offer a new way of stockist collaboration, alongside promising innovative design and eco-friendly practices.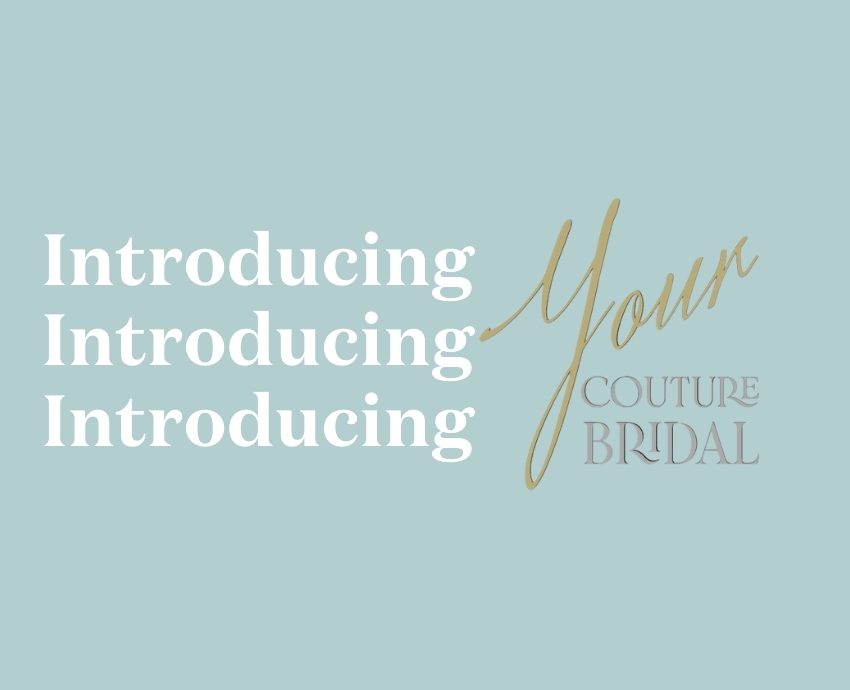 It's a rare thing to find a new brand that puts as much, if not more, emphasis on supporting its retailers with great service as it affords to its designs. The latest venture from bridal stalwart Richard Lill and co-director Lizzie Turner, Your Couture Bridal, is set to offer a new way of collaborating with its stockists. The collection which will launch at Harrogate Bridal Show, 12-14 September 2021. The collection promises innovative designs within the most commercial price bracket: wholesale £200-£600.
What was your motivation behind launching a new brand?
We wanted something that was ours, where we are in total control over every aspect and answer to no-one but our retailers and ourselves. We have so many years of experience and wanted to bring to market not only stunning designs but a new way of thinking and selling. We have had multiple award nominations for our service in the past, and anyone who has dealt with us knows the foundations of our ethos is to empathise, generate innovative solutions and truly care about the joint success of our retailers and ourselves. We will be offering so many options and tools that will allow our retailer to get their brides to invest in their dream gown on that all-important first visit. What bride does not want to feel they are getting a unique dream gown without having to blow her wedding budget on a designer gown?
Why wait until September to launch?
Given the horrific time retailers have endured, the next few months could be make or break for them. I strongly believe that if retailers buy before Harrogate they may be over committing, before healthy cash flow and profits have fully returned. After all, brides won't have even seen many of the designs retailers already have, or had the opportunity to offload the designs suppliers may have discontinued! Harrogate Bridal Show will not only be the best platform to see what the whole of the industry has to offer, it will be a fantastic time to reconnect and share the good and bad of the last year.
---
---
What do you think will make you stand out?
The testimonials from past customers and messages we have received reaffirms that retailers love what we have done in the past, and given the time we have all lived through in the last 18 months, it has highlighted and emphasised the lack of support retailers have received from some of their suppliers. We are offering a no-pressure sell with no minimum order, because our focus is providing everything for our retailers to succeed via brides orders. After all, that is where the profit and success of retailers lies.
It's an interesting name, "Your Couture Bridal"…
'Your' speaks both to retailers and brides alike. The couture part comes from the endless opportunities we are giving to our stockists for them to bespoke their designs. In addition, we are also offering a capsule collection of veils, headdresses & belts that work across the collection.
Have you been busy during lockdown?
Well yes, but we have not spent all our time on bridal ̶ I have made hundreds of face masks and scrub bags for the NHS and care work sector, but since the beginning of the year, both Lizzie and myself have been volunteering at the Covid vaccination centre on a weekend. The last year should have taught us that kindness and time is something we can all give freely, and there are so many great causes. This is why we are also pledging, to make a donation to various charities for every dress our retailers sells.
What can we expect from the designs?
Well! Our aim is to bring a commercial collection which would allow new or existing retailers to find all silhouettes and looks within the collection, so if retailers like what they see, they can commit to us as much as we intend to commit to them. We want it to be a true collaboration ̶ we will listen and design what retailers want and can sell. So much so, every season we are offering our retailers the chance to design a gown, where we will put the best into production and the "designer" will receive their sample free.
There is a lot of talk about fashion becoming more eco-friendly, what are your thoughts?
We all need to look inwards at what we do to make the world a better place, but being a pragmatist, no matter what companies claim, the reality is bridal can never be truly "eco-friendly". We want to do what we can, so we are committed to reducing packaging whilst keeping the gowns safe, and our logistics policy is to batch shipments, not individual dresses, while keeping to our standard 7 week delivery. We are also having parts of our collection manufactured in the UK and only selling at exhibitions, all of which will significantly reduce the carbon footprint of our gowns.
What more can we expect in the future?
We have already committed to premiering our second collection at London Bridal Fashion Week, 20-22 March 2022. We are working on the concept for the next designs, but nothing will be decided until our new retailers will have had their input. We have so, so many surprises in store for our retailers who can give us a call to find out more ̶ the rest will be unveiled at Harrogate this September!
Your Couture Bridal will be launching on stand B22, Harrogate Bridal Show. For more information, contact Richard & Lizzie 01423 876 380, info@yourcouturebridal.com.