How to approach a trade show with Dotty Bridal
The Harrogate Bridal Show 2020 should be taking place this Sunday, however for one year only the event will take place from 4 – 6 October. Shannon Martin of Dotty Bridal runs through how she approaches trade shows.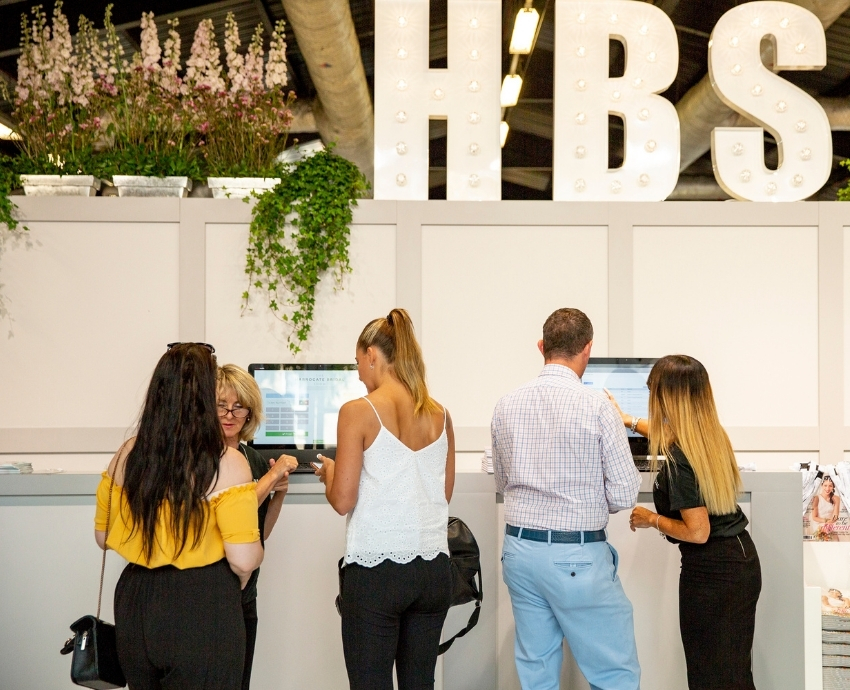 Why is it important to attend trade shows?
Attending a trade shows gives you best opportunity to see your current designers in all their glory and to discover new designers too. As Harrogate is so close to our boutique, we can take the whole team along with us which is important for the success of your shop. The girls love seeing new dresses and find Harrogate incredibly helpful for their day to day selling roles. This year things are little different, so it will just be Beth & I attending. However we will of course be collating lots of information and already have a meeting planned with the team upon our return. We also love watching the catwalk shows and taking inspiration for our own annual fashions show which we host each year.
Harrogate is a fantastic opportunity to educate yourself and boost your business. There is the old saying 'you don't know what you don't know' and at trade shows there's plenty of opportunity to learn something new. I always learn so much at these events and take away lots of amazing ideas for the boutique. It's also a great place to create amazing behind the scenes content for our social media channels. No matter how long I have been in bridal I'm always open to learning new things and I think all retailers should take this approach. I believe you must be open to educating yourself in this industry as it is ever changing. There will always be something new, so it's important to keep up with what's hot at the time. I also love attending the Business Advice Clinics (BAC) and this year I have been lucky enough to be asked to speak myself about all things branding and marketing. Are you struggling to get your boutique/brand out there or need help creating distinctive and identifiable brand? Come along and have a chat with us on Sunday 5th - 10am-12. Appointments are available on a first-come, first-served basis and can be booked at the beginning of the day at the BAC reception.
What do you do before a show to prepare?
Prior to Harrogate we analyse everything! We have Bridal Live (which is a vital piece of software for our boutique). Since signing up, just over a year ago, it has changed our business and made everything so much easier and quicker. We look at what is doing well for us, including analysing styles, sizes, silhouettes, fabrics and not forgetting designers. We also pay close attention to what has not worked well for us. This is an important exercise as it's not always about what does well, the failures are also important too. When buying I know myself, I get easily caught up with what I like and the styles that I would love to wear but let's face it I'm not the one getting married and what I love isn't always what our brides want. I tend to love things that are unusual and out there, but I think that is because I love to see new innovations. However, we now know our bride and know exactly what she loves and what she doesn't.
In terms of budgets I'm not really one for them as I hate to restrict my buying, I wouldn't want to miss out on an amazing dress just because there wasn't enough room in the budget. So instead of this I tend to look at the number of dresses rather than the value. Space in our boutique comes at a premium and no matter how many times we expand, it is always limited. Every dress must be worth it's space and pay for its space too, so it's essential to know if something isn't working and move it on quickly. Looking at our poor sellers helps us to choose successful gowns. I love the team's input, so prior to Harrogate I will just have a chat with them and tell them who we're buying from and what we're looking for roughly. Their input is so important to me as they are the ones in every appointment, and they know exactly what the brides are wanting. Not having a budget is a personal decision for each shop owner, but I would suggest giving this a try if you want to shake up how you spend.
How do you plan your time?
We always book appointments with our designers old and new, to ensure we have a dedicated team member to help us with our order. We tend to allow an hour or so when we arrive to have a mooch around and figure out where everyone is. We then book appointments across the day and then do the fashion shows at lunch or either end of the day. We like to visit the Business Advice Clinic first thing, as the advice I receive really inspires me and gets me ready for the show. In the evening we are usually at the awards or having a meal with some of our industry buddies which is fab. I could chat all night long about all things bridal and business.
Finally, give us your top tips and tricks for buying from current suppliers and finding new brands
If we are buying from our current suppliers, we always go with a list of what we already have. We have in the past printed the images of all the styles which we currently stock (from Bridal Live). That way we can ensure were not picking lots of similar styles. We try to ensure our sizing is varied throughout our offering so will buy different sizes. Although we avoid picking similar styles to those we currently offer, it's important to also refresh and enhance styles that are already working for us, buying some similar looks.
If we are buying from new designers, we tend to go a little wild! For our first buy pick a real mix of gowns, from classic styles to showstopper so that this way we can really get to grips with what works well for us. Exclusivity is a big factor for us, as being in Holmfirth (Huddersfield), we are so close to 3 major cities. It's so important to have enough distance between stockists. After realising how vital this is to our business's success, we will not compromise as we want to ensure our brides are coming to us and getting something different from our competitors.
Click here to register for the Harrogate Bridal Show 2020