And very beautiful wings they are, now encompassing not just those famous petticoats, but lingerie, accessories, headdresses and veils – you name it and you'll see it at Harrogate on Jupon's big, new stand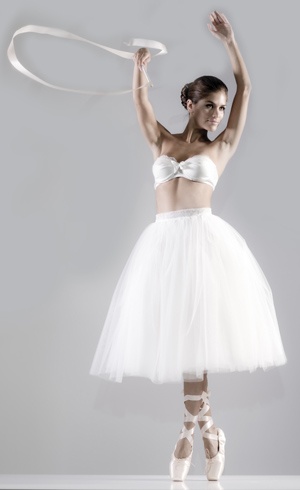 Bridal Buyer caught up with a very busy Louie Mingoia, who is in the final planning stages planning of his great, enlarged space at Harrogate, ready to showcase the newest additions to his impressive portfolio.
How many stockists do you have in the UK?
A lot, 800 I would say.
And how many petticoats do you sell each year?
Between 40,000 and 50,000. Bridal shops do see the importance of having a selection of petticoats in store.
What sort of style is the most popular right now?
Fishtails, of course, and very full styles to go with ballgowns are in demand for bridal and also promwear. A-line petticoats are always a favourite as that particular dress silhouette is a real flatterer.
Aside from petticoats, what else is in the portfolio?
For starters, there is Carnival Lingerie - a wonderful range of 15 styles of bras, bustiers and fashion-right low-back torsolettes. In garters we offer 12 different styles all individually and prettily boxed, with and without pendants; in stockings, hold-ups and stay-ups by Wolford. We do both round and heart-shaped umbrellas in ivory and white, a full range of fingered and fingerless gloves in a variety of colours and styles, and body shapers in foam, gel and stick-on. And we are introducing a beautiful range of 30 veils from Poirier, and well as their latest headdress collection. Then we have Bjem, a UK collection of luxury lingerie which features diamanté crystals; a European range called Hair Bling which is brilliant for bridesmaids, prom-girls and partygoers and comes in a great choice of styles and colours. We also have eight styles of ring cushions, some with matching garters; Sticky Straps, the easy fix for a quick repair, and new to us is a collection of beautiful rings and bracelets.
Read the full story in the new issue of Bridal Buyer, out any day now
For Jupon contact details, visit our Brands Directory
See the collections at BBEH, in Hall B, on stand B39