Trends from The Showroom: curve couture
With curves being celebrated within the fashion industry, bridal brands have been offering inclusive, stylish options for plus size brides. Here's what is trending from The Showroom...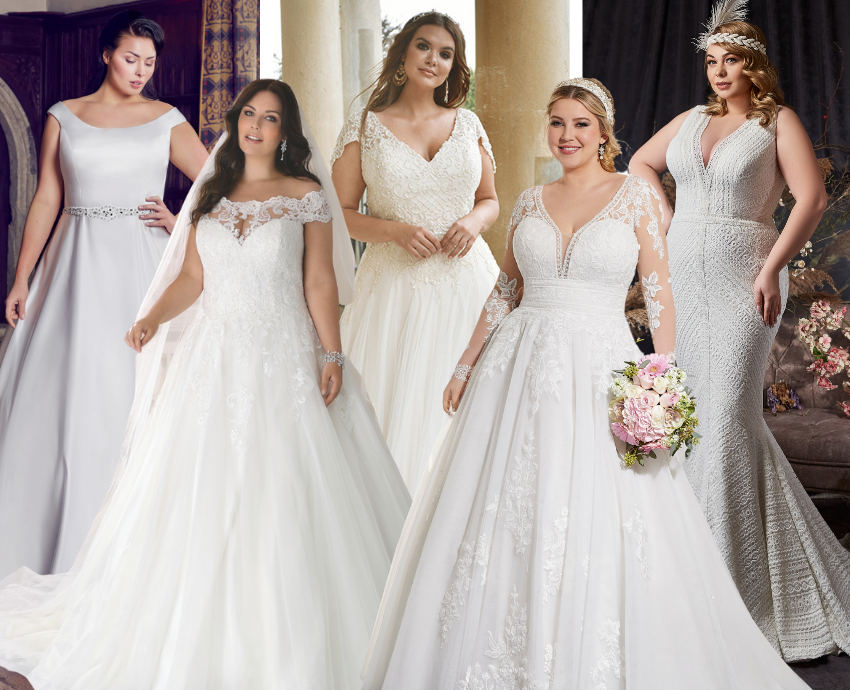 Historically, the fashion industry has been slow to offer inclusive, stylish options for women. However, over the past couple of years, we have seen certain bridal brands acknowledge this misstep and are working towards offering extended-size bridalwear that will make your curvy brides feel just as elevated as the labels that have traditionally been available to only smaller women.
Here are our top 5 bridal trends for plus size brides that we have seen from The Showroom.
---
---
Off-the-shoulder
Off-the-shoulder wedding dresses are renowned for their supremely figure-flattering silhouette. This type of neckline creates a triangle shape and sculpts the waist to strategically de-emphasize the mid-section, while accentuating your upper body. It's romantic and sultry and on the practical side, adds a little coverage to arms without brides feeling too covered up. Gown LS421084 by Ladybird features off-the-shoulder sleeves with a sweetheart neckline and is perfect for brides looking to show off their hourglass figure.
Cap Sleeves
Cap sleeves have become more popular and we are going to see a lot more brides who love the extra bit of coverage at the top of the arm without the restriction of a full sleeve. The Bobbi gown from the True Curves collection presents a unique twist on the admired cap sleeve. The vintage-inspired teardrop shaped sleeve adds subtle coverage while adding the ultimate blend of glamour and style.
Plunging V
A plunging V-neckline will always be flattering and elongating. The Ama wedding gown by Morilee features feminine floral embroidered appliqués throughout the tulle A-line ball gown and sheer train. Sheer fitted sleeves and a plunging V-neckline trimmed in linear lace completing this look.
Simple
Classically beautiful and naturally sophisticated, simple wedding dresses offer a blank canvas for any bride's wedding day look. A minimalist style gives the perfect opportunity for the bride-to-be to choose some key accessories to emphasize their assets. Take for instance, GL5504 from Envy by Phoenix Gowns, a simple ball gown with the right amount of romance thanks to the subtle asymmetrical pleating and sparkly appliqué belt.
Mermaid
This bridal gown silhouette is quickly becoming the go-to style for plus-size brides thanks to its ability to create that admired hourglass silhouette and amplify natural curves. Madeline from the New Elegance Collection by Danovna adorns the contours of a curvy figure with beautiful crochet lace; this gown is the perfect mix of sexy and boho chic.
Shop the look
Accessories are fundamental in completing the look. Here are our top picks to complement any gown and make your bride feel her best self.
Shoes: Avalia have combined the latest in machine technology with modern bridal shoe designs that ensure a comfortable and effortless look for your brides.
Hair Accessories: Warren York offer hundreds of beautiful styles that will complement any dress.
Belts: Stylish and contemporary belts by Bianco Evento will highlight and accentuate your bride's figure.