Making its White Gallery debut this year is British bridal brand Louise Bentley.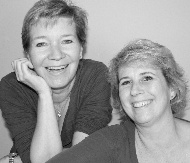 The stunning label is the brainchild of Christine Wilke and Jane Hancock, the designer duo behind Loulou. We spoke to them to find out what we can expect from Louise Bentley at Battersea…
We know what Loulou is all about, but what can you tell us about Louise Bentley?
Louise Bentley is a designer collection of wedding dresses, made in pure silks and corded laces, chiffons and organza.
What is the inspiration behind this line?
Loulou was our inspiration with its vintage simplicity. Louise Bentley takes this one step further with more intricate designs, still with a vintage feel, but more structured and sophisticated.
How many styles are you bringing to White Gallery?
We are showing 35 styles.
What is the retail price range of the collection? 
The retail price ranges from £1200 to £1600.
White Gallery is just a fortnight away now, what are you particularly looking forward to at the show?
We are looking forward to showcasing our label and to increase awareness of the brand. We are also looking to add to our stockist list and are excited to meet new buyers, both international and from the UK.