The long-running National Wedding Show programme - two shows in Birmingham's NEC and two in Earls Court/Olympia each year - has a reputation among brides-to-be for delivering the widest possible range of big-day products and service providers, and among retailers for offering huge audiences looking to fulfill their dream
The show atmosphere is magical; it is here that a bride - and her groom, her bridesmaids, her mum, her friends - can see everything that the bridal industry has to offer - from handmade stationery to sparkling table decorations, dreamy wedding cakes to fabulous flowers, wedding list providers to entertainers, photographers, venues and even honeymoons.
But let's be honest, a bride-to-be has a number one priority - and that is finding the perfect dress, the best accessories, and the shop that will treat her like a princess. That's where you come in. And where you have the opportunity to fill your appointment book for the weeks, and possibly months, ahead.

Some retailers who exhibit at the National Wedding Shows bring a selection of gowns from their best suppliers; others work with one or two of their favourite labels and show a big selection from their new collections; some bring stock that they are holding.
To respond to the different needs of the market, Event Director Alejandra Campos has produced some dazzling new show features. Of particular interest to retailers and suppliers is that, for the first time, there will be three separate bridal fashion areas - The Bridal Zone, The Boutique Area and The Design Area - a scheme developed to provide a focused platform for every level of exhibitor to showcase their portfolio to the right visitor in the right environment. So whether a bride is looking to spend top dollar on her gown, or in search of a wonderful dress that represents real value for money, she'll be able to find the biggest and best choice in a dedicated arena, where ample changing rooms and viewing areas are provided at no cost to exhibitors.

Suppliers, fast to recognise the value of supporting their stockists, are keen to be involved. At the Autumn NEC show, for example, Justin Alexander's Tony Mentel, will be talking to brides-to-be on the stand of returning exhibitor Prudence Gowns, and helping them make the right gown choice.
Award-winning retailer, Ellie Sanderson, who features Designer Days on her stand and has featured both Alan Hannah and Sassi Holford at previous shows, was stunned by the response at the spring National Wedding Show, selling four gowns within an hour of the doors opening. And regular Margot Raybould reported the best-ever sales, with brides spending big money (up to £3,600) and demanding exclusive labels. Prestigious shops like White Mischief, Silk and Confetti & Lace also delight in the healthy weight of orders that are generated at the show.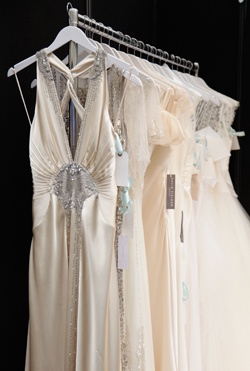 The designers stocked by exhibiting retailers, including David Fielden, Ian Stuart and Jenny Packham and world-famous brands such as Alfred Sung and Benjamin Roberts, take to the stage in the shows' famous catwalk performances, and it is here where many a member of the audience spots 'The One', and heads straight to the relevant retailer's stand when the applause dies down.
From a bride's standpoint, the National Wedding Show is a breathtaking adventure - where else can one see so much, that is so pertinent, all in one place at one time? Local shows certainly have their strengths, but of course there is no comparison between a 15- or 20- exhibitor show in a close-to-home hotel, and the dazzling offering that is the National Wedding Show with its 250-plus specialist names.
The forthcoming shows (28-30 September in Earls Court, 5-7 October NEC) promise to be the best ever. You should be there!
Read more show reviews in the new issue of Bridal Buyer, out any minute!