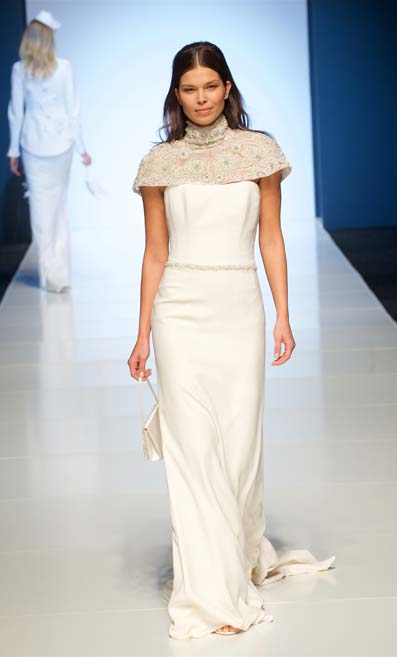 Alan Hannah's White Gallery Fashion Show
The Fashion Shows at White Gallery and London Bridal Week are the best place to see a handpicked range of stunning new collections from top UK and international designers, as well as some of the best-loved brands in bridal. Savvy visitors will get a glimpse of the unique pieces, latest silhouettes and on-trend fabrics that the designers have on offer, helping you to make the very best buying decisions for the coming season.
A variety of different shows are held across the thee-day event – so don't miss the opportunity to take a seat. This is where designers and brands will show off their most impressive gowns – you'll get to view the best of the best, as well as get an idea of the season's diverse offerings.
Designers Alan Hannah, Sassi Holford and Savin London are amongst the big names to hold their own Private Preview shows. In addition, the Designer Previews will showcase some top British and international talent including Ivory & Co, Charlotte Balbier, Bowen Dryden Couture, Anny Lin, Brian Chen, Lusan Mandongus and Catriona Garforth – each promise to have creative designs to really shape the new season's styles. In addition, there will be Bridal Preview shows from big name brands – set to be exceptionally popular in attendance – Casablanca, Ellis, Dando London and Gino Cerruti will take part, to name but a few.
So what trends can we expect to see in the shows this year? Illusion bodices and detailed embellishments will grow in their popularity from last season – think feathers, all over beading and glamorous pearls.
Embroidery will be key, too, we expect to see a mix of real statement pieces (large blossoms and geometrics) to smaller details that can be repeated all over the bodice, and often picked up in the skirt too (celestial styles are sure to feature).
Colour will be evident again this year – we have seen blush colours and pale Champagnes, greys and blues emerge on the bridal runways over the past few seasons, and this year we can expect to see these same shades as well as some bolder tones and some patterns – think abstract florals. Purples, grey and lilacs are set to be popular for maids.
In terms of silhouettes, expect to see flowing and relaxed boho styles, and a pairing back of the structured mermaid and trumpet shapes – still form fitting, but with a more laid-back edge.
Jumpsuits have been given an elegant twist this season. The trouser legs are much wider, far more sweeping, with almost the same movement offered by a skirt. Skirt and top separates should also be popular – cropped top styles will be matched with full, voluminous bottoms.
Lace will continue to be used in different, more contemporary ways and as a detail to add texture and interest, along with tulle, in more daring styles. Soft, luxurious fabrics – satins and silks – will be used on slim-fitting, elegant gowns that give brides statuesque style. We will also see these smooth silhouettes given the choice of extra movement with bold, removable overskirts in a variety of textured fabrics, sometimes featuring a floral pattern or a touch of colour.
Catwalk Timetable:
SUNDAY 25 MARCH
12:00 Private Show
14:00 Private Show
16:00 Designer Preview
18:00 Bridal Preview
MONDAY 26 MARCH
11:00 Private Show
13:00 Private Show
15:00 Bridal Preview
17:00 Designer Preview
Register here to guarantee access to London Bridal Week - and we'll see you on the front row!