The History of the White Wedding Dress
Wedding dresses as we know them are synonymous with white, however, this wasn't always the case. We investigate how this trend became one of the most popular wedding traditions of the twentieth century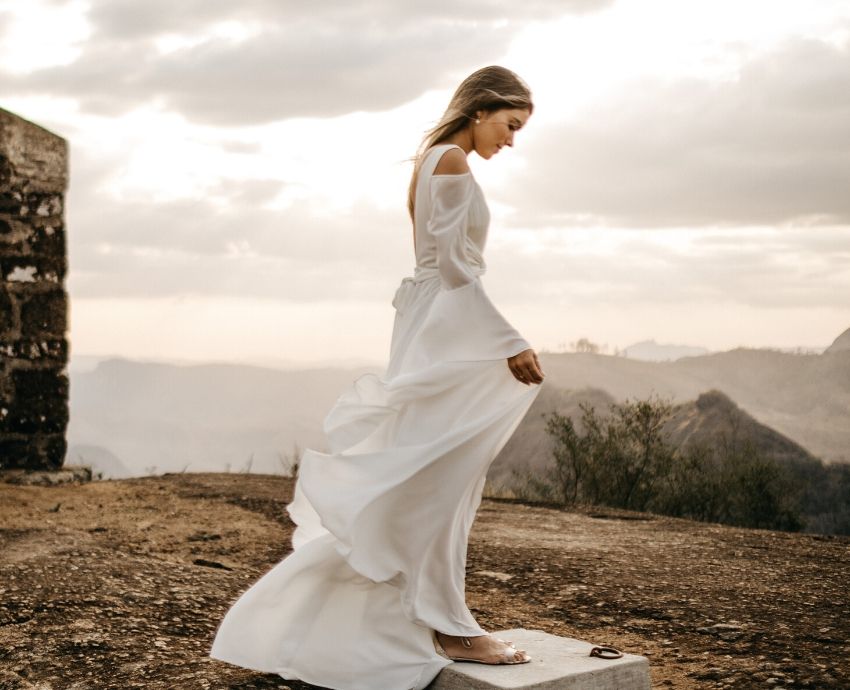 18th Century
During the 18th century, weddings had more political power than they do now. The ceremony often represented the union of two families, two businesses or even two countries. This meant that brides had to dress in a manner that reflected them in a positive light. Because of this, it was customary for a bride to wear her best dress on her wedding day - regardless of what colour it was.
If a bride was wealthy enough to buy a new dress for the occasion she would usually choose one in her favourite colour. Bright and bold colours were popular during this time as they represented wealth. Alongside this, brides would choose extravagant fabrics and features such as layered furs, velvets, silks and embroidered heirloom jewels. The amount of fabric used to create the gown was another reflection of social standing and wealth.
However, if a bride was not affluent enough to purchase a new dress for the occasion she would wear her best church dress on her wedding day. In the majority of cases, these dresses were black as darker colours were easier to keep. In fact, prior to the early 19th century white was seen as an impractical colour and financially irresponsible.
So, when did things begin to change?
---
---
19th Century
Like many bridal fashion trends, the tradition of the white wedding dress was established by royalty. The first princess documented to wear white on her wedding day was Philippa of England, daughter of King Henry IV. She married Eric of Pomerania in 1406 dressed in a white tunic with a cloak. The garment was made from silk with a border of squirrel and ermine. Mary, Queen of Scots also wore white for her first marriage which was to Francis, the Dauphin of France.
However, it was Queen Victoria who really set the trend when she wore a plain white court dress made of Honiton lace to marry Prince Albert in 1840. The ceremony, that took place in the Chapel Royal of St James's Palace was heavily reported on with journalists from all around the world sharing every detail of the event with everyone else. The wedding was one of the first heavily photographed royal weddings.
So intent on making a statement, Queen Victoria disobeyed all the cultural norms at the time when she stepped out of her carriage wearing a plain dress and flower crown as opposed to her real one. The ensemble acted as a statement on how the Queen would rule the country. In fact, the lace industry was struggling during this time and was on the brink of collapse, but with the help of the Queen, the industry soon recovered.
20th Century
Although the lace industry recovered, the trend of white wedding dresses didn't immediately catch on. This was due to the fact that it still took a lot of money to maintain the colour during this time and the majority of people just simply couldn't afford that.
However, things started to change soon after World War II ended. Following the years of rations on food, clothes and many other things, middle-class people began to copy the look of the wealthy. Thanks to the boom in prosperity this was possible, and more and more people fell in love with the novel idea of buying a wedding dress just for the day of celebrations.
In addition to this, Hollywood was starting to feature brides in white gowns on their wedding day in their movies. They had created an image of the idyllic chapel-look and once everyone saw this on the big screen, they all wanted to copy it.
Queen Victoria's untraditional wedding also set a few other wedding trends that we still have today. Among them were the flower crown, the rule of forbidding guests to wear white and finally white bridesmaids and flower girl dresses – a trend that Kate Middleton would go on to mirror when she married Prince William back in 2011.
21st Century
Since then, white wedding dresses have only evolved into a global phenomenon. Look forward to the modern-day and the majority of brides will choose this colour for their wedding gown as it is steeped in tradition. However, just like any other fashion trends, they tend to repeat themselves. More recently there has been an increase in brides opting for coloured dresses for their big day. Many brides are walking down the aisle in blush, gold and even purple gowns.
Finally, just like wedding traditions vary from cultures and countries around the world, so does the colour of their wedding dresses. It's very common in Eastern cultures for brides to wear red when they say their vows. White is actually seen as an unlucky colour. In addition to this, African brides tend to infuse bright colours into their wedding outfit also.
If you enjoyed this, take a look at the rest of these wedding traditions and superstitions.