Company Culture: getting it right
How to reward your team this festive season.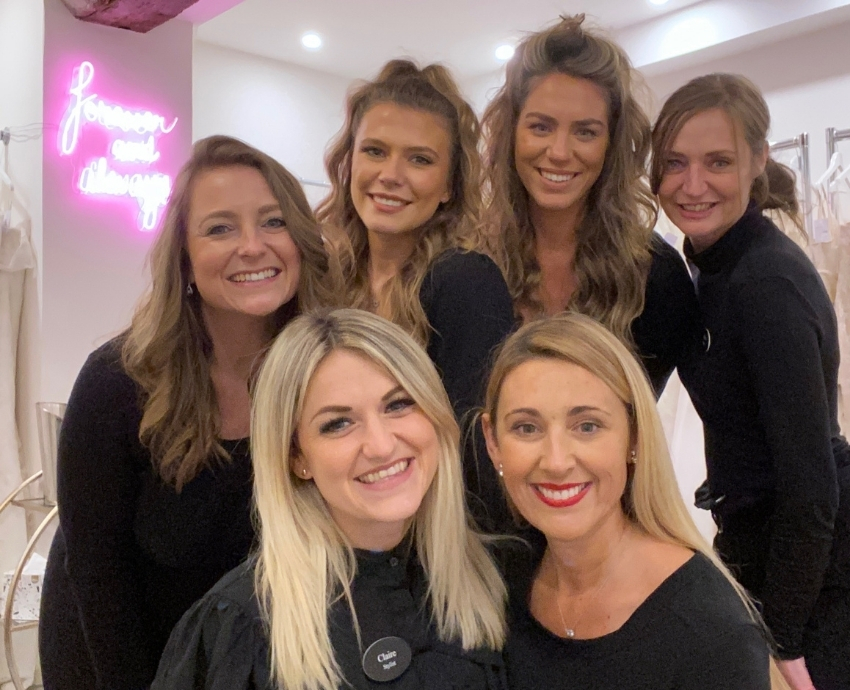 We interview Abi Neill award winning businesswoman and Bridal Buyer columnist about how important creating a healthy company culture is and what exciting ideas you can do for your team this Christmas.
Why is it important to you, as a business owner, to create a positive company culture?
Whilst it is true to say that the customers are the heartbeat of our business the same could be said of our team, so of course it is so important to create a positive company culture. Working and selling in bridal is like no other sales role and the team need to feel good about their job, including the part that they play within the business and feeling good about looking after brides and styling them for the biggest day of their lives. Without a positive and engaged workforce you won't have positive and happy purchasing brides. The two are deeply connected.
---
---
How do you reward your team throughout a (normal) year?
We try and find ways to treat our team. We have an extremely social and good time seeking bunch so we often have drinks together and like a party together. Our appraisals are conducted at lunch with bubbles, our buying trips always include a nice hotel with treats, and we often find it's the little things that make all the difference. Praise and recognition is really important and shouldn't be underestimated, we make sure we praise in group messages and individually. We like to do those extra bits as well like buying flowers on a new starter's first sale, posh coffees and croissants to start a busy Saturday, pizza at the end of a long training day – you know the kind of thing. We've done all sorts in the past from helicopter trips in Barcelona, team spa days, overnight surprise hotel stays and summer awards parties that included hot tubs with singers. Although I have been known to be extravagant, expensive gestures are not required, sometimes its little things that say 'well done' and 'thank you' which are the most effective in rewarding your team.
How do you create a positive atmosphere for your team when we are going through another lockdown and this has been one of the toughest years on record?
This can be really tough because as business owners we also are impacted by how hard things are too. I had an online team meeting the other day, I was so flat and moody that afterwards I had to message a group an apology for not being my usual self. Morale boosting activities and staying positive requires so much energy and on that day in that moment I had none to give, I needed picking up too! Normally I'm pretty good and can find ways to bring the staff together, create good times, and keep a positive and engaged work family vibe. I really care about our team and am aware that through this second lockdown the team have needed to stay connected to our business and to each other. At the moment, we meet online at least once a week and then also in the shop once a week which is brilliant fun. In the previous lockdown I sent some delivery treats to the team and arranged an online gin tasting. It was lovely and kept us connected as well as providing that all important great social media content.
When it comes to the festive season, what do you usually do to celebrate the year with your team?
Christmas jumper days coincide with Christmas window day and we have had some really epic and very drunken Christmas parties, always on the last day before the Christmas holiday! We have done so many different things in the past, from attending large circus parties to smaller intimate dinners followed by karaoke parties back at the shop. We always find a way to celebrate together… although as we all get a bit older we're finding the hangovers harder to shift!
Christmas is expected to be very different this year, do you have ideas for what you might do to reward your team if you cannot celebrate in your usual way?
We will party together, the A-team always finds a way. At the moment we have nothing confirmed or decided just yet, but of course we will do something. We once converted the shop into a nightclub which worked well and then played bridal themed Christmas team games. I must confess that the boys from our Menswear team rocked those wedding dresses, so maybe we will have to do that again! Whatever anyone does for the Christmas period to reward their staff, I just want to wish them a Happy Christmas from our team to yours x