My Bridal Story: The Bridal Boutique Baildon
For March's My Bridal Story we interview the mother and daughter duo running The Bridal Boutique Baildon in West Yorkshire.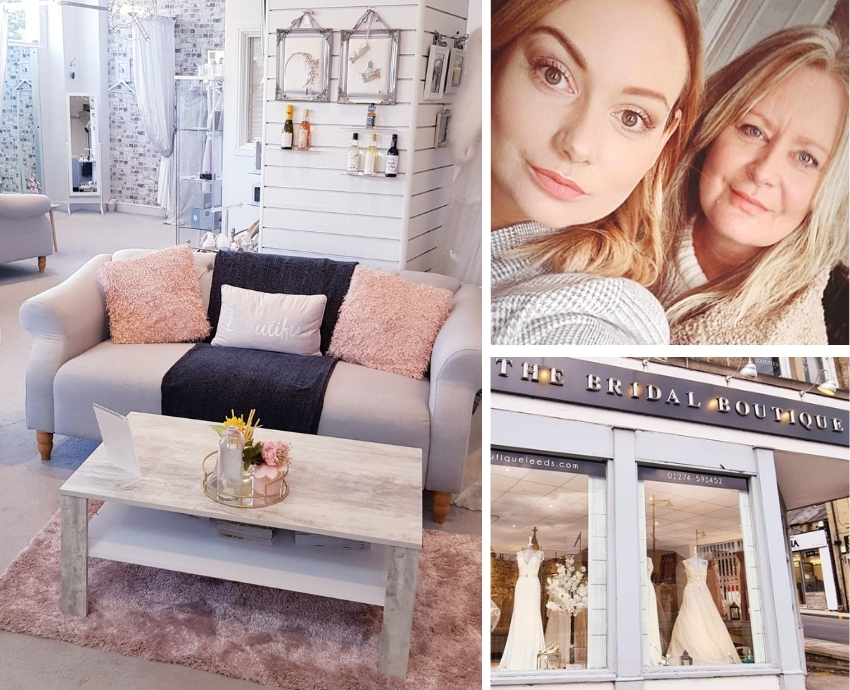 Name of store: The Bridal Boutique Baildon
Store owners names: Tracy Atkinson & Taylor Atkinson (mother & daughter)
Location: Baildon, Bradford, West Yorkshire
Number of years trading: The boutique has been trading for 10 years and we took over/bought the business at the end of July 2020
Brands stocked: Sottero & Midgely, Rebecca Ingram, Rosa Clara, Tiffany Rose Maternity.
Average price point: £600 - £3000 with an average spend £1500
Number of staff (including yourself): 2
What made you want to work in the bridal industry?
We have always had a love for bridal. Unfortunately, I had a bad experience myself when shopping for a wedding dress and I wanted to make sure others didn't have to go through this.
How would you describe your shop?
Gorgeous, stunning, luxurious, friendly, comfortable environment... It's our happy place!
---
---
Who would you say is your ideal bride?
All of them. We love every single bride because each one is unique. We want to make everyone feel special.
How do you celebrate a bride finding her dress in your boutique?
We take a picture of just her with a "I said yes to my dress" sign. Then, we make sure to get one with her bridal party. After all the paperwork is complete and deposit taken, we give her with a gift bag full of goodies which includes; a bottle of mini prosecco, wedding planner A5 book, confetti popper, fragranced rose shape candle, small bottle of blowing bubbles, a personalised thank you card (designed by us), small tube of hand cream and a Mr & Mrs guest signing book.
What's the best part of your job?
Meeting all the lovely brides. We love seeing them in our gorgeous gowns and being the first step in their journey to their special day. It is the excitement on the brides face when they find "the one".
What's your favourite industry memory?
I had been dealing with a bride all day and she finally made the decision to buy a gown. Her mum was with her and they both absolutely loved the dress. So, she bought it! I had been calling her by her name all through the appointment. As she was getting dressed, she asked the name of the gown, so I answered, "It's called Bethany, by Rebecca Ingram." She replied with "Oh my days, it never is!" I said "Yes it is, why who is Bethany?" She fell about laughing, so did my daughter, and her mum, and I said, "what's wrong?" and then started to laugh too. The bride said, "I am Bethany, and you have only been calling me it for the last hour and a half." So embarrassed I just laughed and apologised, but it all had us in stitches.
Can you tell us three interesting facts about your boutique:
We are family run. We are a mother & daughter team who are very close and work so well together. So, we have the new and the old, so to speak.
We are located in the beautiful village of Baildon, close to the moors and countryside.
We offer a high level of luxury for every bride, whatever her budget may be. We treat all our brides and bridal parties, with the same level of care and attention. No one leaves our boutique without feeling happy, self-confident and excited for their big day.
If you had to give one piece of advice to another store owner, what would it be?
At the moment, it is a horrible time we find ourselves in, finances are a big worry, especially if you have just opened or taken over a store like we have… JUST DONT GIVE IN! Work with your designers, be upfront, and don't be afraid or embarrassed to ask for help in order to get back on track. We are all human and if they really do care about their stockists, they will help as much as they can. We can all get through this and we will come out the other side better and brighter. We will be proud of how we handled this pandemic and the way it effected our corner of the world. Keep fighting.