Trends from The Showroom: a moment for the modern bride
Whether searching for a dramatic look or a minimalist design, the modern bride can find all she wants in a contemporary gown. Statement pieces, separates and layering, and an increased focus on sustainability mean that modern bridalwear remains innovative and exciting...
Here are our top 5 contemporary bridal trends for the modern bride that we have seen from The Showroom...
---
---
Statement Features
Contemporary designs often incorporate dramatic features to add that element of surprise to a bride's look. Alongside sleeves, bows and plunging backs, veils are a great opportunity to make a statement. This veil from Altin Etek is the perfect accessory for the modern bride looking to add a bold, artistic touch to their look. Twinned with this stunning satin gown, statement features ensure the bride remains the star of the show.
Capes and Cover-Ups
Capes and cover-ups are the perfect way to create two separate looks without having to purchase multiple dresses. CZ8247 by Cizzy Bridal is a great example of this innovation. A chic yet simple gown is clean and elegant whilst the addition of a separate piece gives brides the option to change their look throughout the day. This embellished overlay adds different textures whilst creating an entirely new neckline, allowing the bride to change her look effortlessly whilst having fun with it.
Asymmetrical Dresses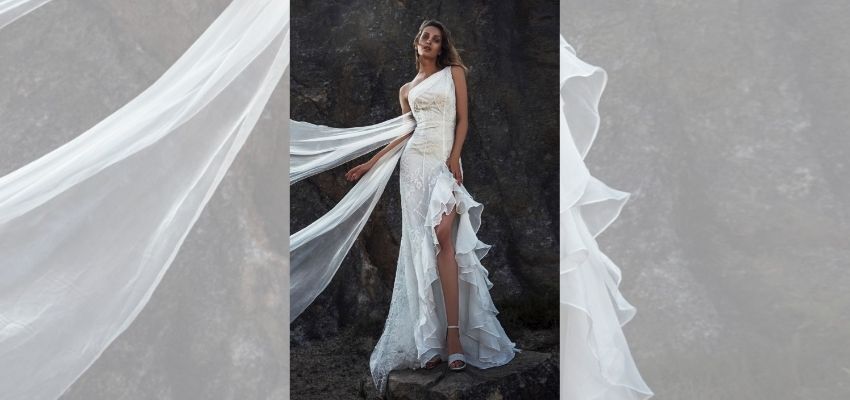 The contemporary bride is always on the lookout for new ideas on how to wow their guests with the unexpected. Asymmetrical dresses are a simple yet effective way of implementing a modern twist to your wedding day. Take for example Anny Lin Bridal's Moira gown. The dramatic cape-like veil and sensual ruffles of the thigh-high slit that sit on one side of the dress are examples of the stunning ways for modern brides to add non-traditional elements to their look.
Two Pieces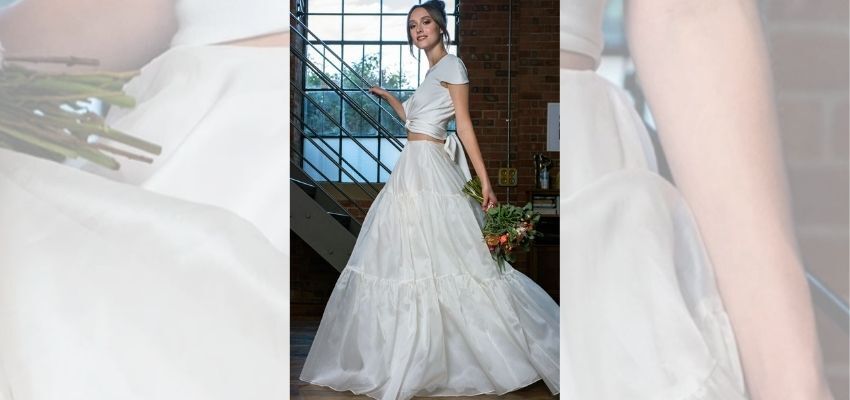 Many brides are now deciding to go without the traditional wedding dress, instead opting for two piece looks which allow you to inject your own unique style into the look. Freda Bennet's Urban Collection is all about relaxed designs with an emphasis on layering and mixing and matching. Their Tate crepe top has a twisted tie that fastens into a bow at the back, which paired with the Bailey tiered silk organza skirt, adds a touch of romance to create a free-spirited, modern look.
Sustainability
Environmental issues have never been more pressing, thus the most contemporary of designs are also sustainable. Edwina Arya is a fully vegan bridal designer who believes in creating sustainable and ethical bridalwear, so much so that a tree is planted every time a bride purchases an Edwina Arya gown. The Armya Gown is minimalistic yet inspires drama with its plunging V-neckline, exaggerated bell sleeves and long train. The urban chic style of this dress twinned with its ethical design makes this a gown fit for the modern bride.
Shop the look