We interview longstanding British design house Romantica and find out all you need to know about the brand.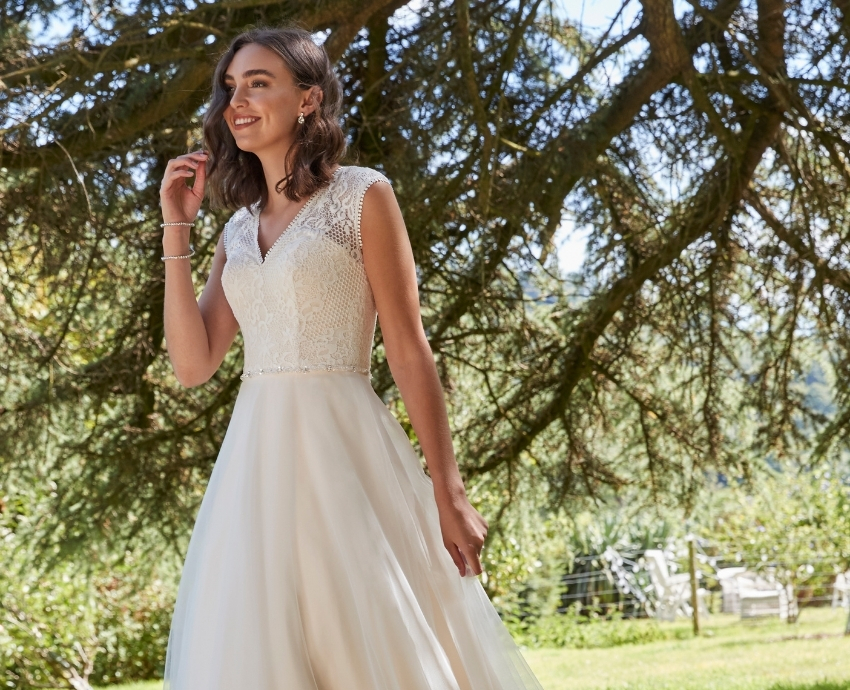 BB.com main image - All things Romantica.jpg
Tell us about the history of the brand(s)?
Romantica launched 35 years ago and is a family owned and run British bridal design house. Our sister brands have followed with our growing experience and knowledge in the bridal industry. Since day one our honesty, integrity and family values have been incorporated into every aspect of our business, from designing, construction, manufacturing, and customer service. Today the design team is still led by Creative Director Sally Waddington, with Head Designer Hannah Bole by her side along with a team of talented seamstresses. The Romantica bridal collection is influenced by timeless silhouettes, high quality fabrics and on trend embellishments, evolving every season with the ever-changing bridal market. Our aim is to create a collection of classic bridal styles with a gorgeous modern twist, offering brides everything they dreamed of and more.
What are the brand's secrets to success?
Our biggest secret to success is that we have always maintained a exceptional service and offered our customers a high-quality product. Our main aim has always been to build our business around our key values: honesty, integrity and family values. I believe that our customers have stuck with us and joined the Romantica family because we offer them that security and quality service. While offering this unwavering reliability we have not stood still, we have evolved and adapted to every challenge, continuing to be at the forefront of bridal design, offering brides high quality gowns at an affordable price point. When you work with Romantica you know you are going to have quality fabrics and construction, modern designs and an unrivalled customer service. We build relationships with our retailers with the help of our whole team, from the directors to our frontline customer service advisors. We want you to succeed and help your brides find the perfect dress for their style, shape and budget.
Finally, we are always prepared to go the extra mile for our customers, whether it is a quick turnaround, a bespoke design, family related crisis or to support you when you have been let down by another supplier. We will do everything we can to help you and we know our customers appreciate this.
Can you tell us five interesting facts about the brand?
The brand is family owned and run since its inception over 35 years ago.
Our factory and design house is nestled in the heart of the Devon countryside.
There are 8 brands within the Romantica portfolio.
Across our brands we can offer you gowns from a size 2 to a size 34. With our plus size collection, Silhouette Bridal available from a size 16 to a size 34, our Prom by Romantica collection available from a size 2 to a size 32 and all our other collections are available from a size 6 to a size 32.
Mix and match options, our Olivia Rose Bridal range is designed and produced entirely in the UK and it can be as versatile and unique as your bride wants. If you love the bodice of one style and the skirt of another or the lace of one dress and the silhouette of another, we will make it happen for your bride with a quick delivery time if needed.
What inspired the current collection?
We are so often inspired by our natural surroundings as we are lucky enough to be based in the British countryside. Flora & fauna plays an important and timeless role in our collections, inspiring everything from the lace patterns to the final colour palette. This season we have fallen in love with the typical English garden scene more than ever before. Nature comes in all shapes and sizes, creating unique and beautiful shapes in every corner of our natural world. The typical English cottage garden offers a unique and vibrant aspect of nature, cultivated to create bursts of colour, botanical shapes, flowing forms and all contrasted against manmade structures like rich stone, shapely iron gates and wonderful woodwork. This all inspired us to look in more depth at the beauty in front of our eyes, focusing on exploring floral patterns, organic shapes, romantic flourishes and contrasting them with the warm hues of stone. This collection is brimming with botanical inspired lace, warm blush and champagne hues, subtle embellishments, shimmering metallic accents and layered contrasting fabrics to create a whimsical and ethereal collection.
What design trends have emerged from the collection (silhouettes, materials, embellishments)?
There are lots of flattering a-lines, fairy-tale ballgowns and striking mermaid styles this season. With soft tulles, sumptuous laces and decadent satin fabrics. After its success in previous seasons, our sparkle tulle is back adding a glistening layer to our tulle skirts. The exciting design trends emerging from our new 2021 collections are:
Illusion lace train – these have been growing in popularity over the last few seasons but this season we have gone one step further and added a gorgeous illusion lace train to a crisp satin gown. Giving you a modern, minimal look from the front and stunning lace from the back, the best of both worlds. (Miriam - Romantica)
Cold shoulder details – this season we have added the on trend cold shoulder to an ethereal gown, creating a dreamy boho look. (PB133 – Pure Bridal)
Pearl beading – adding decadence to any gown, pearl beading has been growing in popularity for the last few seasons and we have enjoyed adding this subtle embellishment to a few styles this season. (Silhouette Bridal – Emma-Claire)
What's next for the brand?
In the current economic climate and with the effect the pandemic has had on our industry, every bridal design house is trying to evolve to help and support our customers and brides as best we can. We are positive for the future and we will be continuing to design and produce new bridal gowns to inspire new Romantica brides in 2021 and beyond.
Behind the scenes we have been working hard to become more sustainable with our factory being powered by solar power and the introduction of our electric boiler. We have also reduced the amount of plastic involved in our packaging and we will continue to improve this by introducing wooden hangers, fabric dress bags and becoming a paperless office. We are very passionate about improving and reducing our environmental impact and we will strive to continue to improve where possible, while still offering our customers a high-quality product.
From a design point of view, we have just introduced our stunning new Bluemoon By Romantica brand which is a collection of elegant gowns for every special occasion. As we have learnt over the last 9 months celebrations are of huge importance and these special moments should be truly cherished when we are able to together celebrate once again. So whatever the event: a special birthday celebration, awards ceremony, Christmas party or something for your cruise wear wardrobe, this collection offers you true glamour and sophistication to celebrate in style.
Existing customers can get in touch about ordering the new collections through their individual sales representatives. New retailers who are interested in stocking the collections please contact us on: 01823 674 412 or alternatively email us on sales@romanticaofdevon.co.uk