Elizabeth Dickens debuts Youtube channel
British veil company Elizabeth Dickens has this week launched a Youtube channel in a move to help educate its stockists about the world of veils.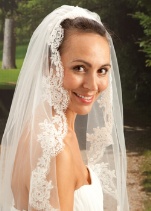 The veil maker debuted the channel with an initial three videos focusing on caring for veils, the sizing and measuring of veils and different combing styles.
Director Alan Dicks said: "Our main reason for commissioning them was to educate our stockists over lengths as over the years people have been unable to grasp how our veils are measured, particularly single tier veils, this has caused quite a lot of re-makes which we find we are footing the bill for."
He added: "The video explaining how to care for the veil was prompted by the Friday phone calls from a shop explaining that the brides mother had ironed the veil and ruined it, this causes a lot of tension in the brides household and puts pressure on both us and the couriers to get the replacement there on time! Combing styles was again to help the stockists in their knowledge of veils."
The Youtube channel can be found here.
You can find all the contact details for Elizabeth Dickens by clicking through to our Brands Directory.