We speak to Richard Lill, UK Business Development Manager for Ladybird UK, who tells us all about the new collection and some of the exciting developments at Ladybird.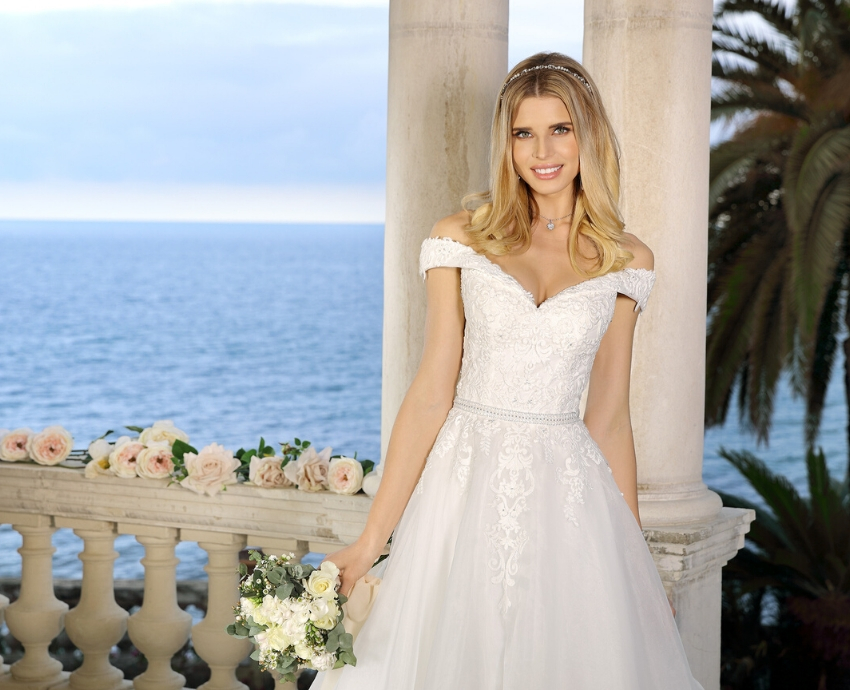 BB.com main image Ladybird.jpg
What inspired the current collection?
Each year Ladybird takes its inspiration from trends all around the world. Its design team refine the trends so they work for today's modern bride, who's priority is to stay true to the everlasting classic trend of looking like a traditional bride which may seem obvious the difference is they also want and understand the importance of their gown having a fashion inspired element and wow! factor. The diversity of modern women is what inspires Ladybird to produce 12 collections, all of which are available to its customers to mix'n'match across the collections without restrictions ensuring each customer can tailor make their selection to suite their brides needs.
Design trends have emerged from the collection?
Ladybirds 2021 collection is so multifaceted consisting of 12 distinct collections, each telling its own design story. Sleeves are one of the hottest new trends coming through, reinvented with soft organza & chiffon ballon sleeves which culminate in delicate lace trimmed cuffs, bring not only a modern, comfortable and flattering twist to this classic. Some of their sleeved designs have the added benefit of being detachable so the bride gets a more informal and relaxed second look for the evening of her wedding.
Is there anything that ties the pieces together?
Each one of the Ladybird collections has a strong design ethos e.g. Ladybird Bohemian offers brides a more relaxed structure that suits the fluidity of the designs, which are enhanced with an exquisite array of delicate laces. One of their strongest collections in the UK is Ladybird Princess, this collection epitomises the essence of being a princess, with varying sizes of full tulle and organza skirts married with a stunning array of exceptionally constructed bodices with every desired neckline. By contrast Ladybird royal focuses its attention on the simplicity of the gown. Predominantly in a pallet of satins and mikados which bring a simple elegance to the designs, the skilfull placement of diamond and crystals bring the gowns to live.
Pick three of your favourite pieces that really highlight the vision of the collection?
"There are so many I love, with the collection being over 300 new designs for 2021 it's hard to narrow down my favourites to three. So I will give you three chosen from my head, which are the potential best selling designs, which would be 521041 simple, beautiful and an exceptional price, this is one of the rare gowns that the majority of our retailers have taken 2 samples because it works well across the size range, 421035, this is from one of our new for 2021 collections the layering of the laces give a fabulous depth to the design, beautiful gown with exceptional imagery & 421040, this has a hidden secret, the interwork in this design is such that it sculpts the body whilst offering comfort which again will make it popular across the size range. Now for the three chosen from my heart, these evoke such an emotional response brides will love them 421037, 321052 & 321040" says Richard.
What kind of brides do you envisage wearing your pieces?
Ladybirds 12 collections that it produces each season means that almost all design trends, fabrics, and silhouettes are covered, so it would be reasonable to say that Ladybird offers something to satisfy almost every brides desires and wants.
What accessories do you imagine brides would pair these with?
It is safe to say that Ladybird gowns come as a complete look, but like all wedding dresses they can be altered by retailers for each bride which may be adding straps, changing belts, veils and tiaras, the only restriction is the brides imagination.
We hear there have been some exciting developments from the Ladybird offering. Tell us more about this.
Ladybird have fast tracked a significant and exciting change in response to both retailer and brides feedback, proving it's always good to talk to your suppliers. Every bridal retailer knows how difficult it is to manage the disparity between their brides "high street" size expectations and the size they need to order the brides dream gown in! Ladybird have not only made their sizing more generous, increasing each size by the equivalent of one size. They have also increased the size range offered, with almost all their collections now available from UK4-UK34.
"It's hard to find a convenient time to make such a positive change that affects every aspect of the manufacturing and design process, it's not been easy but we were all passionate to make the change to coincide with the launch of our 2021 collections and the eagerly anticipated reopening of our stockists. We felt that it was important to give our retailers time to prepare. We also felt it was vital our retailers had clarity so the change in our sizing has been adopted not only for the new collections but every carryover style.
We want our retailers to be able to concentrate their efforts on returning to normality, so we have bucked the industry norm, offering our retailers the simplicity of using just one size chart for all Ladybird styles".
This is just one of a range of support measures like extended credit terms, free dresses, staggered buying and delivery scheduling Ladybird have put in place to help its retailers navigate through these difficult and unprecedented times. Ladybird's UK Office will reopen this week. "We have been on hand throughout the lockdown period supporting our retailers as they have supported us, not least with their enthusiasm and excitement for our virtual launch of our 2021 collections which included a live stream from head of design Ingrid van den Brink, we are truly humbled by the level of buying our retailers have achieved especially as this is such a departure from most retailers normal buying procedure. We feel it's so important to show our solidarity with our fantastic retailers as they return to their shops.
How can retailers get in touch to order from your latest collection?
For more information on becoming a Ladybird stockist contact:
UK Office 01423 876 380
Richard Lill 07767 351 270 or richard.lill@lionheartportfolio.com