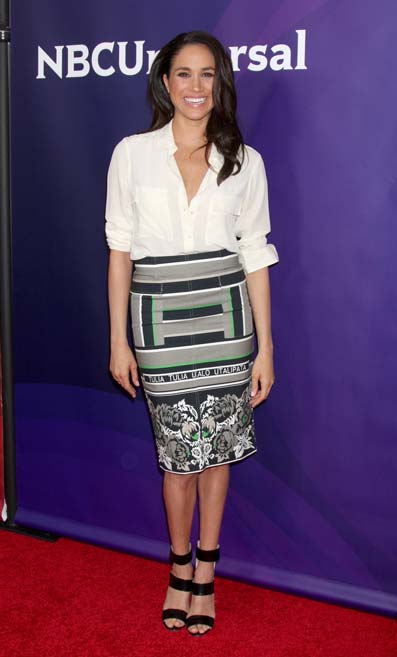 Meghan Markle, future HRH Princess Henry of Wales
The news of Meghan Markle and Prince Harry's engagement has had the whole Bridal Buyer team cheering – we're so excited for another royal wedding and we cannot wait to see what Meghan will choose to walk down the aisle with.
We adored Kate Middleton's elegant Alexander McQueen wedding dress, and discussed the idea of the Pippa effect in the bridal industry following her summer 2017 wedding, but now all eyes are on Meghan Markle.
She definitely represents something new in the monarchy - the American TV actress is half-Jewish, mixed race, divorced and hasn't been shy to speak up on the issues faced by women today. But we never expected rebellious Prince Harry to go for someone bland. After meeting on a blind date in 2016, the couple became engaged in late November 2017, with Harry proposing using a ring he'd designed himself that incorporated some of his late mother's diamonds, as well as a large central stone from Botswana, where they first went on holiday together.
We asked a range of wedding dress brands and designers what they'd love to see the future Princess Henry of Wales wear…
Christie Couture
Scottish bridal brand Christie Couture specialise in timeless, classic wedding dress designs – ideal for a princess. Designer Lesley Christie explains why she picked out their CC113 creation: "This dress in our collection is classic Grace Kelly, and she was the last American actress to marry her Prince Charming."
The full satin skirt is so regal, and the lace top keeps it traditional, but adds a daring flash of the shoulders. We also adore that cute bow detailing at the waist – and we bet Prince Harry would too!
Find out more about Christie Couture.