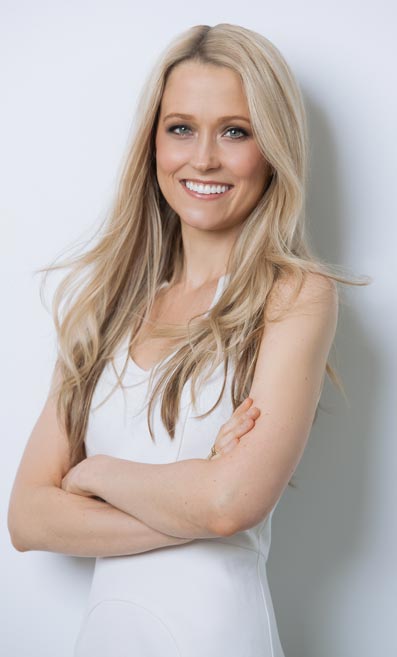 Allison Webb, JLM Couture's New Head Designer
Allison Webb first worked with JLM Couture earlier this year, debuting designs in April for the Ti Adora by Allison Webb Fall 2017 range, and has now been unveiled as the head designer of her own namesake collection for the bridal house. She will continue to design for both collections going forward.
Allison has a well-established history in the fashion world – she has designed luxury embellishments for Tory Burch, and has experience in bridal designing gowns for ANN INC and working as a designer on J.Crew's bridal range, later becoming their embroidery and embellishment designer.
We caught up with Allison ahead of her new collection's debut in October to find out more about it…
Tell us a little bit about yourself?
Originally from Georgia, I moved to New York years ago to pursue my dream of becoming a fashion designer. I absolutely love my job and look forward to going to work every day. When I'm not working, I'm either spending time with family and friends or trying a new recipe (I love to cook).
Why JLM Couture?
JLM Couture is an amazing bridal company; I had my eye on them for a while and was thrilled when I finally got the chance to meet with them. My career has always centred around embellishments, evening wear, and bridal, and at JLM, I'm able to use all of those experiences while designing, so it's been the perfect fit.
What will the Allison Webb collection be bringing to JLM Couture?
I think the collection brings a different point of view; the gowns are classic and refined while still offering something new that brides haven't seen. The focus is on clean lines with splashes of embroidery and lace. I want a bride to feel like the most stunning version of herself when she wears an Allison Webb gown.
How does your new collection differ from your Ti Adora collection?
Ti Adora is more for the free-spirited boho bride. The gowns aren't quite as structured and are perfect for more casual weddings. The Allison Webb collection is a bit more formal and sophisticated.
What do you think are the key bridal trends to look out for in 2018?
I think that classic silhouettes are making a huge comeback. Brides are using removable accessories, like intricate veils and capelets, to make fashion statements, but the actual gowns are feeling timeless. I also think that bows are big right now! Not the perfect bows of the 80s, but interesting and architectural half bows that add visual interest.
What inspires you?
The women in my life! From my mother to my sister and all of the incredible women I work with, I am constantly inspired by their inner strength, courage, and optimism.
What would you say your key influences are when you're designing?
When I'm designing I always like to think about who would actually wear each particular gown; the muse could be a person in my life or a celebrity, but it helps to associate a personality with each style.
Describe the typical Allison Webb bride?
The Allison Webb bride is confident, elegant, and modern. She wants to feel beautiful and feel like herself on her wedding day-she wants to wear the gown and doesn't want the gown to wear her.
What's your biggest career highlight so far?
Getting my own namesake collection! This opportunity is absolutely surreal and I couldn't be more thrilled!
What are you most excited for in your new venture?
Seeing brides in my gowns. The most important thing for me is to create beautiful gowns that women want to wear, and I cannot wait to see brides in Allison Webb gowns!
What would you say is the most important thing you've learned about the bridal industry?
To maintain a positive attitude; my job involves sketching, playing with beautiful fabrics, and seeing my vision come to life. It is truly a dream job and I try to always remind myself of how lucky I am to be able to do what I love for a living.
To find out more about this new collection, make sure you visit JLM Couture at The Harrogate Bridal Show – you can find them at Suite 1, One Sceptre House. For contact details, make sure you check out their listing in the Bridal Buyer directory.