Rosa Clará Dresses Mery Perelló for Her Wedding to Rafa Nadal
Internationally acclaimed bridalwear designer Rosa Clará was entrusted with designing the wedding dress Mery Perelló wore to say "I do" to Rafa Nadal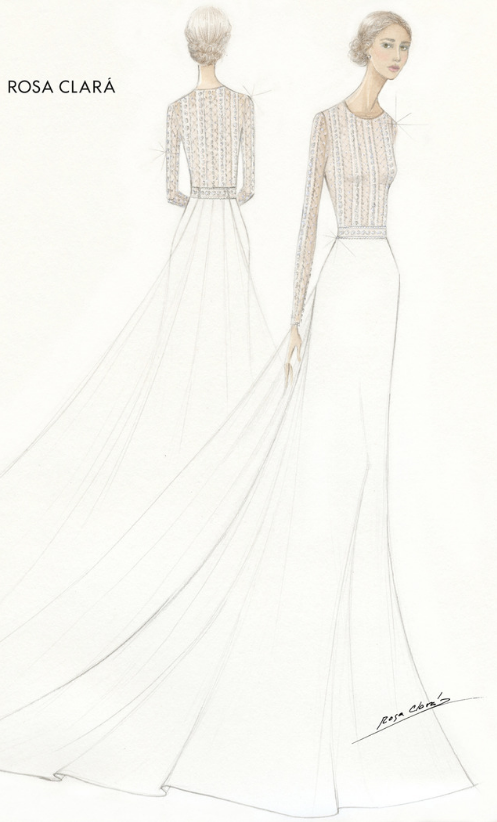 Mery Perelló, now wife of renowned tennis player Rafa Nadal married in an elegant and sophisticated Rosa Clara haute couture design on Saturday 19th October, in Pollença, Mallorca.
The bodice, with a jewel neckline and long sleeves, was made of beautiful Art Deco-inspired French lace with delicate patterning and flower motifs. The ballgown-style skirt, made of silk crepe, featured a weightless detachable train.
Read More: Rosa Clarà's new 2020 collection is sophisticated, romantic and elegant with a modern twist
After several visits to the designer's atelier in Barcelona, Rosa Clará created two bespoke gowns for Mery Perelló, one of which was worn during the ceremony and the other for the evening celebrations.
Mery was not alone in trusting Rosa Clará for such a special occasion. Ana María Parera (Rafa Nadal's mother), María Pascual (Mery Perelló's mother) and Maribel Nadal (the groom's sister), all wore stand-out designs from the Rosa Clará Cocktail Collection.
When reflecting on the experience Rosa Clará said, "I feel very fortunate to have met Mery and to have designed the wedding dress she had always dreamt of. Being part of this moment is thrilling and a little scary — the responsibility that comes with a wedding like this that receives so much international attention is enormous."
"The connection with Mery was immediate, as it was with her mother and Rafa's mother and sister. They're an extraordinary family and it has been a pleasure to work with them."
Interested in stocking Rosa Clarà? Find out more from the Bridal Buyer directory here.