Canva - the simple design tool you need
We've compiled a guide containing everything you need to know about Canva as a business owner and how it can work for you.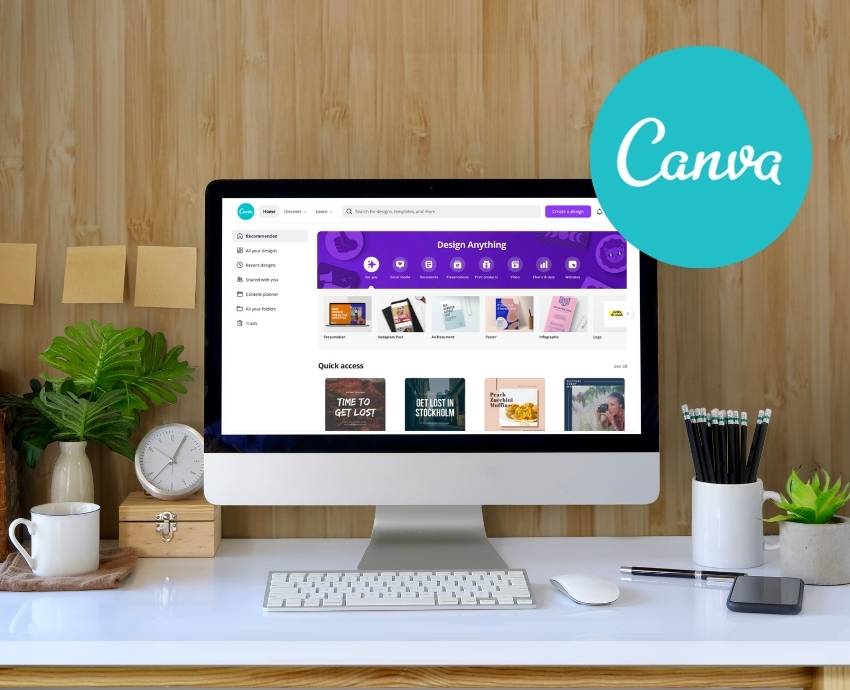 Launched in Sydney, Australia in 2012, Canva, a free graphic design platform, has since become a much-loved tool for digital marketers, designers, and business owners around the world. The platform allows for easy creation of various marketing materials, from business cards to social media posts.
As avid users of Canva, we at Bridalbuyer.com are keen to demonstrate exactly what you can get out of the graphic design platform and how it could benefit your business. Thus, here is our guide to everything you need to know about Canva.
Price
One of Canva's main advantages is that you can use it completely free. As a user you are given access to thousands of free photos, templates, graphics, illustrations, fonts, and background designs. Canva allows you to easily create professional looking designs without having to spend any money. With this being said, it is important to remember that these templates and graphics are available to thousands of other companies around the world all trying to create content. Therefore, try to add an individual touch to your designs by personalising features as much as you can so they are unique to your brand identity.
If you do feel that you need more from Canva, you can upgrade to Canva Pro for £99.99 a year or £11.99 a month. With Pro you'll get everything included in a free subscription plus thousands more templates, photos and graphics.
Main Features
Templates
With over 250,000 free templates to choose from, you can create a professional design in whatever medium you desire. Template categories include Instagram posts, presentations, posters, flyers, business cards, newsletters… the list goes on. Canva allows you to customise any template to suit your brand, including uploading your own photos.
Photos
You can enhance your own or the thousands of stock photos provided by Canva by cropping them, adding filters, or applying certain effects.
Elements
This feature includes lines, grids, shapes, frames, stickers, etc, all of which can be added to design and manipulated to suit your brand identity. The grid element is particularly useful when creating photo collages, whilst the stickers element offers fun options for injecting some animation into your design.
Text
There are plenty of different text options to choose from, plus various effects to apply onto them.
---
---
Usability
Canva is great for designers of all abilities. With thousands of templates and graphics to choose from, it is easy to get started on a design idea. Even if you are a complete novice and feel overwhelmed by the thousands of templates and graphics available, Canva can help. Their 'Design School' is full of helpful video tutorials on a wide range of topics. There are free courses you can take such as "Getting Started on Canva" which will provide you with all the basic information you need to start designing.
The Canva interface itself is also simple to understand, with a clear layout and drag and drop interface that allows for easy editing of designs. When you first join Canva we would definitely suggest having a look around the site and getting a feel for where everything is located and how designs can be edited. Despite the thousands of free templates and graphics, the site is simply designed and easy to understand.
Our Favourite Canva Pro Features
Here are a selection of some of our favourite Canva Pro features:
Increased Cloud Storage – From 5GB to 100GB!
Brand Kit - This is incredibly useful when attempting to create a unified look across all your designs. By uploading your brand colours, fonts and logos to Brand Kit, Canva stores these as defaults within the editor meaning that any time you wish to transform a template into a design suited to your brand, you have all the tools you need at your fingertips.
Magic Resize – This is a really useful tool which allows you to resize a design to either your own custom dimensions or to one of the pre-set dimensions such as 'Facebook post' or 'A4 Document'.
Background Remover – Removes any pesky backgrounds from a photo.
Content Planner – Canva schedule allows you to schedule the designs you have created for posting on social media. It will automatically post them according to your plan, thereby cutting out the middle-man and saving you time.
Create and Invite Team Members – This allows you to give your team members access to the same design, thereby enabling collaborative work. Additionally, you can give all team members access to the same Brand Kit, ensuring everyone creates designs suited to your brand.
Canva is an easy-to-use graphic design tool that anyone can use. Whatever your marketing needs or design ability, this platform will suit you. Why not give it a try for free and see how Canva could enhance your branding?