Christmas in a Bridal Boutique
Six bridal boutiques share their Christmas traditions and marketing ideas.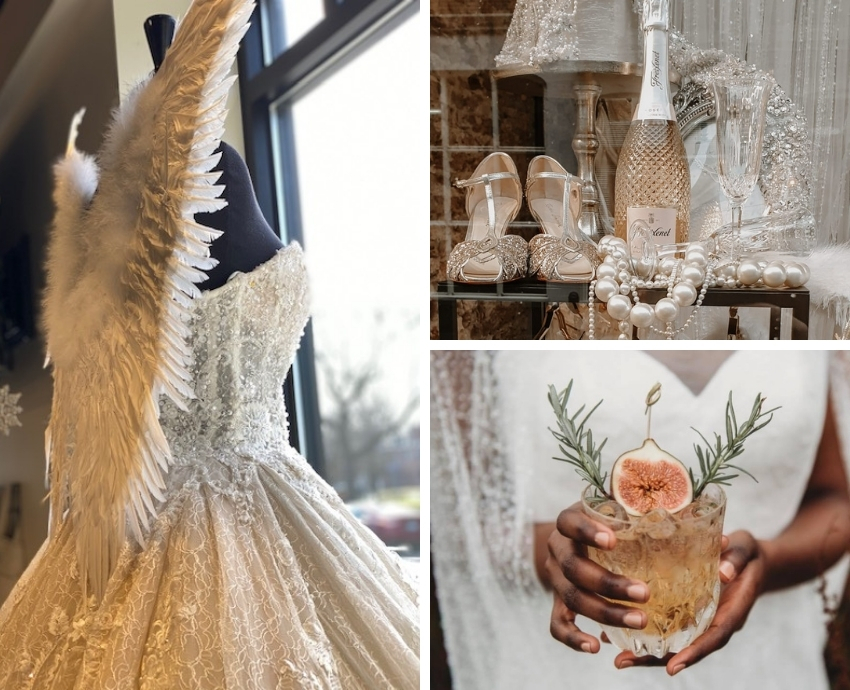 Christmas may look a little different this year, but it's more important than ever to spread joy and positivity to your brides to be and potential customers. We caught up with six boutiques from across the globe to discuss everything from window displays, Christmas countdowns and their plans for this year.
The Wedding Shoppe, USA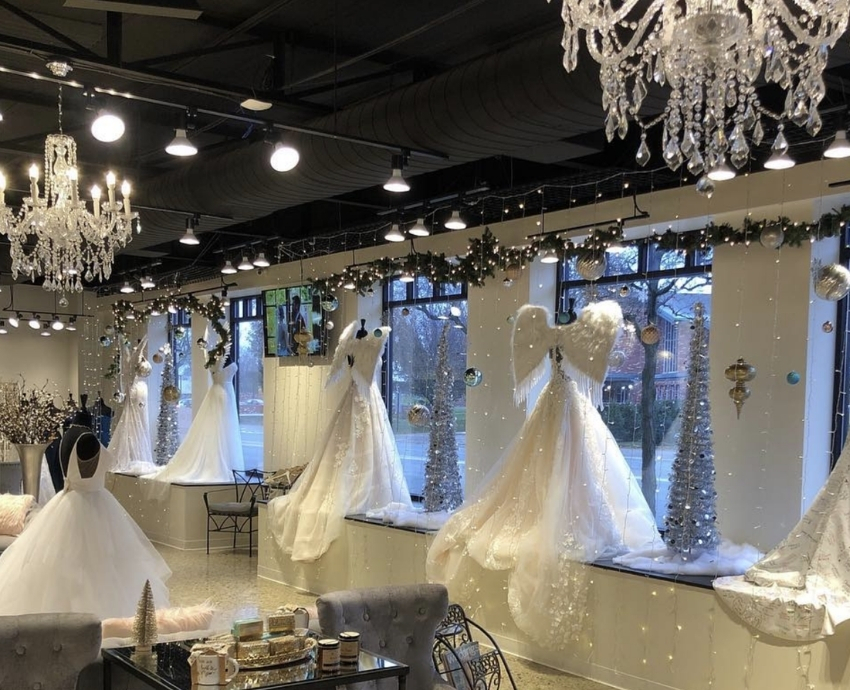 When we decorate for the holidays, I feel like the store takes on a whole new life. The spirit of Christmas is alive and makes our brides experiences even more joyful. It's all about those extra touches, we give each bride a Christmas card signed by the entire staff as she is checking out. It makes them feel special and they know they mean more to us than just a sale.
Last year we ran a 12 days of Christmas giveaway on social media. Every bride that purchased a dress between December 1st and December 22nd was entered into a prize draw to win exquisite jewellery, headpieces, veils, and other accessories. We did a live drawing on our social media channels each morning to announce that day's winner. They loved it!
Our Christmas windows have a traditional theme, where each year we decorate our mannequins with beautiful big angel wings. Our local community looks forward to our holiday windows each year, and I once read a post on Facebook from a neighbour that said she almost drove off the road because she couldn't stop looking at our Christmas windows! I love that they draw so much attention, we've even had random people park their car and come inside just to tell us how much they enjoy the display.
Elizabeth Lucas Bridal, UK
I absolutely adore Christmas, I love the fun and excitement that the festive season brings, from year old family traditions, to creating new ones, I just love it! And we cannot forget the sparkle...
Here at Elizabeth Lucas we have started our very own tradition, each year we have a social media advent calendar in the lead up to Christmas for our brides to enjoy and interact with. Each day we release an image behind the door, this is a chance to showcase our beautiful designer dresses and to shine the light on local wedding suppliers whilst inspiring our brides.
Last Christmas we offered our brides Christmas refreshments when visiting the boutique including mulled wine, hot chocolate, and mince pies. We also change our candles and air fresheners to festive fragrances all adding to the festive ambiance. This year we are having to adapt our offerings to be Covid safe, we are hoping to get our local cocktail supplier at Piano Bar Events on board to offer our Christmas brides a selection of bottled festive cocktails in the boutique (guidelines permitting of course).
We create our Christmas windows with the aim of spreading joy. Every year we have our Christmas dress tradition, where we work as a team to design and make our own dress for our festive window. Last year our dress got so much attention with passers by stopping to take photographs. For 2020 we have a very exciting idea... It's top secret so you will have to wait for the launch... keep your eyes peeled at the start of December.
---
---
Eden Bridal, N. Ireland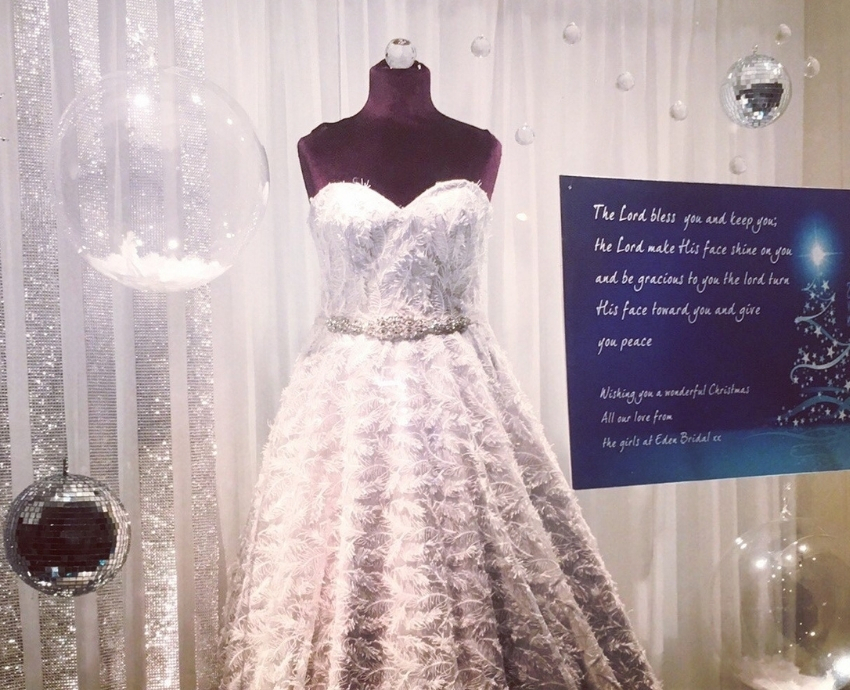 Christmas for me is a very exciting time, personally this is my favourite time of year for weddings. I love the soft twinkly lights, darker nights, and festive feeling! It makes for a really romantic time to get married, guests are very dressy and sparkly, and it's the season for brides to have that showstopper gown!
Christmas time in Eden Bridal means a lovely festive window display with some subtle additions to the boutique, in previous years have played Michael Buble and Stacy Kent music, and we always have a winter spice scent in the scent burners to really create the right atmosphere. This year we are collaborating with Feddy Hatchet's Groomswear to incorporate a fab tux mannequin to go with a dreamy gown and sparkle being the theme for this year's windows. We always have a blessing in the window, and what with being in a pandemic we believe this is more important than ever. Our message this year will be of hope and joy, and to embrace the New Year with optimism. We have a lot to be thankful for (even in the current climate).
Ankii My Vintage Boudior, Netherlands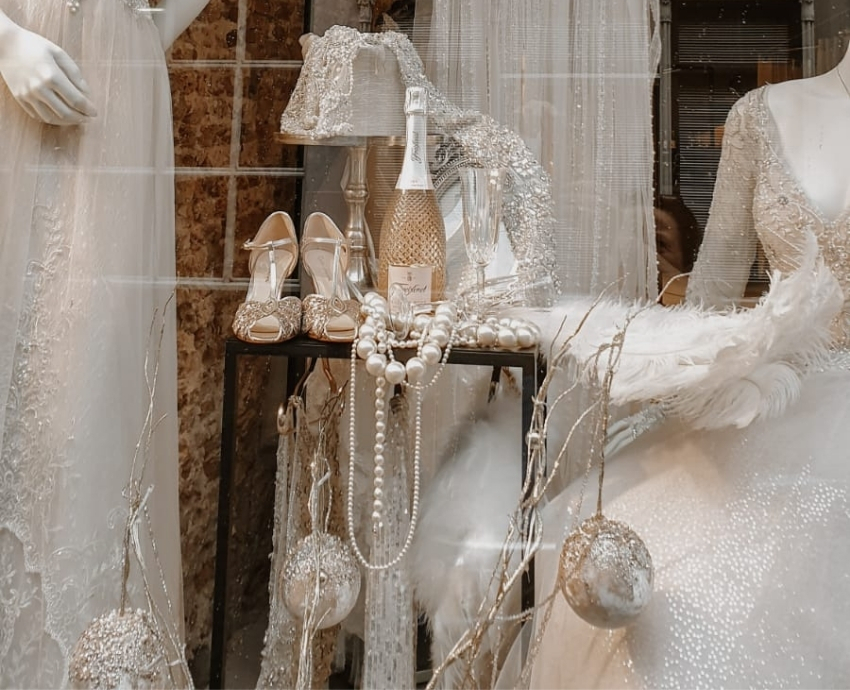 I love the Christmas season! It's a more than special time for me as 25 years ago my daughter Robin was born on the 26th December. She grew up in my bridal stores, and now she is Senior Stylist and 'Bridalstreet-Manager' in my company - I couldn't be prouder!
We create a cosy vibe in My Vintage Boudoir at Christmas time. When entering our stores, guests are welcomed by our sweet signature scent, and it's even better during the festive season when our marvellous barista makes our brides a cappuccino, cinnamon latte, or chai tea.
I have been creative all my life, so I take so much pleasure in dressing my windows, especially at Christmas. The elegant and sparkling 'Great Gatsby' style is a never-ending source of inspiration for me and our brides love it too. In all our store windows we feature Crystal Chandeliers which draw so much attention, we try to bring sparkles to the world all year round, but Christmas needs that little bit extra!
Lily Christina Bridal Collection, UK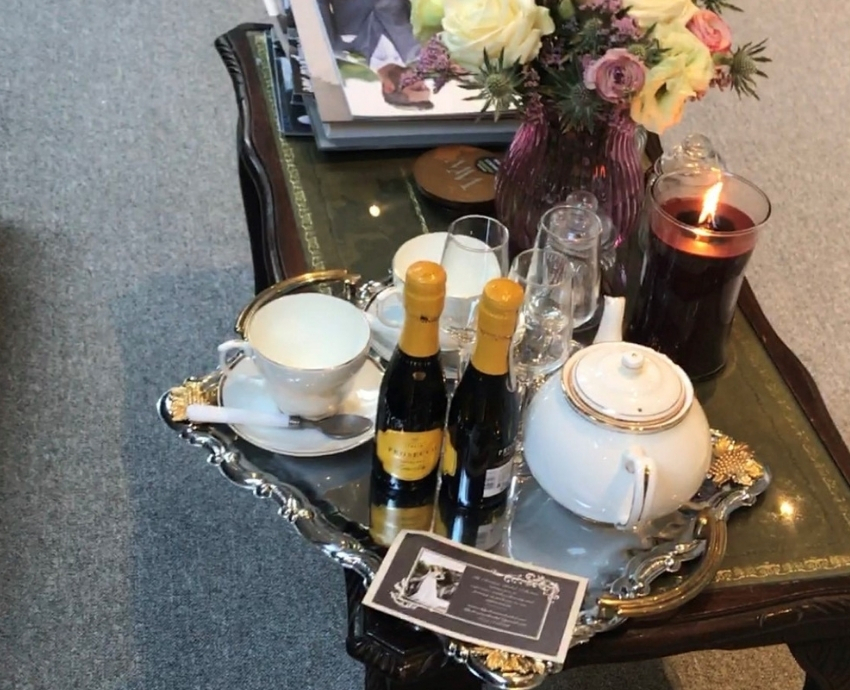 At Lily Christina, one of the things we love the most about the Christmas period is reminiscing. We look back on the year and think about all the brides we have helped and how special their big day was, it just gives us the Xmas cheer! It's the little things for us, we love to treat ourselves to a crackling Woodwick candle, decorate our little Xmas tree and fill our customers with the festive feeling. As our boutique is hidden away in gated premises next to a gorgeous stately home, we don't do window displays, however I will definitely be shopping local to find as many unique Christmas decorations as I can to fill the shop with.
Last Christmas for our social media we ran highlights of each month throughout the year on our Instagram stories. We featured brides when they said yes to the dress and on their wedding day. It was lovely to celebrate so many wonderful moments! In previous years we have ran a feature where we asked brides to share their Xmas engagement story and when we shared their engagement story, we sent them a £100 voucher off their wedding dress.
Every year we like to create an event that makes our brides feel like they are receiving a Christmas gift, last year we held a special Christmas sample sale. This year we are having a trunk show and for one lucky bride they will receive a Christmas hamper, it will be full of personalised gifts and vouchers from wedding suppliers. We are looking forward to seeing the interest this will generate not only for us but also other wedding suppliers, it has been a tough year for everyone.
Willow Bridal, UK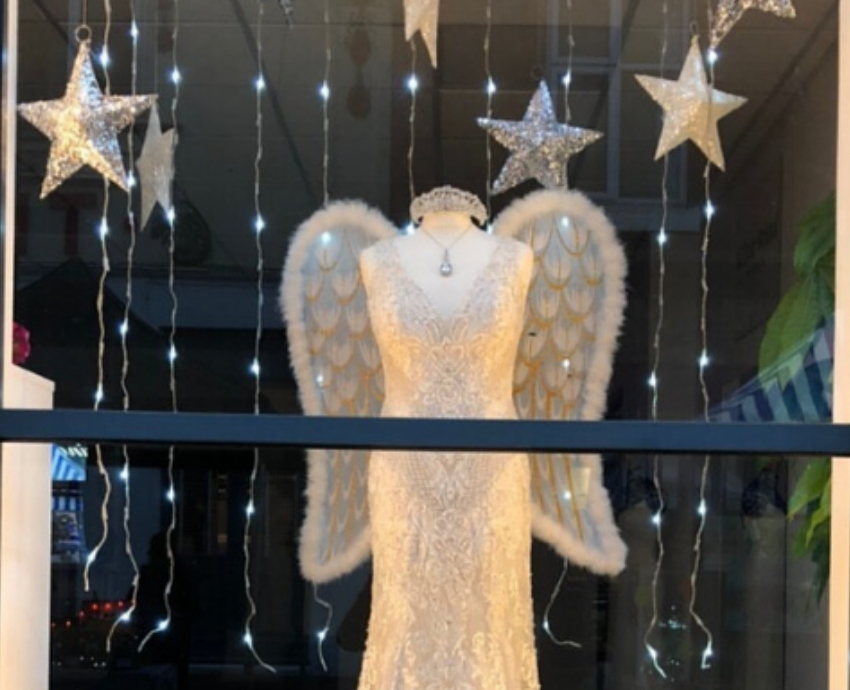 We love the festive season as it's all about bringing people together, being able to spend time with our brides is as important as spending time with our families. Many brides travel home (or family travel to them) at Christmas time, and it may be only opportunity they will have to go wedding dress shopping together. We love that we can be the ones to provide the opportunity to choose the most special dress they'll ever wear and to do this at the most special time of year is the icing on the cake for us. Seeing brides being so happy over Christmas with their loved ones really does make it the season of joy.
Creating our Christmas windows are a family event, the children love to get involved adding their own details. Each year we change the window display, our angel is always a key feature. In previous years we have had a winter wonderland theme, starry nights and luxurious glamour. We always feature a gown that sparkles to work with our interior lighting in our window. The key is a well-lit window that attracts passing clients and it's got to be instagrammable! This year the town council have asked local stores to provide a Fairytale theme for children to look out for during the lockdown. Of course we will be joining in the fun, and we are basing our window around The Snow Queen tale.
On our socials we have festive period where we have "12 Days of Dresses" to showcase our favourite festive gowns and we run a promotional event between Christmas and New Year which is always popular. We also love to have fun. The infamous Elf keeps makes his cheeky appearances, he once appeared in a jet engine!
We like to change our celebrations each year, to keep things fresh, but also adds that element of surprise for our brides. In the past we have offered little treats whilst in store, store gift vouchers and ran a competition to pick a prize bauble off the Christmas tree. We are planning something extra special this year, given the year that we have had... but like our brides, you'll need to wait to find out what that will be.
We'll be sharing your window displays on Bridal Buyer's Instagram account. Tag us @bridalbuyermagazine and use the hashtag #MerryAndBridal to be featured.