Why is interior design so important for a bridal boutique?
As a boutique owner, I get a huge amount of enjoyment designing the interior of the store! Understanding the effect of interiors on your brides is so incredibly important and will be crucial to the rest of the bridal buying experience. That first 30 seconds is essential for the success of the gowns in store and disappointing décor can lead to brides wanting to leave immediately. Interiors that are designed to be welcoming and not just aesthetically pleasing will be inspirational and will ensure the bride buying journey begins with you.
The way you design your store interiors represents you, your team, your business, and the buying experience. But most importantly, you WILL attract the right bride if the interior is designed with her in mind.
Where did you start when coming up with the interior design for the store? Where do you find your inspiration?
My own store and everything about Halo & Wren were created from my own journey as a bride. Unfortunately, this was not in an inspiring experience the way you might hope for, instead I left stores feeling the opposite and noting how 'I wouldn't' have used that interior feature or décor'. I am an avid reader of interior design blogs, magazines, and social media accounts and in my home life a keen renovator. I enjoy fashion and being able to express myself through design in clothes or interiors, so I have thoroughly enjoyed styling Halo & Wren. It is important to be able to spot new trends and being able to play around with styling and design has enabled me to envision the 'look' of the store. Understanding that interiors will evolve over time, as a business does, is key and your boutique will need to reflect the gowns and designers you stock.
Pinterest, Houzz and Instagram are my 'go to's' for interior inspiration. However, initially when I styled Halo & Wren, I was very much inspired by the space itself and the surrounding area. Halo & Wren is situated on a historic old High Street which dates to the 15th Century and has elements full of charm, but it is not 'perfect'. Acknowledging that the street is real mixture of different architecture and design from centuries of influence adds to the charm of the boutique. This inspired me to use unusual materials like copper for the clothing rails which has been is a great way to add texture and gives the store a more rustic feel.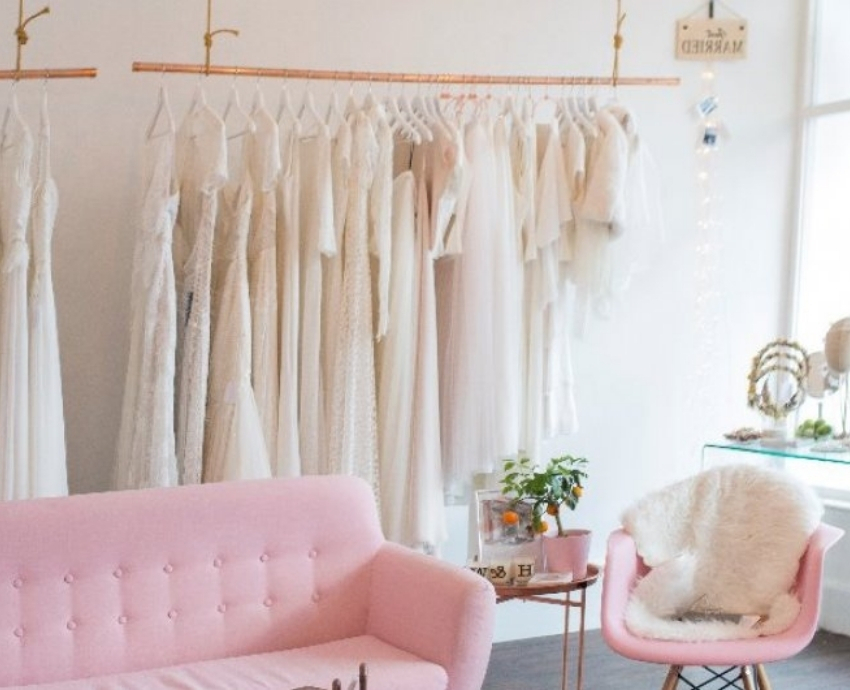 Understanding key features of your property will help to design the interior, at Halo & Wren the windows are big and beautiful and let in so much light. I have used this to my advantage and kept the décor minimal, fresh, and laid back and combined this with comfortable touches like the velvet sofa and the plush carpeted changing room. Having high ceilings has also allowed me to add the Edison style statement light fitting which could have been overwhelming if it were not for the physical space of the building.
At one stage the store was used as a jewellers', so there were display cabinets built into recesses with lots of glass and mirrors. For the first two years, I used these to my advantage and as retail spaces for accessories. Eventually I was able to knock these out to allow for a more diverse use of the space and as I mentioned before it is important that the space evolves as the brand evolves.
When we initially renovated the space, we had a small budget of £2000 to turn around a rundown florist into the beautiful space we envisioned. Since then we have, painted, freshened up and updated the sofa, but we have been careful to recycle, reuse and reduce consumption. We kept the original sofa for home so it could have a 2nd life and in the basement of the property I found some old wooden crates that were initially used as shelving and repurposed them softening the look with floral displays around the mirrors.
Keeping the boutique looking stylish whilst considering the impact of the store on the environment is so important to me when it comes to choosing interiors. Making sure that although we stay on trend or ahead of trend that our choices are long term and not wasteful.
I wanted to keep the aesthetic of the interior clean and simple so that the gowns do the talking. The gowns should be the centre of attention and when you have so many different fabrics, textures, and colours the last thing you want is for them to clash with a busy interior. The colour and style choices I have made have been informed by how well I know my brides. I understand how they will be styling their homes and what fashions they buy into by pinning the same pins as them on Pinterest. I know what they want to see, and I love hearing brides say 'I want lights like this', 'where are these from?', 'these dried flowers are exactly what I want for my bouquet'. So not only are they inspired but they feel at home in Halo & Wren.