Introduction to paid social media advertising
Karolina Sykut talks us through the importance of paid social advertising in driving brand awareness and explains how it can be used within the bridal industry.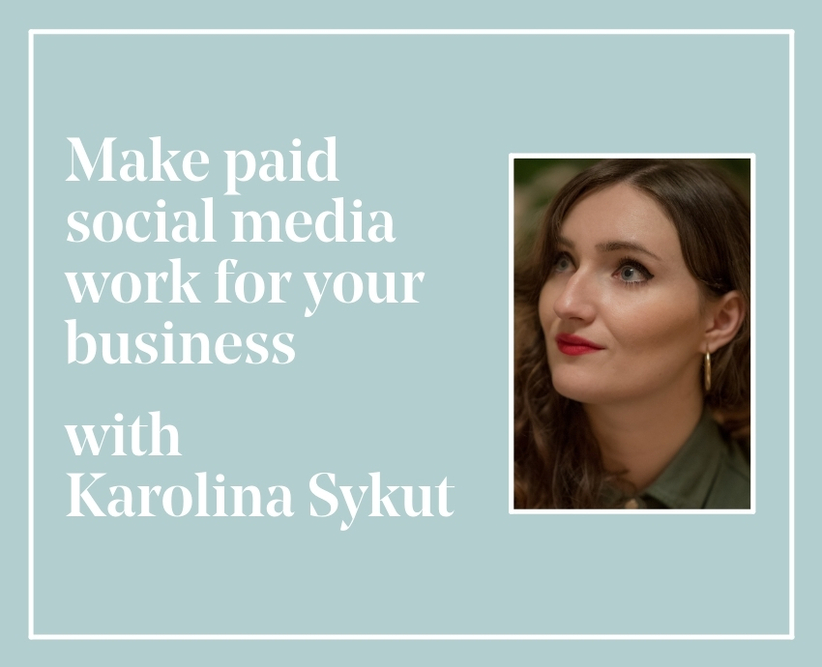 Nowadays, social media is a focal point for most brands' marketing activities. This is both due to its huge popularity and the widespread use of mobile devices. If done correctly, paid social can be the most promising option in drawing new audiences to your business. It is important though to truly understand each platform and plan your strategy accordingly.
What is paid social advertising?
Paid social media leverages various creative formats to deliver hyper-targeted ad campaigns to a predefined audience of your choice. This can be based on your first-party data (such as customer list or website visitors), age, demographics, locations, gender, interests, or behaviours - the targeting options are almost endless. Paid ads do not appear on your page and you can reach anyone on your selected platform, whether they already follow your brand or not.
Where to start?
Find out where your audience is. Facebook usually tends to be the right choice, simply because everyone is on it. With 2,603 million monthly users Facebook is still relevant, offers high reach and multiple targeting options. Instagram (over 1 million monthly users) is part of Facebook's family of apps, so the potential to reach your audience using both platforms with automatic placements for best optimisation, doubles your chances of reaching the right people, at the right time, in the right place. Meanwhile, LinkedIn may seem to be a more suitable solution for B2B businesses looking for lead generation as it offers a quality audience in a professional context.
Younger demographics can still be found on Snapchat (397k monthly users) but there is no denying the rapid growth of TikTok in becoming one of the main social networks in 2020/2021 (800k monthly users). TikTok launched its advertising solutions two years ago and they have significantly improved them since, allowing more creative formats and more defined targeting criteria.
Alternatively, if you know your audience spends time looking for inspiration, then perhaps you should check out Pinterest (367k monthly users). This tends to work wonders for aspirational content, especially for future brides.
---
---
Set out your objectives
It is important to properly define your expectations, establish a budget and the method of campaign evaluation. There are multiple campaign objectives available on each platform, which are designed to deliver different results. Does your brand need more awareness and recognition? Do you want to drive more people to your website? Do you want to target local people to come and visit your physical store? Perhaps you want to increase your online sales and return on investment? Thankfully, social ads can deliver any of the above. But do not forget that the key to a successful paid social strategy is to align it with your business goals.
The great thing about social media is that at each stage you can analyse the effectiveness of your actions and make corrections, on any platform. Moreover, paid social ads do not usually require a minimum spend, therefore you can test and gather initial learnings. Once you know which creative performs best and the approach you are going to take, you can then put your money where your audience is.
Using paid social within the bridal industry
Paid social works within the bridal industry just as it does for any other business. When it comes to weddings, I would say content is king. Social platforms are so visual that you really need to have content that stands out to ensure your brand is being seen and heard. Your portfolio is most likely already full of pictures of beautiful dresses, shoes, and accessories. Future brides love to look for inspiration online, therefore it is essential you produce some thumb-stopping creatives that will make for an impactful ad.
Finding the right creative can be hard, so focus on 2 or 3 assets at a time against a given audience while keeping some elements controlled. This way, you will learn which creative works without spreading your testing budget too thinly.
Lastly, I typically see high engagement under my ads on Facebook and Instagram where friends and family of brides tag them in the comments to show them products to consider! So, paid ads can work like word of mouth if the creative is attention-grabbing. Yet more proof that your organic social media strategy can be leveraged with paid ads. Isn't it amazing?
For more information on paid social media marketing, get in touch with Karolina at thesocialkarolina@gmail.com