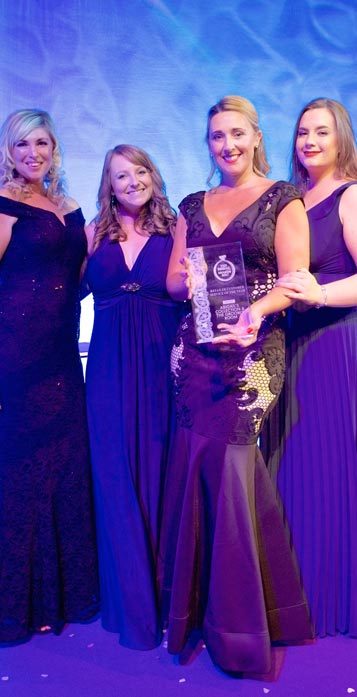 Retailer Customer Service of the Year Winner Abigail's Collection
This week's opinion comes from Abi Neill, owner of Abigail's Collection & The Groom's Room – winners of Retail Customer Service of the Year at this year's Bridal Buyer Awards. You can read their advice for delivering excellent customer service too, for even more insight.
Getting publicly slated by a customer makes my blood boil; I've poured years into our business and obsessively tried to master the art of making brides feel special. So, unsurprisingly, when customers write brutal social media reviews, I find it hard to keep a cool head – I find myself penning an 'I am sorry we failed to meet your expectations' reply.
Actually, I have been known to start typing apoplectic and colourful responses, but I don't send them. I once nearly hit send after typing something along the lines of 'you're a complete idiot and a liar'; that was possibly the closest thing to a mini-heart attack I've ever experienced.
Our business proudly boasts over 320 five-star reviews on Facebook. We've won almost 30 business awards and offer an entirely private shopping experience. Our staff are professional and friendly – customer service is our obsession.
Upon arrival at our shop, guests are welcomed with a drinks menu and our signature bridal gift – both of which are complimentary. We don't charge for bridal appointments and visitors enjoy a 90 minute consultation in one of our gorgeous bridal suites.
Do you offer your brides complimentary drinks? Make sure you check whether you need a licence if alcohol is involved.
We have around 170 bridal gowns all kept in excellent condition and we offer a bespoke service. In short, for many our bridal experience is superb; however, for some, superb is not enough.
I have learned that we can't please everyone. Sometimes we simply don't hit the right note and customers will, on occasion, take a dislike to us. Sure, from time to time, things can go wrong, at which point keyboard-warrior-bridal types may opt to capitalise on the problem and launch an assault. Whatever the reason, it's upsetting and annoying to be on the receiving end.
Recently, we received a one-star review; this bride really went to town on us. In a separate review her mother also decided to tell the world how awful we were. From my point of view, it went like this…
Eight people attended a private appointment. It was a blazing hot Saturday, and our bride was with a large group of girls who were exceptionally rude and intimidating at times.
They were finger-snapping, loud, critical and completely over the top in vocalising their dissatisfaction with us.
I have no idea why, but from the get-go they didn't like us. They told my senior staff member that she had 'wasted their time' and that they were relieved they were going for afternoon tea because 'after the awful refreshments, they needed it'.
They complained about a cracked teapot and our basic coffee. The bride was a slim size eight and took it personally that our dresses 'drowned her frame'. She made a reference to being so appalled by the experience that she walked out – this didn't happen.
It seemed like everything peripheral to our role as a dress provider was under attack. That afternoon my consultant received three reviews including two outstanding five-star notes from happy brides.
Customers will take an overall view of your business, just as we all do when we check TripAdvisor. Psychologically, it's wise to develop a protective strategy, not a defensive one.
Don't try to justify, defend argue or explain publicly; you'll be on a hiding to nothing. We opt to reply briefly, apologise that the experience didn't meet their expectations and then, in the words of Elsa and Anna, simply let it go.
Found this useful? Read even more great content in the Sept/Oct issue of Bridal Buyer.