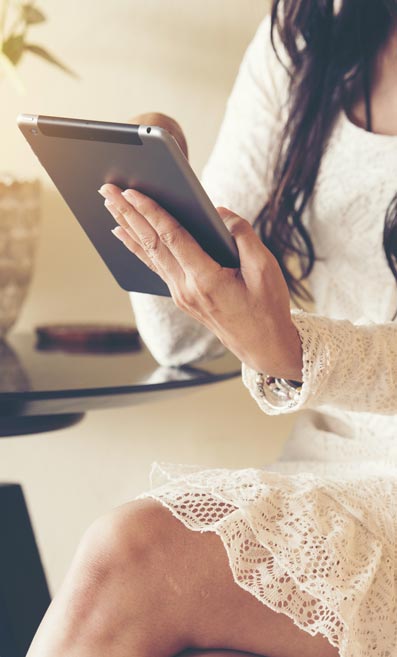 How to Make the Most of the Media at Wedding Shows
Welcome to our new feature on bridalbuyer.com – My Opinion. Every Monday we'll feature the expert opinion of a key industry figure – and as Content Editor of Bridal Buyer, I'd like to start with my own!
In My Experience
I'm Zoe Burke, and before joining the Bridal Buyer team to look after their website and social media channels, I spent five years working in wedding consumer journalism at hitched.co.uk and You & Your Wedding – so my opinion this week focuses on how to make the most of the media presence at shows, such as The Harrogate Bridal Show.
I know that designers' main focus at trade shows is to meet stockists and sell to them, and stockists are busy checking out all the new collections to find the next lot of bestsellers for their boutique – but don't be so focused on this that you miss valuable opportunities to promote your business and brand.
As a consumer journalist, I would frequently visit stands and stop people as I walked around the show, keen to find out which dresses were proving to be most popular and what trends people had been witnessing in their stores. Sometimes I would feel like I was getting in the way or I'd be ignored. I totally understand the need to pursue potential sales, but I think it pays to have someone on your stand equipped to deal with media enquiries.
This year at Harrogate we're expecting a massive media presence – you'll have the chance to talk to huge media influencers from both UK and international press.
Time-Saving Ways to Guarantee Coverage
To ensure excellent coverage after (and during) the show from both trade and consumer press without taking too much time away from business, I strongly recommend you have the following in place:
Hand out USBs loaded with your latest collection imagery and a press release – this allows journalists to quickly and conveniently take away the full details of your collection to instantly have them to hand for coverage. In the past, I've been given paper look books, which are lovely to look at, but little use to a digital journalist, and CDs – the laptop I've been working from for the past three years doesn't even have a CD drive.
Have your social media handles displayed prominently – if you want publications to promote your brand on their social media channels, make sure they can easily see your handles so you can be tagged in any coverage. If you have a particular hashtag you'd like people to use, display that too. That way after the show you can easily see all the social media coverage you received.
Prepare some coverage ideas – it'll save time for everyone on a busy stand if you already know what you want the journalists that visit you to cover. Think about your bestsellers, your favourite designs and your trend forecasts. Have some soundbites prepared (but don't repeat the same thing word for word each time) and you can guarantee some quality coverage.
What the Experts Say
I asked a few of my media contacts what they specifically would like to get from their show visit and here's what they had to say. Michelle Royle, Group Editor of You & Your Wedding and Perfect Wedding wants to understand brands' vision for the season ahead: "Attending trade shows is a very important part of my role – they are a great time to catch up with clients and meet new brands.
"For me, it's imperative that we get to see the dresses clearly, speak to the brands about the new collections, and hear about their vision for the new season. As part of The Wedding Network (You & Your wedding, Perfect Wedding and hitched.co.uk) the shows bring important brands under one roof, and it's a great time for us to report on the trends both for the print and digital propositions and across our social media."
Peta Hunt, Editor at Large of You & Your Wedding, also had the following to say: "When I attend shows I am looking for things that photograph well and for new trends. I don't necessarily need to see bestsellers and I don't really need to be talked through the whole collection - just the highlights, as I'd rather they spent time talking to retailers! It's all our jobs to drive business to retailers after all.
"I'd rather just say hello, find out what's new and how we can help, then flick through the rails whilst Molly, my assistant, snaps away selecting styles we will want to call in later for a shoot and use on our Facebook and Instagram pages. We don't want to badger busy people too much."
Whilst you might initially think of a press visit as a bit of an interruption on a busy day, try to embrace it as it is great exposure and make sure you're prepared so it doesn't take up too much of your time. It's also worth contacting journalists ahead of the show and booking in a time for them to visit you, or to grab coffee – that way you know you'll have time to talk to them and it won't interrupt you at a key moment.