Trends from The Showroom: bohemian bride
While some boho wedding dresses are laid-back, others are luxurious and glamorous. However, what they all have in common is a romantic aesthetic with a carefree twist...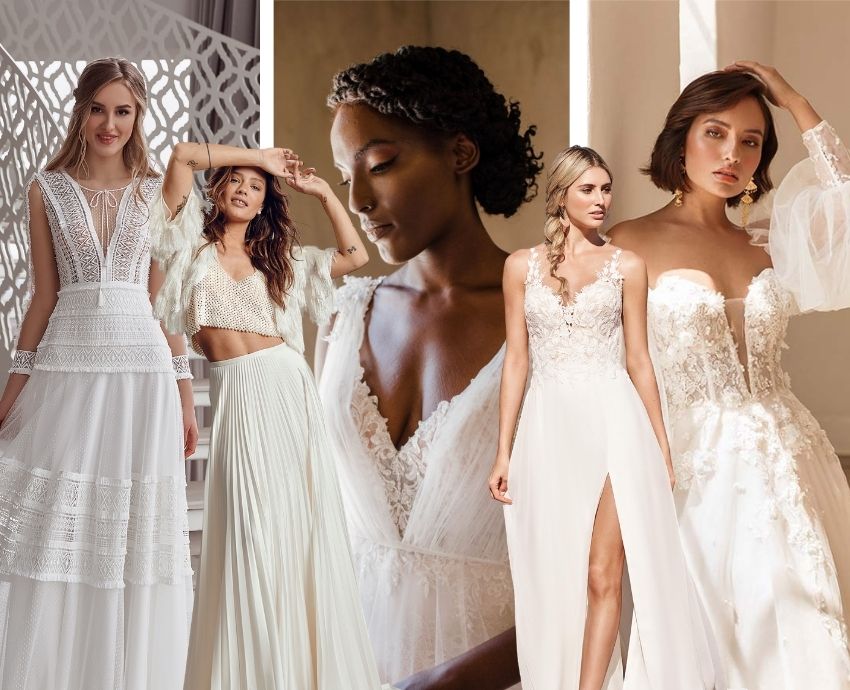 ---
---

Prairie Dresses
Prairie style wedding dresses exude Bohemian elegance, allowing brides to add a touch of vintage to their big day. The Dušana wedding gown from Mark Loren's Freedom collection is effortlessly feminine with its flowing skirt and deep V-neckline. Tasseled hems and drawstrings make this a versatile dress, ideal for those brides searching for a relaxed yet elegant look. The tiered skirt and half-sleeves add romantic flair, making it the perfect gown for a boho bride.

Flared/Balloon Sleeves
Flared sleeves scream boho, instantly adding a 70s feel to any wedding gown. They give a romantic vintage feel whilst allowing brides to cover their arms without feeling constricted by tight-fitting sleeves. Wedding Societe's WS8236 gown features fairytale inspired balloon sleeves. These off-the-shoulder sleeves compliment the whimsical flowing skirt beneath, adding touches of mystical airiness to the look. Flared, puffed or balloon sleeves are must-haves for those brides looking for a beachy, boho-inspired gown.

Florals and Leaves
A major element of boho fashion involves the incorporation of florals and natural motifs. Wedding dresses are by no means the exception, with countless naturally-inspired boho gowns gracing designers' studios across the globe. Lillian West's 66154 gown is a perfect example. The bodice, adorned with floral beaded lace, compliments the chiffon skirt to make this a sexy yet elegant choice for any bride. This dress is perfect for boho brides looking for a light and airy dress fit for summer evenings.

Mixing and matching
For a bride looking for her dream Bohemian gown, why not ditch dresses altogether and mix and match her outfit with layers and separates to reach the ultimate boho look. Catherine Deane is a brand that exemplifies how pairing different pieces with one another can bring your boho vision to life. Their soft flowing Sugar Skirt works beautifully with the crochet style pearl Taryn Top, giving brides a laid-back yet artistic look to wow their guests with on their big day.

Lace and tulle
Lace and tulle are key features of many boho-inspired wedding dresses. Intricate lace is elegant and romantic whilst the light and airy characteristics of tulle make it the perfect fabric for summer weddings. Take for instance the Esme dress from Evelyn Bridal. The lace bodice glimpses through the tulle overlay, whilst the deep V-neckline adds a touch of sexiness to this otherwise ethereal gown. This boho dress remains relaxed and dreamlike whilst exuding goddess-like elegance.
Shop the look
It's important to choose a good bohemian headpiece to accentuate your brides' look. Besides the classic flower crown, there are so many beautiful options to choose from...
Perfect Accessories: Feathers are a good look for the free-spirited bride. These dainty headpieces are perfect for accompanying a more extravagant boho gown.
Eliza Jane Howell: Intricate sparkly headbands will give not only a boho but also a vintage elegant feel.
Richard Designs: If you have a fashion-forward bride, she can rock a crystal crown or a beautiful beaded one with crystals and pearls.
Take a look at more ideas below!